Alumna Uses Facial Reconstruction To Identify Unknown Victims
March 14, 2016
SHSU Media Contact: Tammy Parrett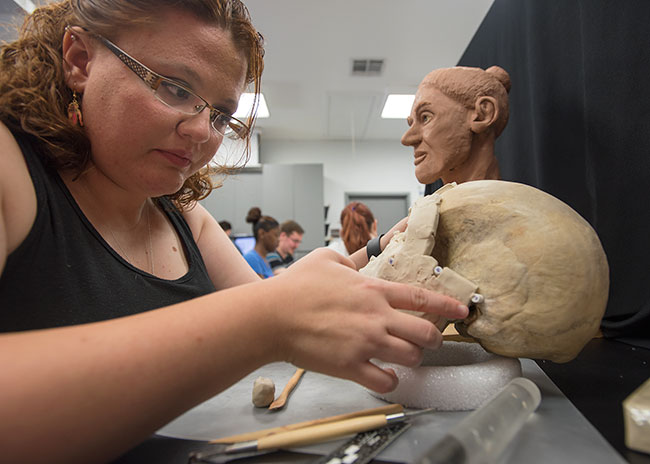 While working on her senior thesis as a student at Southern Methodist University, Kaitlin Dilliard learned about facial reconstruction, which led her to SHSU for a second bachelor's degree, where she was able to hone the craft. —Photos by Brian Blalock
When Kaitlin Dilliard began planning her career, she knew that she wanted to take the path less traveled; however, she didn't realize her dreams would lead her down a path that so few had actually traveled.
"The field of forensic anthropology is so small; the joke is that in order to find a job, you have to wait for one of the current ones to die," said Dilliard, who graduated with a bachelors degree in criminal justice in 2015.
Dilliard began her academic career at Southern Methodist University, with dreams of being a veterinarian. But after failing chemistry, she realized that she might be headed down the wrong path.
"I decided that I would major in history, but it was too dry for me," she said. "To satisfy my humanities credit, my adviser put me in a 'Basics Of Anthropology' course, where you learn about the beginning of humankind up to now, and I thought, 'this is the history I want to learn about.'"
For her senior thesis, Dilliard began researching the use of facial reconstruction in the criminal justice field, and found that's what she was interested in.
Facial reconstruction is the science of recreating the face of an often-unknown individual using their skeletal remains.
"I bought forensic artist Karen Taylor's book 'Forensic Art and Illustration' so I could continue to learn about facial reconstruction," she said. "I found out that her mentor, Betty Pat Gatliff, was still teaching at the University of Oklahoma, so I signed up for her two-week facial reconstruction sculpture workshop."
The workshop was broken up into two, one-week sessions, according to Dilliard.
During the first week, each participant had the same skull from which to work in order to practice. The following week consisted of each person getting a different skull and a photo of the subject to compare their work to.
After completing her degree at SMU, Dilliard found herself at SHSU, pursuing a second degree in criminal justice with a minor in forensic anthropology.
She met with Joan Bytheway, assistant professor of criminal justice and director of the Southeast Texas Applied Forensic Science Facility, who invited Dilliard to speak at one of her summer courses that she teaches to high school teachers who are going to teach crime scene investigation courses.
"I gave them a one-hour lecture on the history of facial reconstruction and how it can be used, and then I taught them how to make an ear out of clay," Dilliard said. "At the end of the class, everyone had their own clay ear to take home and they were really excited about what they learned."
Dilliard uses a sculpting method to rebuild a victim's face, a method, she says, that requires less artistic ability than if she were to use a sketching method.
"When you're trying to sketch what someone should look like it can be more difficult because you're trying to create a 3-D rendering of what this person looked like," she said. "With clay, you're working from the skull, so it's already in 3-D. All you need is the tissue depth markers that show how full or thin a face is."
Tissue depth markers are attached to the skull to simulate the average tissue depth for that area of the face for a specific type of ancestry, according to Dilliard.
"The only information I need about a subject is their age at time of death, sex and the ancestry of the individual," she said. "There are certain parts of the face that can be more difficult to nail down, such as hair color, style, lips, or eye color. If I had someone with an extremely distinctive feature such as Steven Tyler's lips, that wouldn't come through no matter how much research I did."
Such was the case when she began helping the Alvin Police Department identify an unknown victim after graduating from SHSU.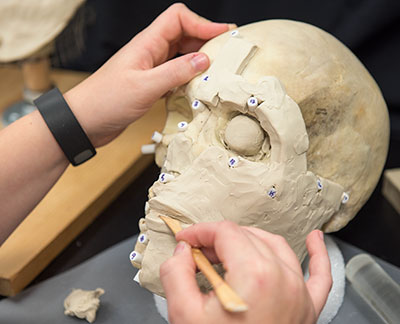 Facial reconstruction is the science of recreating the face of an often-unknown individual using their skeletal remains.
Upon completion of the project, Dilliard was given a photo of the suspected victim, and she was able to recognize some inconsistencies between her work and the photo.
"It very well could have been error on my part, as I am still learning, but we also think it's probable that the missing individual had a genetic disorder that may affect the soft tissue enough that the bone structure won't reflect," she said.
Dilliard hopes that she will be able to use her skills to help give a face to unknown victims.
"I want to help give an individual a face again, to help make them known. Nobody want to spend their lives wondering if their loved ones are still out there," she said. "Facial reconstructions aren't meant to be exact replicas of a person, they just need to look enough like them to jog a memory in someone and make them think, 'Hey, I haven't talked to Joe in awhile and that looks like him. Maybe I should call him.'"
Having access to the skulls at the STAFS facility helped Dilliard perfect her craft in a safe, controlled environment.
"If someone brings me a busted skull and tells me to fix it, if I incorrectly identify someone because I'm lacking skill, that could lead to a mistrial. Using the resources provided by STAFS is a much safer way to continue to improve without having a case riding on whether or not I can successfully identify someone."
"It's a very rewarding feeling to help give these individuals their identities back," she said. "If I'm able to provide some type of closure to the families of these victims, I'm more than happy to do so."
- END -
This page maintained by SHSU's Communications Office:
Associate Director, Communications: Emily Binetti
Telephone:936.294.4406
Communications Manager: Vacant
Telephone: 936.294.1837
Communications Writer: Campbell Atkins
Telephone: 936.294.2638
Thomason Building: Suite 102
Please send comments, corrections, news tips to Today@Sam.edu