Professor Uses Personal Tragedy To Inspire Change In Others
Sept. 2, 2016
SHSU Media Contact: Jennifer Gauntt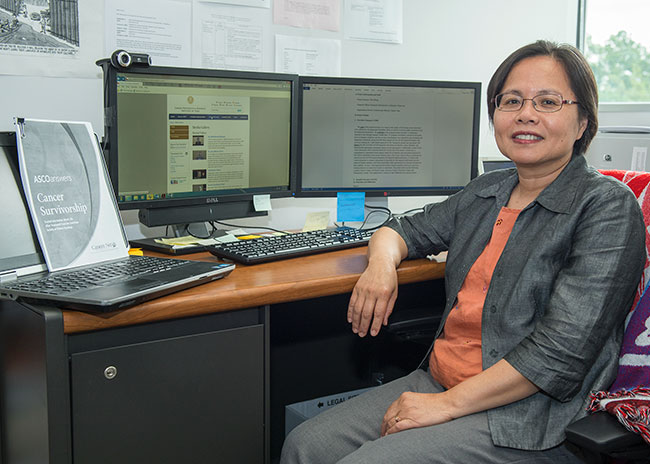 Sociology professor and department chair Furjen Deng has turned her own experiences with cancer into an opportunity to educate other Asian Americans on cancer prevention. Through a series of grants, Deng and her collaborators have now served more than 17,000 Houston and Austin residents and hopes to expand their program to Dallas and Fort Worth in coming years. —Photo by Brian Blalock
Story by Tammy Parrett.
When Furjen Deng found what she believed to be a lump in her breast, she went to her doctor, who told her that because she was young, she had nothing to worry about.
"He told me that the No. 1 cause of death in Americans was heart disease; the number of deaths caused by cancer were much lower," Deng said. "What he didn't tell me–and I didn't know–was that in Asian Americans, the No. 1 cause of death is cancer."
After learning that her suspicions were correct and she had breast cancer, Deng she underwent chemotherapy and has been in remission for 14 years.
Because she lacked knowledge about her own health risks, she wanted to find a way to help educate other Asian Americans about their health.
In 2011, Deng, who currently serves as professor and chair of the sociology department at Sam Houston State University, stumbled upon a grant from the Cancer Prevention and Research Institute of Texas that funded a $300,000 project to implement evidence-based programs designed to reduce the cancer disparity in Asian American communities.
"I'm very involved in the Chinese community in Houston, and I knew that they didn't have the resources to write a grant proposal or research different programs that have been effective in other communities," she said. "I asked them if it was something they'd be interested in doing and they, of course, agreed."
After three years, Deng and her collaborators had established numerous effective programs in the Chinese community in both Houston and Austin. They served more than 17,000 residents and 871 cancer survivors and screened more than 900 Chinese Americans for breast cancer and hepatitis B and C.
Last December, the group received a $1.1 million expansion grant to help grow these programs into Vietnamese, Korean and Filipino communities in Houston and Austin.
"There are many factors that keep Asian Americans from getting proper health care," Deng said. "Eighteen percent of Asian Americans are uninsured. More than 70 percent of Asian Americans in Texas are foreign born, and 35 percent don't speak English."
Aside from language barriers, many Asian Americans simply don't have the necessary education to speak up when they feel they need a second opinion.
"When I went to see my doctor, I didn't even think to question his opinion because I trusted him; he delivered both of my children," Deng said. "Getting a second opinion didn't even cross my mind until a friend of mine suggested that I do so, as she didn't want me to worry so much.
"I remember her telling me, 'This is why you have insurance! Go get a second opinion if you feel like something isn't right,' and I was just stunned; I hadn't even considered that," she said.
Deng's programs use three key components to reduce the risk of cancer among Asian Americans.
"We want to educate the public about the cancers they're at risk for, provide them with opportunities to be screened, and increase survivorship for those diagnosed with cancer," Deng said. "We want to provide them with some advocacy tools so they know how to prevent cancer or cope with their diagnosis, both psychologically and in practice."
However, these programs are not one-size-fits-all. Deng will work with each community to develop evidence-based programs that meet the needs and target the most prevalent cancer within that community.
"Cervical cancer has a greater impact on Vietnamese women than breast cancer, while more Koreans die from stomach cancer," she said. "The Chinese are most affected by lung cancer, but more Filipinos die from colon cancer."
The collaborative group also received a $1.3 million navigator grant from the Centers for Medicare and Medicaid in 2015, with which they provide additional tools designed to educate the community, such as staffing the local community based organizations with employees who speak the native tongue of those residing in the neighborhood and hosting workshops that educate community members about the Affordable Care Act and how to sign up for health insurance.
Deng hopes that the success of the program will allow her to expand the program into the Dallas and Fort Worth in the coming years.
While 49 percent of Texas's Asian Americans live in the Austin and Houston areas, more than 340,000 Asian Americans currently live in the Dallas-Fort Worth metropolitan area, a number that is steadily increasing.
"The original plan included the communities in the Dallas area; however, after we were denied funding twice because our plan was 'too ambitious,' we had to drop them in order to secure the grant," she said. "The next time they have an award like this, my hope is that I might be able to work with them separately to help establish these programs within their own communities."
Once the programs are established and successful in Texas, Deng hopes to expand them into other states with high Asian American populations, such as California and Ohio.
The ultimate goal is to empower citizens to take their health into their own hands and prevent what happened to Deng from happening to anyone else.
"The next time an Asian American woman walks into a doctor's office because she feels like something is wrong, she'll be educated about her health and empowered to push her doctor to give her the screening she feels she needs," Deng said. "If we save even one person with these programs, I'd consider it a success."
- END -
This page maintained by SHSU's Communications Office:
Associate Director, Communications: Emily Binetti
Telephone:936.294.4406
Communications Manager: Mikah Boyd
Telephone: 936.294.1837
Communications Writer: Campbell Atkins
Telephone: 936.294.2638
Thomason Building: Suite 102
Please send comments, corrections, news tips to Today@Sam.edu