Sophomore Reflects On Restart During First Year At SHSU
May 26, 2016
SHSU Media Contact: Jennifer Gauntt
Editor's note: Every summer, sophomores share some of their experiences and offer advice to SHSU's newest cohort of freshmen. This summer, English major Destiny Caldwell, from Richardson, kicks off the "First-Year Series" with a discussion on how she used her SHSU experience to reinvent herself, starting over in college by getting involved in various campus activities, including as a campus tour guide.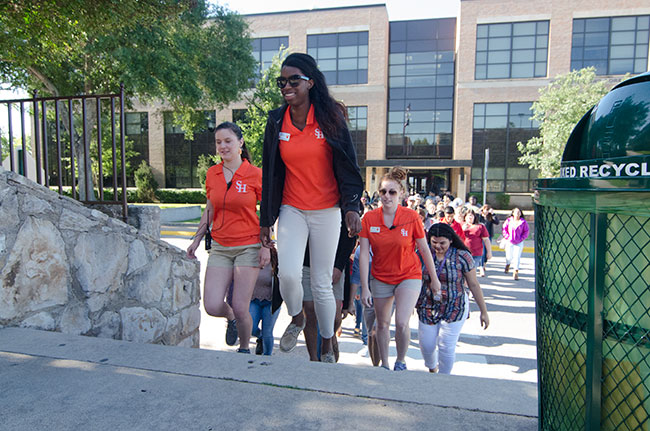 Hello, newest Bearkats!
I wanted to first start by congratulating you on your decision to attend the best university in Texas!
When I was in high school, I dreaded every moment of it. I didn't want to go to class, I had a bad attitude when I actually decided to go to class, and I really didn't like my classmates. At all. I knew I was smart and I knew that I had potential, but I always felt that my peers were doing the absolute most to get noticed, and certain teachers would go out of their way to compliment those students on the littlest things. Most of the time, the teachers would say something along the lines of "Oh my goodness, Timmy! You did such a good job on coming to my class today!" or "Hey class, I know we're in the middle of learning about supply and demand, but shout out to Sally for wearing those rocking glasses! Keep up the good work!" I might be exaggerating, but you guys get the point. Having to deal with this every day really put a strain on my desire to come to school. I was so ready to just go to college and be something one day.
I originally didn't even plan on coming to SHSU. I had my heart set on another college, but when it all boiled down, I felt that SHSU just might be a better fit, and I was right. I was eager to have a fresh start and the opportunity to showcase my full potential.
To help me in that, I became a part of TRiO SSS, a program dedicated to helping first-generation, low-income and disabled students succeed in college. TRiO offers so many opportunities, and the program actually started a learning community this year, which I had the honor to be a part of. I made so many friends coming in as a freshman, and the best part about it was that nothing was forced. Being a first-generation student, it may feel rare to find people like yourself but TRIO allowed me to do just that. We all study together, eat lunch and dinner, hang out after classes, and confide in each other like family.
My learning community family has helped me reach my full potential. My cohort mates encouraged me to apply to become an orientation leader. The day of my interview, I got so nervous because I felt that I wouldn't make it. My friends actually sat down with me and gave me a mock interview, and now I am an orientation leader! My newfound confidence gave me the courage to become a Bearkat Camp counselor, as well as an ambassador for the Visitor Center.
My freshman year also brought along some pretty stellar professors and teaching assistants. All of my instructors, whether it was in "College Mathematics" or "Contemporary Biology," each took the time to get to know all of their students personally and strived to teach their class to the best of their abilities. When I would meet my professors during their office hours, each would open himself or herself up to me and was eager to help with any problem I was having.
Whatever you may be dealing with in life—whether it be personal doubts, family/ school problems, or even soul-searching—know that you are not alone in anything you may encounter in life. There is always a light at the end of the tunnel, and I assure you that the best has yet to come.
SHSU gave me the chance to become the person I've always wanted to be, and I know that this amazing school can do the same for you. So whether you see me giving a tour, during orientation/ camp, or even around campus, just know you'll always have a friend in me.
I hope you all enjoy your year, and I can't wait to meet you!
Best wishes from your newest Bearkat friend,
Destiny Caldwell
- END -
This page maintained by SHSU's Communications Office:
Associate Director, Communications: Emily Binetti
Telephone:936.294.4406
Communications Manager: Mikah Boyd
Telephone: 936.294.1837
Communications Writer: Campbell Atkins
Telephone: 936.294.2638
Thomason Building: Suite 102
Please send comments, corrections, news tips to Today@Sam.edu