Student Serves Community Through City Council Position
Jan. 19, 2016
SHSU Media Contact: Dawine Bergeron
Daniel Yguerabide, senior music education major, has served as the youngest city council member in his hometown of Meridian since May 2014. Since taking on the responsibility, he has helped to create a parks and recreation department in the city, which offers a variety of events for local children throughout the year. —Photo by Brian Blalock
While watching television one day, senior music education major Daniel Yguerabide heard something so simple, yet so profound, it stirred him into action—"Don't sit around waiting for an opportunity to happen; make something happen."
Taking the message to heart, he was inspired to become involved in politics.
In May 2014, Yguerabide was appointed as the youngest member of the city council board in his hometown of Meridian, a small city in central Texas with a population of approximately 1,500.
Yguerabide was not a stranger to Meridian politics, having helped out with a campaign the year before, when he began working as co-director on his cousin's campaign for district clerk. As a result, he began strengthening his interest in public service and local politics.
Yguerabide said that along with becoming better at communicating in different communities and developing a connection with those in his community, being co-director of a campaign fueled his desire to work for people.
"It was an educational experience," Yguerabide said. "I learned how county politics work and the importance of getting to know the concerns of your constituents."
Although Yguerabide had just begun dabbling in politics at that time, his roots in public service ran deep. His mom has been the chief deputy clerk for the county clerk's office in Bosque County for 10 years and he has family members who have military careers.
"I grew up around the atmosphere of local government. Just hearing about it and being around it, it's always been in me to have an interest in politics," he said.
His interest in politics also pushed him to become a member of his hometown's city council, because he saw a lot of things that could be changed if someone decided to take the initiative.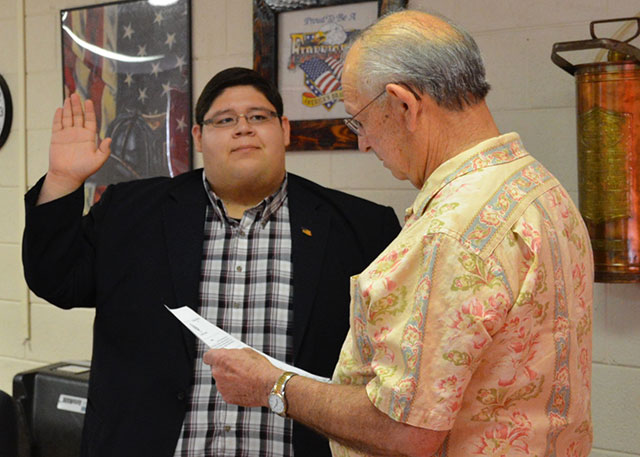 Ygurabide is sworn into office before taking his place on the Meridian city council. —Submitted photo
"Meridian is a very getaway kind of town. A lot of people like to visit and relax, so our responsibility is to keep the small things that make Meridian unique and clean. That's the initiative I've taken on," he said.
Before applying for Meridian's city council, Yguerabide said he formed an alliance with the party he previously campaigned with and embraced the idea of what it means to be a public servant.
"They're all different, so I chose qualities from each of them that drew me to doing this job," said Yguerabide.
He applied for the position and because no other applicants applied, he was appointed to the board.
His duties include answering to his constituents, keeping the community clean, creating community events, and improving economic development.
"We are the city's legislators. Our primary duty is policy-making, which includes identifying the needs of local residents, formulating programs to meet the changing requirements of the community, and measuring the effectiveness of ongoing municipal service," Yguerabide said.
To complete his duties, Yguerabide travels back to Meridian for meetings every second Monday of the month, as well contacts constituents via phone, email and social media.
Yguerabide also uses inspiration from everyday things, such as the television show "Parks and Recreation."
"'Parks and Recreation' was an inspiration to start an official parks and recreation committee. We established this department to have more events for the youth. Meridian is a beautiful place surrounded by hills and trees. There's nothing but land so there's a lot of outdoor opportunities," he said.
Through the parks and recreation team, Yguerabide and the rest of the city council have organized Easter egg hunts, parades, barbeque cook-offs, fairs, and a community clean up.
He said that one of the most important things he has learned is be truthful and stick to your word, as well as that local government is one of the building blocks of national government.
"Change in government starts at the local level. If you want to change a country, you have to change the states that make up that country. If you want change a state, you have to change the cities that make up that state. A lot of how the economic situation is in the country is a result of what happens in the cities," he said.
After he graduates in the spring, Yguerabide hopes to return back to Central Texas and teach there.
"We only had one band director and she taught everything. She inspired me to pursue music," he said.
In terms of his career, Yguerabide does not see his city council position as a stepping-stone toward his goals, but rather a responsibility.
"I feel that I am limited until I get my degree and can better serve the community. If I am fortunate enough to get this position again, I'll do it but as far as long term, it's not something that I'm thinking about. First and foremost, is getting my education and getting a good teaching job, preferably back in Meridian," he said.
- END -
This page maintained by SHSU's Communications Office:
Associate Director, Communications: Emily Binetti
Telephone:936.294.4406
Communications Manager: Vacant
Telephone: 936.294.1837
Communications Writer: Campbell Atkins
Telephone: 936.294.2638
Thomason Building: Suite 102
Please send comments, corrections, news tips to Today@Sam.edu