SHSU Alumni Team To Swing For Fences With 'Damn Yankees'
April 15, 2016
SHSU Media Contact: Emily Binetti
After finding success in the theatre world, Greg Graham and Kevin Crouch (from left) returned to SHSU to teach. They will join forces for SHSU's last production of the semester when they present the 1950s hit musical "Damn Yankees," April 20-23 in the University Theatre Center's Erica Starr Theatre.
Story by Hannah Zedaker.
Greg Graham and Kevin Crouch were musical theatre and theatre majors at Sam Houston State University in the 1990s and early 2000s, respectively, and have since both gone on to have very successful careers in the field. This semester, the two have teamed up to co-direct the Department of Theatre and Musical Theatre's final production of the season, the 1950s hit musical "Damn Yankees."
"Damn Yankees" will run Wednesday through Saturday (April 20-23), with evening performances at 8 p.m. and an additional Saturday matinee at 2 p.m., in the University Theatre Center's Erica Starr Theatre.
Shortly after receiving his degree in 1999, Graham was cast in the Broadway production of "FOSSE," which led to more than a decade of performing and choreographing in New York.
No stranger to "Damn Yankees," Graham performed in the musical at SHSU as a student and again, professionally, as a New York choreographer. Although Graham has previously worked on SHSU musicals as a choreographer and director, including last semester's "Rocky Horror Show," this is his first time back as a professor.
"SHSU was a great platform for me to grow and to figure out who I was as an artist and as a performer," Graham said. "It's strange walking back into the University Theatre Center because it still smells the same and you still feel like you're 18 years old, 19 years old—like a young college student again."
Crouch went on to receive his master's degree in acting from New York University after graduating SHSU in 2005, and from there he worked as a professional actor for theatres all over the country for more than seven years. He returned to SHSU as a faculty member in 2014.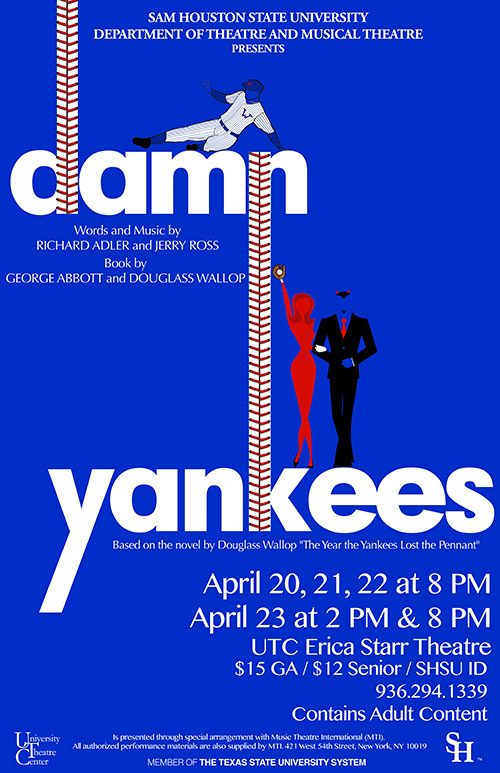 "The chance to give back to the place that started me on the career path I have had was a great chance for my family but also a great chance for me, a chance to inspire another generation as I was before in the same halls and theaters," Crouch said.
Now, the two have teamed up with Laura Avery, head of musical theatre at SHSU, to bring to life the 1950s classic musical that brings baseball into the fine arts.
"[Graham and Crouch] have gone and made their own professional careers as performers, and we are certainly benefiting from all of the wealth of experience they've gained since graduating from SHSU," Avery said. "They've expanded as artists beyond their bachelor's degree. They've gone on to master the art and to bring us all of that experience. "
Damn Yankees tells the story of Joe Boyd, a middle-aged man who makes a deal with the devil to turn himself into the world's greatest baseball player for the chance to help his favorite team, the Washington Senators, win the league pennant and finally beat "those damn Yankees."
The classic musical, set in 1957 America, is full of show-stopping dance numbers, stylized acting and a jazz score full of brass. However, because the production is a period piece, it presents its own set of challenges to college-aged, contemporarily trained actors.
"It offers a bit of a challenge when we do the traditional shows, but I think you can't understand the history and what it is you're carrying on as a performing artist if you don't know where it came from," Avery said. "Shows like this point back to the start and to where it all came from, so it's a history lesson as much as anything else. I think it is nourishing for any artist to go back and become aware that there are different worlds, different styles and different eras that we are able to understand and portray even when we're 20 years old."
Acting styles are not the only thing that have transformed over the years. According to Graham, the industry as a whole has become much more commercialized thanks to Disney and the resurgence of musical-based movies, which influences the way theatre students are taught.
"The people that train [theatre students] are professionals—most of the professors in our department are all freelance professionals in their own right," Graham said. "They're not just educators, and, in fact, they're professionals before they're educators. So that's changed. There's a different approach to how you teach a student. The fine art quality of it is a much more detailed perspective."
According to Avery, because of this shift in theatre education, the future is much more realistic and tangible for theatre students.
"I think that there's a wealth of respect from the students to [Graham and Crouch], because they've just come to us from New York, they've just come off of their professional circuit and are sharing with us in this really crucial time in their careers," Avery said. "So I think it's been great for the students, and I think they do look at it and go 'hmm…that's where I want to be; that's where I want to get.'"
After the conclusion of this semester, Graham will move on to his next project which includes relocating to Los Angeles, where he will work on choreography for NBC's upcoming production of "Hairspray Live!" Although he does not yet know if he will return to SHSU to work on other musicals, he said it is "being talked about."
"It's been a treat to work in tandem with Greg Graham," Crouch said. "We are both alumni and share an affinity for SHSU, even though our time here did not overlap. I have learned a great deal from him and look forward to collaborating again in the future."
Tickets can be purchased through the Department of Theatre and Musical Theatre box office.
- END -
This page maintained by SHSU's Communications Office:
Associate Director, Communications: Emily Binetti
Telephone:936.294.4406
Communications Manager: Mikah Boyd
Telephone: 936.294.1837
Communications Writer: Campbell Atkins
Telephone: 936.294.2638
Thomason Building: Suite 102
Please send comments, corrections, news tips to Today@Sam.edu