Bearkat Logs 300 Miles In Racing Every Huntsville Street
April 15, 2016
SHSU Media Contact: Romney Thomas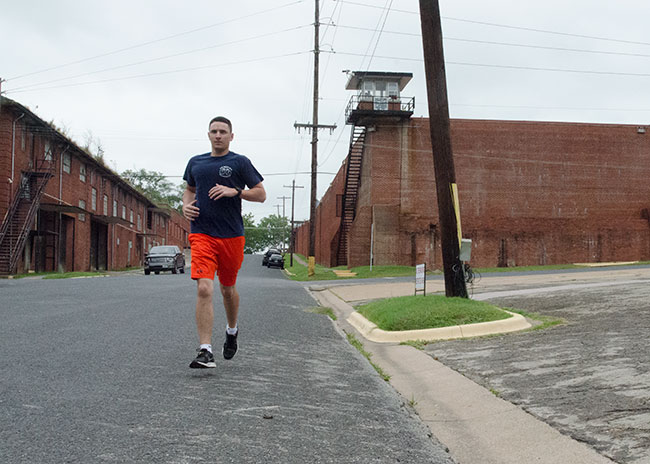 Brad Ertl will graduate this May having accomplished his goal of running every street in Huntsville's city limit, a challenge that took him two years and 300 miles. —Photo by Brynn Castro
You would be hard pressed to find a Bearkat who knows the city of Huntsville better than Brad Ertl. That's because he's run every inch of it.
The Sam Houston State University senior made it his goal to jog down every road within Huntsville's city limits, and with only a few weeks left to graduation, he is about to cross the finish line.
"I started this project about two years ago after I returned from a competition with spirit programs in Daytona," Ertl said. "We lost, and I was pretty disappointed, so after I arrived back in Huntsville I started running to deal with my frustration.
"I never really liked running before this," he said. "It's still not my favorite pastime, but it is rewarding to just shut off my thoughts and find time to be present in the moment."
About two weeks after he began running, Ertl started recording his progress on a map of Huntsville he obtained from the Chamber of Commerce.
"I started running around Easter in 2014," Ertl said. "At the time, I thought that I would complete my goal of running every road by the end of the summer."
As the summer of 2014 came to a close, it became clear to Ertl that his goal would require more effort than he thought.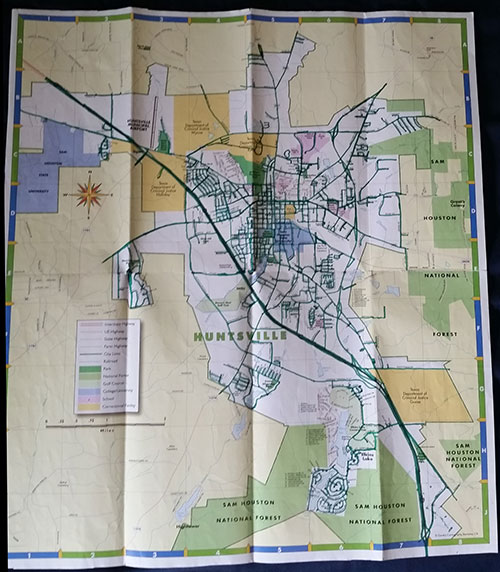 Ertl documented all of his runs by lining the streets he had run on in green. —Submitted photo
"I knew I would be able to finish the project eventually," Ertl said. "At that point, I wasn't yet worried about not having enough time."
With commitments to class, spirit programs, his position as a resident adviser and a full-time job at Kroger, Ertl ran whenever he had the chance and continued his progression through a process he calls "leapfrogging."
"Let's say that one day I would run a few miles from my dorm in Bearkat Village to I-45," Ertl said. "The next day, I would bike to the location where I finished my run the day before, and then I would run to the next spot I'd planned on my map.
"I never had a set schedule for going on runs," he said. "I did my best to make it out a few days each week, and I would try and run three or four miles each time. Slowly, I was able to mark off more sections on my map."
Through biking and running the streets of Huntsville, Ertl gained a new appreciation for the city.
"One thing I've thought a lot about while doing this is how beautiful Huntsville really is," Ertl said. "When you're biking, you notice some of your surroundings, and when you're driving, you hardly notice anything at all. But when you're running or walking, and it's just you, the pavement and the open air, you get to experience every inch of what's around you. It's really freeing, and you get to appreciate the town on a whole different level."
Ertl completed each of his runs through town with just his apartment key tied to his shoelace and his watch on his wrist for company.
"I don't listen to music when I run," Ertl said. "I don't bring my phone or any other belongings with me. I'm still not what I would call an avid runner, but I like to go on runs to just find quiet. There's something about not thinking about anything or anyone for a few hours every day that's really calming."
Along with the city's terrain, Ertl has also become acquainted with many of Huntsville's citizens.
"I run in the late mornings and early afternoons," Ertl said. "At that time of day, most people are at work, but I have come into contact with many people and their dogs.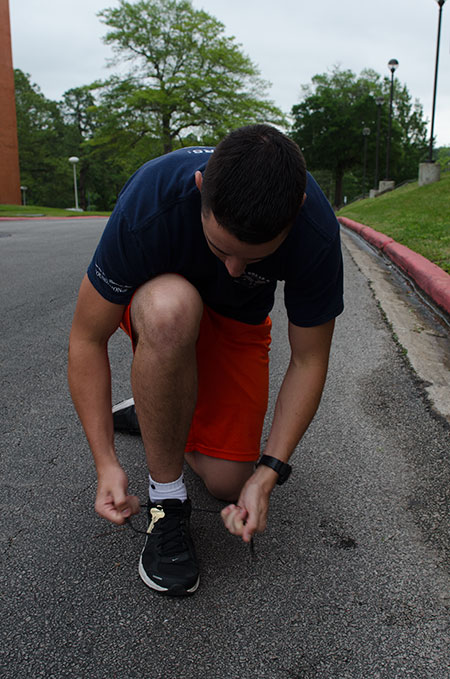 "I've joked with some of my friends that now I know what it feels like to be the mailman," he said. "I've learned to carry treats with me for the dogs I encounter, but for the most part, everyone on two legs and four has been really friendly."
At the beginning of his journey, Ertl kept his goal mainly to himself.
"I used to be really quiet about what I now refer to as my PSI—physical self improvement," Ertl said. "Now, I'm happy to share this part of me with others. I've told my friends and family and I've shared my runs on social media with the hashtag #BradRunsHuntsville.
"My story really gained traction last year," Ertl said. "People began to realize that I was really serious about accomplishing this goal. And as I've shared my journey with others, I hope that I've inspired other people to set their own personal goals."
Along with running what he estimates to be about 300 miles through the streets of Huntsville, Ertl has also completed the annual Jail Break Run in Baytown twice.
"The Jail Break Run benefits Project Blue, a non-profit that raises money for police officers who need financial aid for injuries and illnesses sustained outside the line of work," Ertl said. "The organization was started by my criminal justice scholarship benefactors in memory of their son who passed away from cancer. Being able to participate in the event has added another layer of meaning to my running goals."
With his many commitments and graduation approaching, Ertl has his work cut out for him for the remainder of the semester.
"As far as all my commitments go, I only do all these things because I love to do them," Ertl said. "All these tasks are things I believe in doing, and doing well."
- END -
This page maintained by SHSU's Communications Office:
Associate Director, Communications: Emily Binetti
Telephone:936.294.4406
Communications Manager: Mikah Boyd
Telephone: 936.294.1837
Communications Writer: Campbell Atkins
Telephone: 936.294.2638
Thomason Building: Suite 102
Please send comments, corrections, news tips to Today@Sam.edu