Junior Offers 'Pawsitive' Reinforcement When Disaster Strikes Hometown
March 24, 2016
SHSU Media Contact: Romney Thomas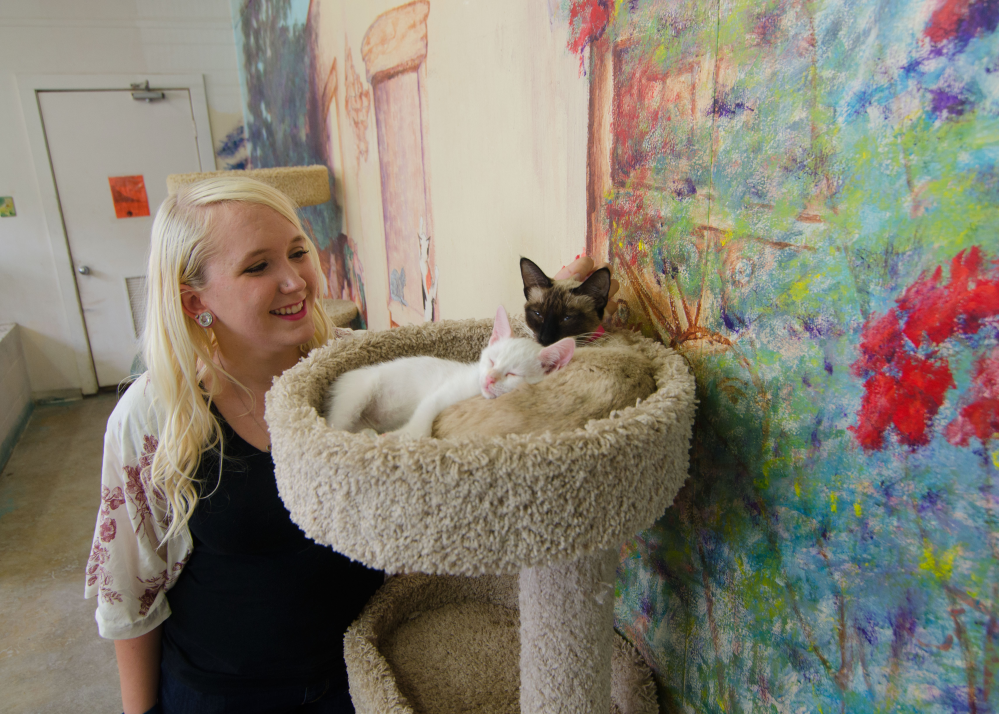 Junior animal science major Ashley Scott's decision to get experience in her hometown veterinary office offered her a way to express her love for animals while also making a difference when she was able to care for pets whose homes were destroyed during the Dec. 26 tornado that hit North Texas. —Photo by Brynn Castro
When Sam Houston State University junior animal science major Ashley Scott began shadowing Dr. Josh Cope at Premier Vet Care in Rowlett in the summer of 2015, she never imagined the kind of learning experience that would arise from the devastation of a tornado that would hit the town half a year later when she returned to the clinic during her winter break.
The tornado that struck Rowlett on Dec. 26 damaged approximately 700 homes and destroyed another 150, according to numbers released by the Rowlett city manager Brian Funderburk. Amid the chaos and debris, Scott found the opportunity to serve members of her community in an unexpected way.
"I remember passing through the damaged areas on my way to the clinic where I shadow Dr. Josh," Scott said. "There was so much damage; it was unbelievable."
The tornado's destruction extended not only to homes, businesses and people, but also to pets and other animals in the area.
"Just after the storms had passed, Dr. Josh announced on the Premier Vet Care Facebook page that he would open the clinic the next day," Scott said. "The clinic is usually closed on Sunday, but he was already opening up and beginning to search for lost, hurt and abandoned animals in the damage."
Although not actually an employee of PVC, Scott accompanied Cope and his entire team each day of her winter break in order to help care for lost and hurt pets and to reunite them with their owners.
Animal lover and pet owner herself, it hurt Scott to think about the lost and scared animals, as well as their owners who were unable to find them.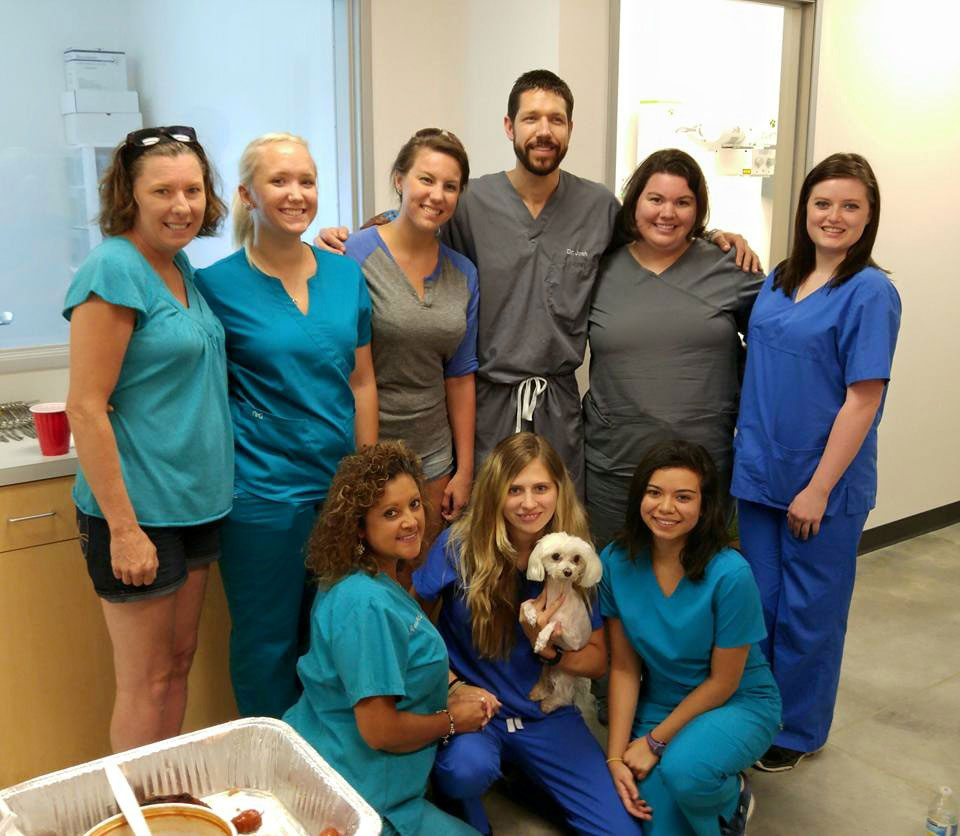 Scott and the Premier Vet Care staff paused for a group picture while they cared for animals that were lost or injured as a result of the devastation. —Photo from the PVC Facebook page
"Obviously I love animals, and helping them is my passion," Scott said. "We were really fortunate that we only found a few animals that were in need of intensive care."
A few of the animals had been found trapped under the rubble of ruined homes. Scott assisted the team at PVC with performing exams on all of the animals that came to the clinic, checking for broken bones and other sources of pain.
According to Scott, the team relied heavily on donations to accommodate all the displaced pets.
"We posted on Facebook asking for donations of pet food, water bowls, blankets and other things we would need to help the animals we were finding," Scott said. "We have kennels for our surgery patients, and a few more in our isolation room and some in storage, but because we are not primarily a boarding facility, we didn't have nearly enough to hold all the animals that had been brought in.
"So many people brought the supplies we had requested that we actually had to start turning donations away so they could be brought to those who might need them more than we did," she said.
The outpouring of community support PVC received overflowed to volunteers as well.
"It's a small group of people who work together at the clinic," Scott said. "At the time, we had one vet, three vet technicians and a handful of assistants. In order to help take care of all the animals in need, Dr. Josh actually had to hire another team member to help.
"We also posted a volunteer sign up sheet on social media for people who could help with small tasks like walking the pets, feeding them and cleaning the kennels," she said. "Within a few hours, the sheet was completely full, and just like with the donations of supplies, we had to begin turning away some of the people who wanted to help.
"It was really amazing that so many people were willing to donate their time or belongings in that way."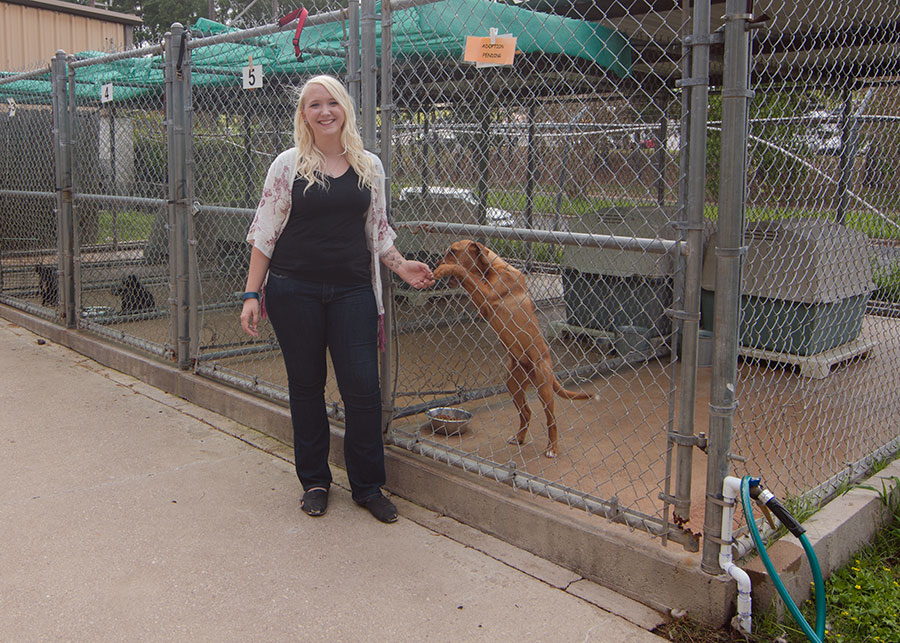 Merck Animal Health, an animal pharmaceutical company, also donated medicine, vaccines and microchips for the pets at PVC.
"Those donations were really amazing," Scott said. "We were able to provided free treatment, x-rays, and ultrasounds to the lost pets, and we administered fluids to dehydrated animals. It was also so great that we could microchip all of the pets in case they were ever separated from their owners again."
For weeks in the aftermath of the storm, Scott and all those who worked at PVC attended tirelessly to the lost and hurt pets of Rowlett.
"All the extra work was so worth it when we could see a pet reunited with its owner," Scott said. "It was also amazing to see how selfless people could be. If they could not afford to take their pet back, because of how the tornado affected their situation, they allowed us to help rehome their pets."
Scott has dreamed of becoming a veterinarian since she was 5 years old, and the experience with Cope and the education she is receiving at SHSU is only solidifying that dream.
"The professors at SHSU are extremely supportive," Scott said. "Pre-vet studies are challenging because becoming a vet is like becoming a doctor, except instead of gaining expertise about one species, you have to be an expert about several. There is so much information to learn and so much to keep track of.
"On top of that, in order to get into vet school, you have to have relevant experience and extracurricular activities," she said. "That's where I'm extremely grateful to Dr. Josh for mentoring me at Premiere Vet Care."
Scott said the hands on experience she had received in working with livestock at Gibbs Ranch at SHSU was beneficial to her because she had experience working with multiple different animals prior to learning from Cope.
"I love the hands-on experience I've had at Sam Houston so far," Scott said. "That aspect of the program, along with the personal interest the professors have for their students really attracted me to this school for my pre-vet studies. The community at SHSU is so centered on service whether you're helping people or animals. That has definitely reinforced to me that I want to become a vet and that I came to the right place."
- END -
This page maintained by SHSU's Communications Office:
Associate Director, Communications: Emily Binetti
Telephone:936.294.4406
Communications Manager: Vacant
Telephone: 936.294.1837
Communications Writer: Campbell Atkins
Telephone: 936.294.2638
Thomason Building: Suite 102
Please send comments, corrections, news tips to Today@Sam.edu