Alumna 'Markets' Quality In Food Service, Nutrition At SHSU, Beyond
Nov. 29, 2016
SHSU Media Contact: Dawine Bergeron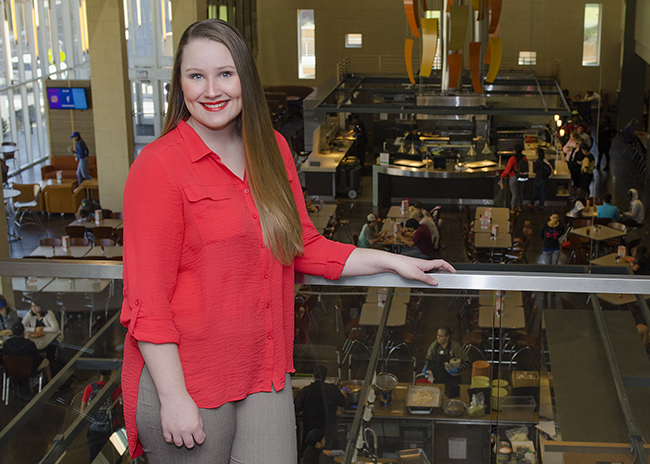 The quality of SHSU alumna Annlyn Whaley's work as a family and consumer sciences major in 2014 has led her to receive an internship with Aramark on campus, a competitive "Accelerate to Leadership" internship program and a post-graduation job as the food production manager in SHSU's Old Main Market. She soon will be departing SHSU for a job in the H-E-B Grocery Company's School of Retail Leadership. —Photo by Brian Black
"I believe nutrition is the key of life. Every cure can be found in food. Food is medicine. That's why I choose to do what I do."
Those are the words that Annlyn Whaley, Sam Houston State University alumna and former SHSU Aramark food production manager, has lived by since her love for food began when she was a child.
"I developed a passion for cooking from my mother, who exposed me to different cuisines as she prepared wonderful meals," said Whaley, who grew up in the Rio Grande Valley in Harlingen. "I tried escargot at age 5 at one of her many dinner parties. I watched my grandfather catch his own salmon in Canada and my grandmother make smoked salmon pate.
"My palate acquired a taste for the more refined foods, thus leading to my interest in the food and beverage industry," she said.
Although Whaley's mother also attended SHSU and had told her many stories about the university, it was Whaley's own experience when visiting the campus that motivated her to attend SHSU.
"I came for a visit, I enjoyed the environment, and the faculty was really nice. It just felt right," Whaley said.
While she had a keen interest in food, Whaley still wasn't quite sure what she wanted to major in when she arrived at SHSU.
"I started off pursuing a degree in family and consumer science services, but once I found out about the food service management program, I knew it was perfect for me. The professors were great and I still have relationships with them," Whaley said.
Later, Whaley discovered that she had to complete a 300-hour undergraduate internship as part of her degree plan.
"We had to find our own internships, and I realized mine could be right around the corner with Aramark," she said.
During the course of her internship, Whaley was responsible for completing Aramark's Quality Assurance and Food Safety assessments.
"The assessments were similar to a health inspection. I was able to learn all of the different facets that encompass a food service operation, " Whaley said.
After completing her internship with Aramark in Huntsville, Whaley applied and became one of 115 accepted students across the nation into Aramark's internship program, Accelerate to Leadership, for the February 2015 class.
Within the program, Whaley worked as a food service manager in the Food and Nutrition Services Department at University Hospital and Clinics in Lafayette, Louisiana.
Some of her duties included ensuring that requirements for appropriate sanitation, waste and food safety levels in respective areas were met, ensuring exceptional customer experiences, and coordinating and supervising unit personnel in regard to production, merchandising and cost control.
"I recommended Annlyn to the program because of the exceptional work she has done for us," said Aramark resident district manager Brad Blackburn. "Her work always exceeded our expectations and she has a wonderful attitude."
Whaley kept in touch with the SHSU dining management team throughout the course of her A2L program and before it ended, she was offered a position as food production manager at Old Main Market, SHSU's dining facility, which is managed by Aramark.
"I've enjoyed focusing on the personal development of my staff, knowing I can share what I know with them as someone once shared with me. I would not be where I am today without the wisdom that was shed on me, and I aim to do the same for others," she said.
Although she believes that Aramark has given her an outstanding opportunity as a young professional in the food service industry, Whaley plans on continuing to learn about food and beverage and soon will be joining H-E-B Grocery Company in its School of Retail Leadership.
The program develops individuals to become store operation leaders. The training includes hands-on management experience in all departments, classroom training, project work and workshops designed to enhance the level of skill and leadership required to achieve success as a store leader.
During the program, Whaley will work closely with region leadership and store leaders in an effort to be exposed to all aspects of retail operations.
Whaley said that as a student in the SHSU food service management program in 2014, she was inspired and motivated by the passion and dedication of the faculty in the FCS department to pursue her aspirations as a young professional.
"I will be forever thankful that someone saw something in me those few short years ago, that eventually granted me the key to my career," Whaley said. "My own determination and support of others granted me my success, which has only just begun."
"In my career, I have learned an immeasurable amount of knowledge working for Aramark. I would not have the skills and passion I have today without the guidance and wisdom shed on me throughout the years from members of this team," Whaley said. "I have much gratitude for the time I have been a part of this extraordinary company."
- END -
This page maintained by SHSU's Communications Office:
Associate Director, Communications: Emily Binetti
Telephone:936.294.4406
Communications Manager: Mikah Boyd
Telephone: 936.294.1837
Communications Writer: Campbell Atkins
Telephone: 936.294.2638
Thomason Building: Suite 102
Please send comments, corrections, news tips to Today@Sam.edu