Freshman Shares Emotional Journey Shared With 'Enrique'
March 2, 2016
SHSU Media Contact: Jennifer Gauntt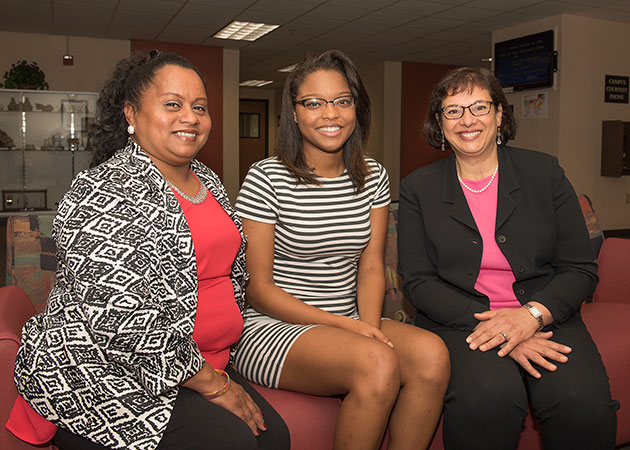 As the winner of the 2015-16 Common Reading Program freshaman essay contest, Nyasha Alexander (center) had the opportunity to meet author Sonia Nazario (right) and "Enrique's" mother Lourdes Pineda (left) in the fall. Alexander won a $500 scholarship for her essay, which connects the emotions she felt as a child growing up in the foster care system to the emotions of the book's main character. You can read the entire essay below. —Photos by Brian Blalock
Nyasha Alexander is a freshman business management major from La Porte, who was named the winner of the 2015 Common Reading Program freshman essay contest for her essay "A Physical Journey Through Emotions." The prompt asked students to share how learning about the migrant's values in the book affected their own attitudes, using specific examples from the book to support an interpretation.
Below, Alexander, who received a $500 scholarship for her essay, details the emotional journey she took with "Enrique" while reading "Enrique's Journey" and the connection she felt to the character as a child who grew up in the foster care system.
The Common Reading Program is offering students another opportunity to win a scholarship through the spring essay contest, which asks students to explore author Sonia Nazario's prologue statement that "the migrants I spent time with gave me an invaluable gift. They reminded me of the value of what I have. They taught me that people are willing to die in their quest to obtain it" (xxv). Essays are due April 1, and details about the contest, as well as the art and library social media contests, can be found here.
A Physical Journey Through Emotions
by Nyasha Alexander
When I was 7 years old, I came to realize that my childhood was and never would be full of happy memories. My mother would never kiss me and tell me what a pretty little girl I was. My father would never come home from work and scoop me into his arms. Those picture perfect families that I idolized on the Disney Channel would never be a reflection of my life.
My mother would, however, drag my four siblings and me from hotel room to hotel room or leave us with an "uncle" who we had never met. My father would pop up whenever he remembered that we existed. He would shower us with gifts that he may or may not have bought. I was angry. What did we do to cause our parents indifference? Were we that much of a burden that my mother could go for weeks at a time without seeing our faces? The question I constantly asked myself was, "Why did she leave?" At the age of 7 I realized that my childhood would be spent in the Texas Child Protective Services, constantly looking for an answer to that question. For years, I shuffled through the bitter emotions of an unwanted child.
"At the age of 7 I realized that my childhood would be spent in the Texas Child Protective Services, constantly looking for an answer to that question (of why her mother left). For years, I shuffled through the bitter emotions of an unwanted child."
Enrique shuffled through similar emotions during his childhood. To accompany his journey through a harsh emotional reality, he traveled across Central America and Mexico to reunite with his mother after years of separation. As a young child, a journey as dangerous as this one must be made with a heart led by the values instilled into him. The sacrifices made are personal and affect the happiness of him and his family.
"Family Over Everything"is a motto that Lourdes seems to live by. As a young child, she often compared the flickering images of New York City's brilliant skyline, Las Vegas's dazzling lights, and Disneyland's beautiful castle to her poverty-stricken home in Honduras (Nazario 4). When she decides to leave her children in Honduras and travel to the U.S., waves of guilt rush over her. She understands the emotional pain she would inflict on her young son and daughter (Nazario 3). During every job she takes on while in the U.S., she asks herself what she could send back to her family. When she felt as though she might be in danger she worried, "What happens to my children if I die?" (Nazario 18). She tries several times to become a permanent resident of the U.S. and plans to bring her children in the country legally.
Lourdes's oldest daughter, Belky, values the mother-daughter relationship that every girl dreams of. Because she was old enough to understand why Lourdes left her and Enrique, she is torn between being angry and grateful. She feels as though her mother deserves nothing but gratefulness. Lourdes sends money for the necessary books and uniforms for her private schooling, not to mention the coveted gifts she sent, including Reebok shoes, black sandals and numerous toys. Belky often heard stories of mothers who had left and never sent anything back to their children or were even killed during their journey; at least Lourdes was alive (Nazario 10). She did not have the bond with her mother that she longed for. Lourdes is not there to offer comforting words when she doesn't feel beautiful as an adolescent girl struggling to navigate puberty. She often asks herself, "How can I be worth anything if my mother left me?" (Nazario 10). When word reaches Belky that Lourdes has had a third child while in the U.S., her anger simmers down to fear. "How can she have more children now?" (Nazario 16). With a new baby she fears that Lourdes will lose interest in her and Enrique, and the money she wires south will become scarce. Throughout her life, Belky longs desperately to be with her mother and at one point regrets not traveling with Enrique to reunite with her (Nazario 193).
Enrique has an incomparable love for his mother. Like many young children, Enrique idealizes his mother in her absence (Nazario 7). When he becomes older, his choices overwhelm him with a pregnant girlfriend and a brutal drug addiction. Enrique feels as though reunification with his mother is his only salvation (Nazario 42). Throughout his journey across Central America and Mexico he often falls into a deep depression. "I want to be with her [Lourdes]," he says, "to know her" (Nazario 152). When he finally reunites with his mother, his memory of the loving relationship is shattered as his adoration for her was clouded by the resentment he unknowingly harbored in his heart. He sees her as a liar and constantly reminds Lourdes of the promises she'd broken. He is ungrateful for the money and gifts that his mother sent to Honduras. He wanted her attention, not her money. His anger destroys the ideal image he had created of her as a child.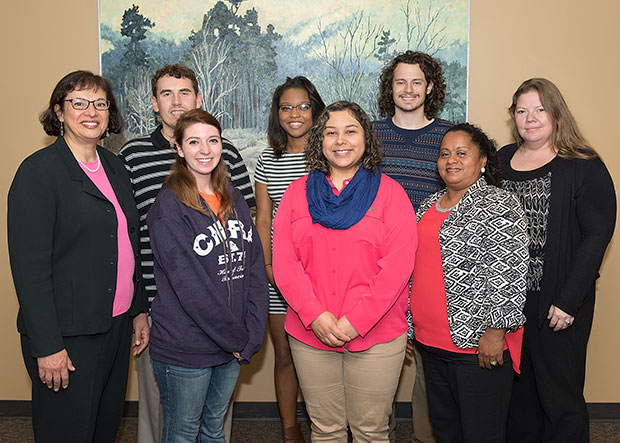 Other Common Reading Program contest winners also were recognized in the fall. Read or view their winning submissions here and learn about the spring 2016 contests here.
When Lourdes makes the decision to leave her family, she takes time to consider the sacrifices she would have to make. She struggles with the thought of missing her children's journey to maturity. She feels bad that she only has enough money to send back for food and not for the many birthdays she missed, not to mention the Christmas celebrations. Tears are shed when she could not join Belky for her high school graduation, marriage, or the birth of Belky's children. When finally reunited with Enrique, Lourdes wants respect and gratitude for the many sacrifices she made; however, Enrique verbally abuses her and she struggles with the guilt of having put her son through the emotional turmoil that makes him react that way (Nazario 197-199).
The determination to join his mother in the U.S. put an immediate strain on the relationship Enrique has with his pregnant girlfriend, Maria Isabel. "I love him," she says, "but not like before" (Nazario 221). His leaving causes him to miss the birth of his first daughter, Jasmin. For the first four years of Jasmin's life there is no father-daughter bond. She often referred to her uncle as "papi." When Enrique calls from the U.S. to speak with his daughter, she often had to be coached to speak, whereas with her uncle, words flowed freely. Enrique senses that his daughter has filled his role in her life with another man. This fuels his need to bring his family to the U.S.
Unlike Lourdes's, my journey, although not physical, was not grounded in the value of family. My mother did not seem to be an important figure contributing to my success but only to my demise. Many times I avoided making strong family ties because they seemed to break so quickly. I did not hate my mother; I hated her lifestyle and her choices. When she stepped back into my life after years of absence, I, like Enrique, was angry and treated her badly. What had she ever given me but a reason to cry? My father, though, I idealized as a child. From my memory of him, he had never hurt me. As daddy's little girl, I refused to believe that he abandoned my siblings and me as my mother did. When my mother returned my siblings threw themselves at her. They were elated to have her back in our lives. I constantly tried to remind them of the broken promises and abandonment. Yet, if my father were to ever come back, I, too, would be elated. I have yet to take time to understand my prejudice.
By leaving the lives of their children, my parents missed our emotional journey toward adulthood. Even now, they are constantly reminded that they contributed nothing to their children's success.
Now that I am older and can understand my parents' point of view better, I often ask myself where I might be if my mother had taken us with her. What would have happened if she had refused to release her children to the foster care system and instead had dragged us through the horrors she endured? I am sure that Enrique had the same thought. If he had stayed in Honduras, would he have survived? His family would be permanently torn apart as he fell victim to drug abuse. The terror of his journey must definitely seem worth his life and his family.
The connection I developed with Enrique was unreal. Reading his story gave me a chance to reflect on my own life and sift through emotions I repressed many years ago. Despite his journey being physical and mine being emotional, a parallel existed between events in our lives.
- END -
This page maintained by SHSU's Communications Office:
Associate Director, Communications: Emily Binetti
Telephone:936.294.4406
Communications Manager: Vacant
Telephone: 936.294.1837
Communications Writer: Campbell Atkins
Telephone: 936.294.2638
Thomason Building: Suite 102
Please send comments, corrections, news tips to Today@Sam.edu