Alumnus Makes 'Waves' As Producer, On-Air Talent For Houston Radio Show
Nov. 3, 2016
SHSU Media Contact: Jennifer Gauntt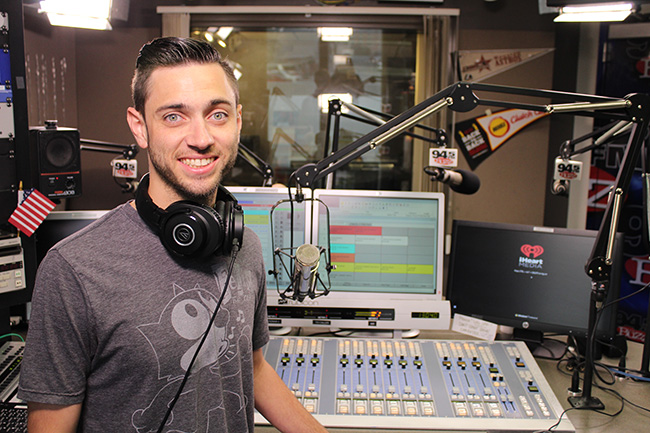 Alex Middleton, a 2012 mass communication alumnus, fast-tracked into the radio industry through hard work, a few disappointments, and a little bit of luck. After an internship with SportsTalk 790 turned into a full-time gig, Middleton jumped at the chance to use his experience to become a producer and on-air talent with one of the top morning shows in Houston, 94.5's the Rod Ryan Show. —Photo by

Phyllis, 94.5 The Buzz (KTBZ Houston)
A typical morning for Sam Houston State University alumnus Alex Middleton starts hours before the sun comes up.
He arrives on most days at the KTBZ studios before 4:15 a.m. and gets to work taping the day's live commercials; editing the daily program log—the show's script—which includes making sure music is in place and that everything will run at the correct time; writing a sports update and populating a blog; and finding topics to discuss.
It all must be done every day before 6 a.m., when 94.5 The Buzz's Rod Ryan Show goes on air. As a producer and on-air talent for the show since 2015, a lot falls on Middleton.
"The morning before the show starts is the most hectic part of my day, where there's just a ton of stuff that has to be done," said the 2012 mass communication graduate.
Finding a place on one of Houston's most popular morning radio shows was several years in the making for Middleton and has included a lot of hard work, a few disappointments and a little bit of luck.
But it also started with the Rod Ryan Show.
"Rod Ryan was literally the reason I went to Sam Houston," Middleton said. "From the time my mom would drive me to school through when I drove my brother, I would listen to the Rod Ryan Show. I would listen while getting ready for school and in the car on the way there.
"I wasn't good at most school subjects, but I can talk; I always got in trouble for talking, and I thought it would be cool to get paid for talking. I thought, 'Rod Ryan has a cool job; that would be something fun to do.' I looked into how to do that and communications was a big part of it," he said.
After coming to SHSU, where during his first year he reaffirmed his decision to focus on radio, Middleton took the initiative to expand on his experience by seeking out opportunities and landed an internship with SportsTalk 790AM, now iHeartMedia, Inc.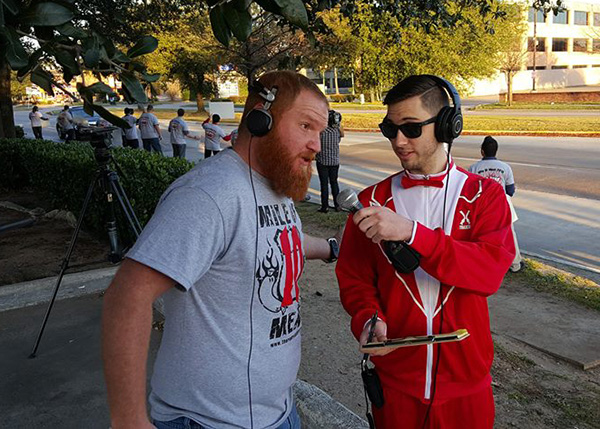 Middleton participates in many of the Rod Ryan Show's wacky antics, including reporting live from the "Mile of Meat" Valentine's Day date-matching activity (above) and routinely playing the on-air "Read My Lips" game (below, on St. Patrick's Day), wherein Middleton and co-host Dinah Powers (center) compete to guess the most words that show host Rod Ryan (right) says to them while music blares in their headphones. —Submitted photos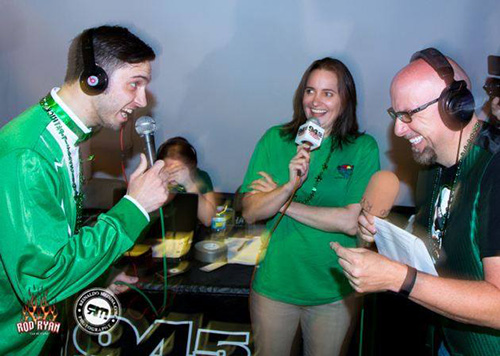 As a self-proclaimed "big sports guy," SportsTalk was an ideal job for Middleton, and despite the fact that he started on the hunting- and fishing-centric Doug Pike Show when neither sport interested him, Middleton found value in the experience.
"Normally when you start out, you don't get to talk, especially as a producer, but Doug Pike is one of those guys who would check in with the producer, so I got a lot of on-air opportunities that allowed me to improve as a broadcaster," Middleton said.
That mindset, his work ethic and the experience he acquired set him up for a part-time job opportunity when his internship ended.
"From my sophomore year through my senior years every Saturday and Sunday, I would get up early in the morning and would drive from Huntsville to Houston," Middleton said. "I would go in during the shows and help look for materials, edit the podcast afterward, I'd answer the calls, and I learned how to run the boards during that internship."
Middleton's "sports guy" dreams were realized when SportsTalk 790 acquired the rights to broadcast the Houston Astros and Rockets games and he was hired on a full-time/part-time basis to cover the games. He became an executive producer for the Rockets for the last two years he worked there, essentially running the behind-the-scenes aspects of the broadcast.
While Middleton loved the job, working such exhaustive hours began to take a toll.
"I started to feel like I was pigeonholed; I had been around for so long that I was able to run KTRH, KPRC and 790, the three AM stations we had. If somebody was out in the SportsTalk station or the news talk station or KPRC, I was filling in," he said. "But that's all I was doing; I had no social life, it was all nights and weekends. I was getting burned out."
So Middleton took a break and acquired a job at the catering company where his girlfriend worked. But not wanting to give up on broadcasting altogether, he started his own podcast.
Within a year, though, he heard about an opening at the Rod Ryan Show; he turned in his application and interviewed, but he wasn't hired. It wasn't very long after that, however, that he saw the job posted again, and, again, he took a shot. This time, he got the job.
The Rod Ryan Show, Middleton said, is unlike other radio shows he's worked with; not only do the four who work on the program operate like a close-knit family, but the standards that Ryan demands from his staff sets them apart from other radio shows.
"We are one of the few shows I've ever seen that we stay as late as we do," said Middleton, adding that sometimes he doesn't leave the office until 2 p.m., despite getting to work at 4 a.m. "I think that's one reason our ratings are so high; Rod is adamant that we stay on it. If we're good, we have to take a few strokes off our game to be that much better. I appreciate that the Rod Ryan Show gives me the opportunity to get that kind of feedback."
While producing a radio show can be a lot of long hours and tedious work, there are also opportunities to have a lot of fun.
Among the craziest things Middleton has done for a show known for its crazy antics was getting choked out by UFC fighter Tito Ortiz, who was in-studio promoting an MMA fight.
Dinah Powers, the Rod Ryan Show co-host, suggested it as a joke and Ortiz agreed, if Middleton would give him permission on air.
'Choking' On Air
One of Middleton's most (or least, depending on how you look at it) memorable moments on air was being "choked out" by MMA fighter Tito Ortiz.
"It was 100 percent organic," Middleton said. "Had I had a second to think about it outside of that, I wouldn't have done it."
It ended up being one of the most watched YouTube videos in the show's history.
"It was the weirdest feeling in the world. I could feel him put pressure on my neck and thinking I can't breathe and then I remember waking up on the floor," he said, equating waking up to jerking out of a dream. "I woke up, somebody handed me my headphones, then I saw my microphone, and I saw Rod and Dinah and I thought, 'oh, no. I'm at work, what did I do?'
"It took me a while to realize that I had been choked out," he said. "I had a headache and I was all foggy feeling for two or three days afterward."
When Middleton isn't working, he continues to host his podcast, called "Pass the Gravy," which he had created so that he would have air checks to take to job interviews.
"It's called Pass the Gravy because it's like 'hey, guys, give me a chance?'" he said. "It has no focus at all, just whatever we feel like talking about. People say it's like listening to a bar conversation that you're eavesdropping on."
He records one-hour episodes every week from his apartment. Each episode contains segments, including some he had pitched while working at SportsTalk 790, such as "Not Cool," where he and a friend discuss things they don't like, such as gender-reveal parties; and "Deep Conversations for the Shallow End," where his cohost will explain things that Middleton may not understand, such as Brexit.
"My favorite part of the podcast is called 'Answers,' where we encourage people to send the dumbest thing they can think of," Middleton said. "A recent favorite one was, 'If you didn't know what they were, wouldn't waterboarding and Guantanamo Bay sound fun?' We like it because that's all the interaction we get with listeners."
From his podcast, to his internship, to his current position, Middleton attributes a lot of what he's accomplished to the SHSU Department of Mass Communication, including the faculty—Chris White and former Warner Chair Mickey Herzkowitz being his favorites—and his peers.
"In radio, you wouldn't think you'd need video stuff, but if Mel Strait hadn't been on my butt so much, being as strict as he is, I wouldn't be where I am, because I can cut video and that was a huge plus in hiring me," Middleton said. "They didn't have to get their videography person; I can put together a YouTube video.
"But it was really the mass comm people (who impacted him). I had criminal justice roommates and it didn't feel like they were a family, but we were a tightly knit group," he said. "It's cool seeing all the different areas mass comm has taken people. My friends are doing really cool things; one is shooting videos with drones for off-road racing teams. It's not just radio and TV. It was the most fun major, definitely."
- END -
This page maintained by SHSU's Communications Office:
Associate Director, Communications: Emily Binetti
Telephone:936.294.4406
Communications Manager: Mikah Boyd
Telephone: 936.294.1837
Communications Writer: Campbell Atkins
Telephone: 936.294.2638
Thomason Building: Suite 102
Please send comments, corrections, news tips to Today@Sam.edu