Veteran Students 'Accomplish The Mission,' Receive Special Stole For Graduation
Dec. 1, 2016
SHSU Media Contact: Lane Fortenberry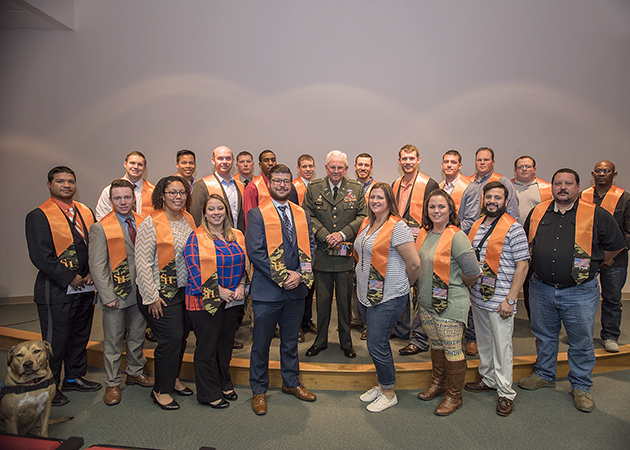 The Veteran Stole ceremony honoring veteran students graduating in December was held Nov 30. —Photos by Brian Blalock
Reaching the finish line of becoming a college graduate is a long and challenging journey. It seems like the hours poured into studying and homework over the course of a collegiate career are impossible to calculate.
For a veteran who has served three or more years to receive college benefits it's even more arduous. This is why Sam Houston State University's Veteran Resource Center established the Veteran Stole Ceremony as a way for the university to honor and show appreciation to the veteran students graduating college.
Veteran criminal justice student Casey Thumann, former sergeant in the Army, who is a single mother and patrol deputy, drove two and a half hours to the stole ceremony with her daughter and mother.
Thumann will be wearing the orange and camouflage colored stole when she walks during graduation. Sam Houston State University's logo is embroidered on one side and the American flag with the word "Veteran" underneath is embroidered on the other side.
"It's a big accomplishment that I've been working toward since I got out of the military," Thumann said. "I'm a single mom and now I'm getting my bachelor's degree. My daughter sees me working and studying my schoolwork all the time. I want her to see that this is possible.
"I figured if I walk and take her to these things with me and let her see it, she's going to know we can do these things regardless of what life throws at you. It's great being in a room with people who all have served. It all means so much to me."
Veteran nursing student Jonathan Schaefle, who attained the rank of corporal in 3rd Battalion 7th Marines, decided to join the military while he was in high school.
"I was a sophomore in high school when the events of Sept. 11 happened," Schaefle said. "I just wanted to serve my country after that. I signed up during my senior year and my mom didn't want to sign the paperwork. I told her 'you can either sign it now or I'll just go after I turn 18;' she signed it soon after that."
Schaefle credits SHSU's Veteran Resource Center for the help he has received over the years in becoming a college graduate.
"The ceremony is a good representation of how well SHSU treats its veterans," Schaefle said. "The process is very difficult to navigate and they were there to take care of us. They take all the necessary steps to make sure I'm set up to succeed. This is just the final step.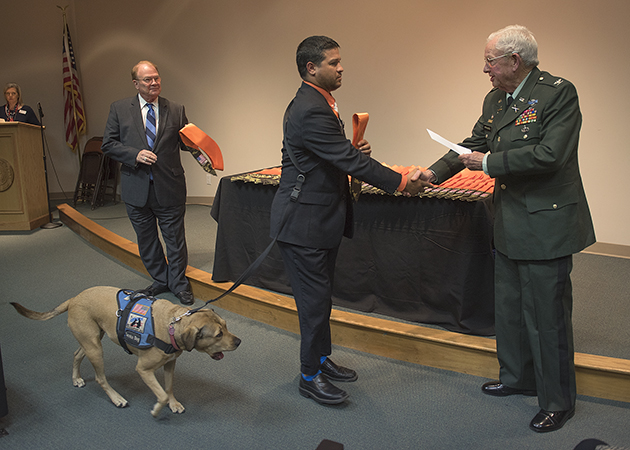 Veteran student Robert Ferguson receives his stole and a handshake from Col. John McManners, a 1962 SHSU graduate who gave a special speech during the Stole Ceremony. —Photos by Brian Blalock
"The stole is saying 'thank you' for coming to our school. It's the school saying 'We want to show our appreciation to you and distinguish you from other students.' It makes me feel proud to be a veteran and to have attended this school."
Veteran nursing student John Richardson attained the rank of corporal in 2nd Battalion 6th Marines.
"I felt it was just my time to serve," Richardson said. "I thought it was the best course of action and would make me a better person. My family wasn't too thrilled about it so I wasn't persuaded to go, I just wanted to. I'm glad I did it."
The discipline, motivation and drive Richardson acquired from the military have helped him throughout his college journey. The communication skills he learned are key in communicating with teachers and patients.
"It's great to finally complete this journey and to be recognized for it," Richardson said. "They've taken care of us like no one else has. It's a great honor."
Fernando Chavez, director of the Veteran Resource Center and former information systems technician and Petty Officer 2nd Class in the U.S. Navy, believes the stole is a great way to honor the veteran students who are receiving a college degree.
"It's a way for the university to give back and to show appreciation," Chavez said. "The student served in the military, or is currently serving, and went to school then met the challenge of graduating from college. With the ceremony, when he or she walks across the stage, they feel honored with the stole. It's a great accomplishment for any student to graduate, especially a veteran. The other great thing about the event is their family can attend and watch them receive the stole."
The guest speaker featured retired Col. John McManners, a 1962 SHSU graduate who spent 30 years in the military. The experiences he shared were meaningful to Thumann, Schaefle and Richardson.
The first stole ceremony in May featured 26 veteran students. Twelve students attended in August and 23 attended in November. Chavez hopes to see the number of students continue to rise by encouraging them to participate. He said when some veterans saw the stole in person they decided to attend.
"I try to express to the students that you may not think about it right now, but the older you get, you may wish you had attended the ceremony," Chavez said. "Don't necessarily do it for yourself, but do it for your parents or your wife or husband. Do it for your kids to show them this accomplishment is obtainable. I spoke to one vet and he said, 'this is going to put everything I've done in my life into perspective. It made me think about everything I did in the military and what I had to sacrifice for this moment.'"
The third Veteran Stole Ceremony for veteran students graduating in December took place Nov. 30 at the Katy and E. Don Walker Sr. Education Center.
- END -
This page maintained by SHSU's Communications Office:
Associate Director, Communications: Emily Binetti
Telephone:936.294.4406
Communications Manager: Vacant
Telephone: 936.294.1837
Communications Writer: Campbell Atkins
Telephone: 936.294.2638
Thomason Building: Suite 102
Please send comments, corrections, news tips to Today@Sam.edu