SHSU, Fire Marshals Team Up To Study Fire Deaths
Oc. 27, 2015
SHSU Media Contact: Beth Kuhles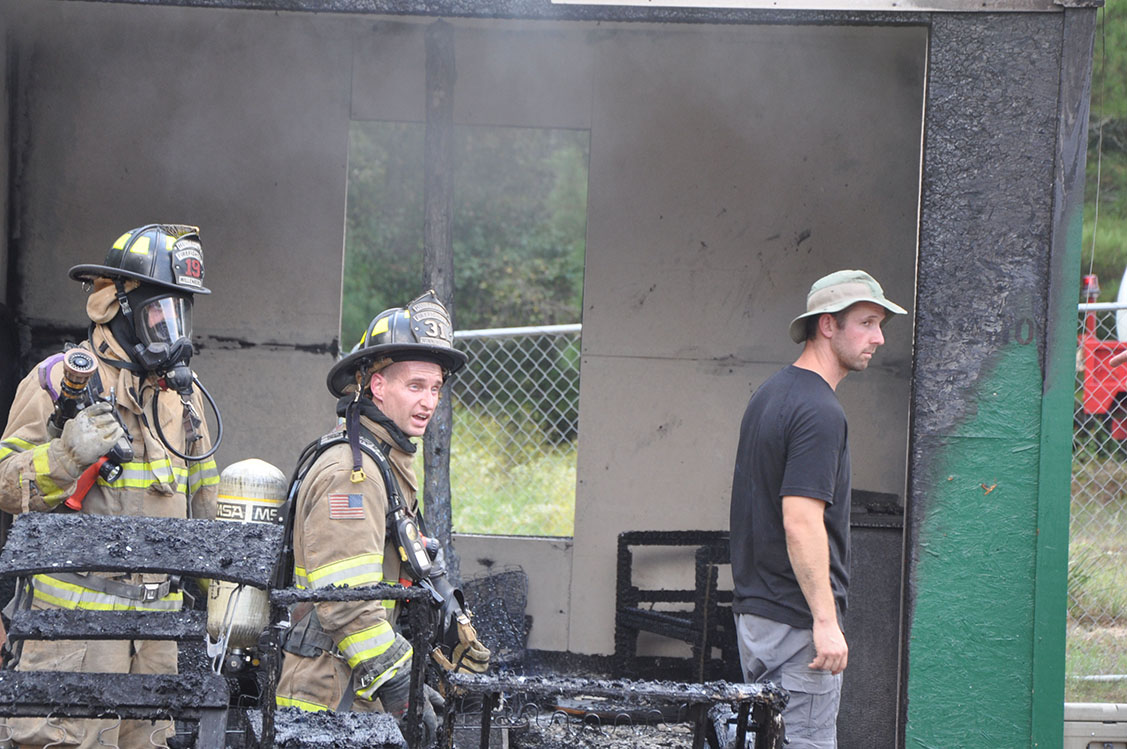 Sam Houston State University recently teamed up with the Collin County Fire and Arson Investigators Association to host one of only two fire death investigation courses in the country using human case studies.
More than 60 fire marshals, investigators and attorneys from agencies across the country attended the five-day program at the Southeast Texas Applied Forensic Science Facility, which provided a variety of information on fire science, fire death investigations and forensic science.
The CCFAIA began hosting the training sessions after a 2011 Texas Forensic Science Commission study found that there are "gaps in understanding" between fire scientists and fire investigators and stressed the need for the scientific method to be used when investigating fire death cases.
As a result, the CCFAIA began to partner with various universities to provide ongoing training classes for state fire officials.
"Our goal is to provide this course to smaller cities, offering a rare chance for participants to experience burn scenarios with controlled variables that yield professional research– level training results," said Steve Seddig, deputy fire chief/fire marshal for Wylie and president of the CCFAIA. "The participants will gain experience in the use of observation, experimentation, and conclusion that becomes critical for formulating the theory/hypothesis tied to the scientific method."
Those who attended the training included representatives from the Texas Rangers; the Texas State Fire Marshal's Office; the Federal Bureau of Alcohol, Tobacco, Firearms and Explosives; as well as representatives from Arkansas, Nevada, Oklahoma, McAllen, Guadalupe County, Wichita County, Sequin, and Waco.
Participants also were able to investigate a number of fire deaths with controlled experiments, including an exercise that placed cadavers donated from STAFS into a dwelling, a pit and a garbage can, allowing participants to observe the scene before and after a fire occurred.
"There is intrinsic information you get by going out and observing what happens," said Joan Bytheway, director of STAFS. "This training is going to change a lot of preconceived ideas about fire death investigations."
The CCFAIA plans to return to STAFS next year to provide even broader research opportunities for fire marshals and investigators.
"We created scenarios from beginning to end, and we got to see what happened," Seddig said. "It was a level of reality a lot of them had never dealt with before. They learned what to expect and how to approach it."
- END -
This page maintained by SHSU's Communications Office:
Director of Content Communications: Emily Binetti
Communications Manager: Mikah Boyd
Telephone: 936.294.1837
Communications Specialist: Campbell Atkins
Telephone: 936.294.2638
Please send comments, corrections, news tips to Today@Sam.edu