'Pumping It Up' For Sexual Assault Awareness
March 23, 2015
SHSU Media Contact: Tammy Parrett
The Criminal Justice Graduate Student Organization is teaming up with Lambda Alpha Epsilon and the National Association of Blacks in Criminal Justice to kick off Sexual Assault Awareness Month with Sam Houston State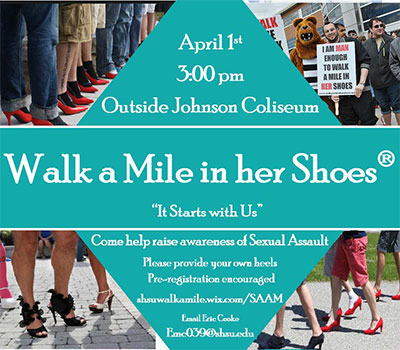 University's inaugural Walk a Mile in Her Shoes event on Wednesday (April 1) from 3-5 p.m. outside of the Bernard G. Johnson Coliseum.
Walk a Mile in Her Shoes is an international men's march to create awareness about sexual assault and gender violence on college campuses, where male participants are required to complete the mile-long march in high heeled shoes.
Before the walk begins Courtney Franklin, assistant professor of criminal justice at SHSU, will provide some information about what sexual assault is and its prevalence on college campuses, and criminal justice doctoral student Patrick Brady will speak to attendees about bystander intervention and how to respond if they witness someone falling victim to sexual assault.
GSO member Eric Cooke hopes that bringing Walk a Mile in Her Shoes to SHSU will create an open dialogue about sexual assault on college campuses.
"We want men to work together to tell other guys that this is wrong," Cooke said. "This isn't OK; this is something that needs to be talked about, not just pushed under the table."
"Every college campus could benefit from events like Walk a Mile in Her Shoes," said GSO member Lindsay Ashworth. "On college campuses, sexual assault is a huge problem. Last year the White House started a task force to put an end to sexual violence, and Title IX requires all universities to have these types of prevention and awareness programs in place."
"From what I've seen on different campuses, we can bring similar events to campus, but the ones that come out and participate are largely female," Cooke said. "Most Sexual Assault Awareness Month events don't target the typical perpetrators of sexual assault. This event is very men-focused, and it's an event where they can actually have fun while making a difference."
"We want everyone who participates or attends the event to leave with more awareness of the problem than they started with," said Lauren Sanchez, president of Lambda Alpha Epsilon. "The men may leave with sore feet, but that is a small price to pay for the great cause we are supporting."
For more information about Walk a Mile in Her Shoes, visit the website walkamileinhershoes.org.
For more information on SHSU's Walk a Mile in Her Shoes event, contact Cooke or visit the events website at shsuwalkamile.wix.com/saam.
- END -
This page maintained by SHSU's Communications Office:
Director of Content Communications: Emily Binetti
Communications Manager: Mikah Boyd
Telephone: 936.294.1837
Communications Specialist: Campbell Atkins
Telephone: 936.294.2638
Please send comments, corrections, news tips to Today@Sam.edu