SHSU Finds Success In Inaugural Moot Court Season
Nov. 19, 2015
SHSU Media Contact: Jennifer Gauntt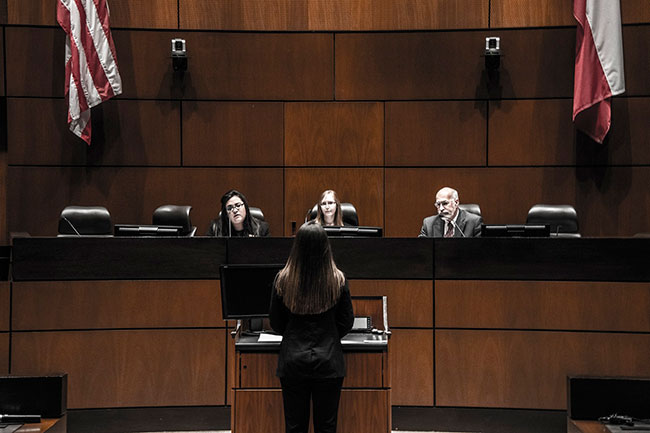 Kristyn Couvillion competes in the "Sweet 16" round of the Texas Regional Tournament at Texas Tech Law School. —Photos by Mike Yawn
This story was written by Mike Yawn.
Sam Houston State University's first moot court team has earned a spot in the "Sweet 16" after participating in scrimmages at the University of North Texas Law School and a regional tournament at the Texas Tech Law School.
Formed by students from the LEAP Center at SHSU, the team is the newest member of some 380 universities nationwide participating in the American Collegiate Moot Court Association.
The moot court process replicates the oral arguments of the appeals court process. Students must be thoroughly knowledgeable about cases related to their main (hypothetical) case, assiduously prepare oral arguments, and present them before practicing attorneys and law professors—who can interrupt at any time for questions.
SHSU's inaugural team comprised six students: Alejandra Galvan, Austin Campbell, Kaitlyn Tyra, Kristyn Couvillion, Chelsea King, and James Perry.
Coached by attorney Jean Loveall, who serves as LEAP Center program coordinator, the students began reviewing around 19 cases that average approximately 20 pages each in July, before learning the briefing process and developing and practicing their oral arguments.
It was an exhausting process, but one that paid off—in terms of new-found skills, increased confidence, and recognition for SHSU, according to Loveall.
"I'm so proud of these students," she said. "They worked hard, and they competed well against students with much more experience."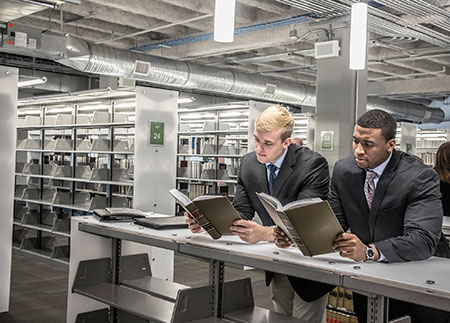 (Above) James Perry and Austin Campbell prepare in the UNT Law Library (Photo by Megan Chapa). (Below) Moot court team participants include (from left): Kaitlyn Tyra, James Perry, Kristyn Couvillion, Chelsea King, Austin Campbell, and Alejandra Galvan.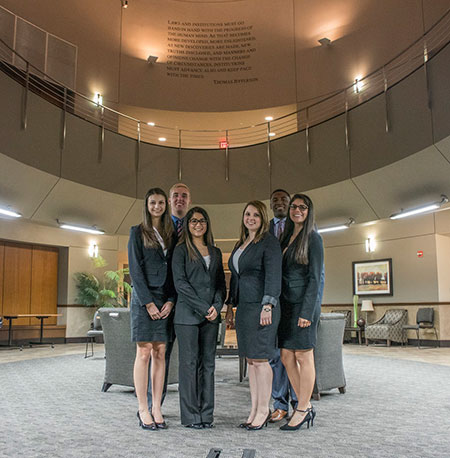 Aided by local attorneys Gene Roberts, John McPhail, Audrey Biggar, Shanice Newton, and Christina Lee—as well as Vinessa Mundorff, assistant director of SHSU's Career Services—the students made great strides in the weeks leading up to the first official scrimmage.
"It was difficult," said Tyra, a sophomore accounting major. "There is a lot of material to digest, and, often, it has to be recalled in the face of tough questions by experienced attorneys posing as judges."
During a scrimmage at UNT Law in early October, the teams took some hard knocks on the way to learning the process and expectations. More than 50 teams participated in the scrimmage, making it the largest tournament in the Texas Undergraduate Moot Court Association history.
With a clearer understanding of the skill level, the students returned to SHSU for an intensive series of practices over a two-week period before heading to Texas Tech School of Law for the state-wide tournament.
The first day of the TUMCA tournament had teams participating in back-to-back-to-back tournaments from 2-7 p.m., when they finally had a break for dinner.
Following dinner, they learned the tournament's results, that King had won an individual speaker award and one of SHSU's three teams tied for 16th spot, earning a "play-in" to the next day's "Sweet 16" tournament.
The qualifying team of Perry and Couvillion began their second day of competition at 8 a.m. and defeated a team from Texas Christian University.
In the next round, beginning a few minutes later, they faced even stiffer competition, going up against a Texas A&M team seeded No. 1 in the tournament. Although the results were less favorable to SHSU, they held their own, and made an impressive showing in their first-ever tournament, Loveall said.
"It's rare for a first-year team to make the sweet 16, especially here where the competition was particularly fierce," said Kimi King, TUMCA director and UNT political science professor. "I was impressed with SHSU's organization and the competitors' skills and professionalism. They did well against teams that had more experience. It's clear that they are a force to keep your eyes on."
Three of the students' legal futures will start next year as they enroll in law schools.
Consistent with the LEAP Center's mission, the moot court trips included touring the hosting law schools, visiting with admissions personnel, and comparing notes with prospective law students from other universities.
"Our goal is to enhance students' skills and also to increase their exposure to educational and professional opportunities," said LEAP Center director Mike Yawn. "Moot court is a great opportunity for us to achieve those goals, and Coach Loveall and the students did a great job this year."
For the three students returning next year, the future should be even more promising.
"It was a great experience," said Galvan, a junior political science major. "I felt we all improved over the course of the four months of practice, and I am excited about what next year holds."
The moot court experience is one of many law-related and civic engagement activities offered by the LEAP Center. For more information on the center, visit shsu.edu/centers/leap.
- END -
This page maintained by SHSU's Communications Office:
Director of Content Communications: Emily Binetti
Communications Manager: Mikah Boyd
Telephone: 936.294.1837
Communications Specialist: Campbell Atkins
Telephone: 936.294.2638
Please send comments, corrections, news tips to Today@Sam.edu