Multi-Genre Author To Open Fall MFA Reading Series
Sept. 21, 2015
SHSU Media Contact: Jennifer Gauntt
Please note: This article was written by Scott Kaukonen.
The book taken from the library shelf opens, and from between its pages drops a letter tucked there years ago by another reader and forgotten. In the margins of a page, someone has scrawled a note, a note that has now, in a way, become a part of the book, too. In the back of the book, a stamp from "Catalog Repair" to "handle with care," or a checkout log with a list of handwritten names and dates due for return.
These are some of the traces left behind in physical books, and it is these traces—and what they communicate—that Ander Monson considers in his most recent book, "Letter to a Future Lover: Marginalia, Errata, Secrets, Inscriptions, and Other Ephemera Found in Libraries," published by Graywolf Press this past spring.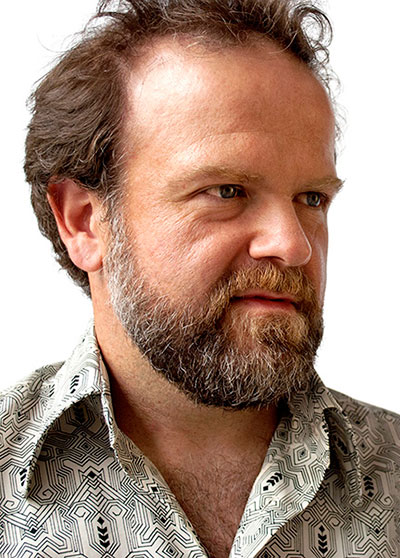 Ander Monson
Monson—a writer of fiction, poetry, and creative nonfiction, as well as an editor and teacher—will read from his work at 6 p.m. on Oct. 5, in the Ralph W. Pease Auditorium, located in Evans Complex Room 105.
The event, which is free and open to the public, will begin the annual reading series sponsored by the SHSU Master of Fine Arts program in creative writing, editing, and publishing. Additionally, Monson will speak with creative writing students at 4 p.m. in Evans Complex Room 212.
"Monson's essays do not merely identify the strange or overlooked things you might find in a library (besides the books) and say, 'Hey, isn't this weird,'" said Scott Kaukonen, director of the MFA program. "Rather, these objects, these ink marks, these things left behind by other readers, other users, serve as launch points for Monson's meditations on the act of reading, the book as an object, the library as a place and an idea, on our relationship to each other as writers and readers, friends and lovers, the living and the dead. His essays reveal a mind at work, and his mind is a pleasure to observe on the page."
About the book, Monson writes on his website, otherelectricities: "Bored by the slick disposability of ebooks and deletable pdfs, I've spent the last seven years getting intimate with the print artifact, haunting libraries of various sorts, writing essays in response to things I found there (a bookplate, a forgotten sentence, a human hair, a found text, homophobic marginalia, an overheard conversation) and publishing them back into the books/libraries where they originated. Libraries change but readers don't. We come to books for solace, for information, to better understand ourselves and our worlds. We come for mothering, for othering, for that fluttering feeling we get when we read a sentence that rings and rings and rings in us forever. We swallow it, that sentence, those rings, and then it's in us, and then someday we will sing it out again. I believe in the library—and the book—as a medium of communication."
Each of the essays in the book, when possible, was first published on a 6-by-9-inch card that was then placed back into the space (typically a book or library) that originated the essay. Later, these essays were placed unbound in a limited-edition box set, and then many were published individually in literary journals such as Black Warrior Review, A Public Space, Mississippi Review, Harvard Review, and West Branch. In the bound edition, published by Graywolf, the essays appear in alphabetical order.
"Monson's heady riffs and profound meditations lead to poignant thoughts about our memory libraries—what is retained, how we retrieve them, and what is lost," wrote Donna Seaman in a review in Booklist. "Monson's vivid, mind-whirling essays add up to a dynamic and idiosyncratic celebration of libraries that expands into a delectably labyrinthine, provocative, and affecting inquiry into nothing less than how we preserve and share human experience."
Monson, who grew up in Michigan's Upper Peninsula, earned his MFA from the University of Alabama, and now lives in Tucson and teaches at the University of Arizona. He also edits the magazine DIAGRAM and the New Michigan Press.
His other works include the essay collections "Vanishing Point: Not a Memoir," a finalist for the National Book Critics Circle Award, and "Neck Deep and Other Predicaments;" the short-story collection "Other Electricities," and the poetry collections "Vacationland and The Available World."
The MFA reading series will continue on Oct. 19 with Margaret Dean Lazarus, author of "Leaving Orbit: Notes from the Last Days of American Spaceflight."
For more information about the reading series or the creative writing program at SHSU, contact Kaukonen, at kaukonen@shsu.edu or 936.294.1407.
- END -
This page maintained by SHSU's Communications Office:
Director of Content Communications: Emily Binetti
Communications Manager: Mikah Boyd
Telephone: 936.294.1837
Communications Specialist: Campbell Atkins
Telephone: 936.294.2638
Please send comments, corrections, news tips to Today@Sam.edu