Student-Designed Costume Line To Reveal Common Thread In Humanity
Nov. 13, 2015
SHSU Media Contact: Jennifer Gauntt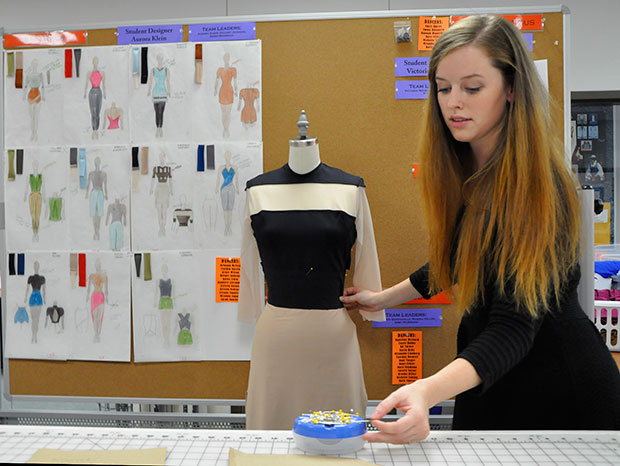 Senior dance major Aurora Klein works on one of the pieces she patterned, cut and constructed for assistant professor of dance Erin Reck's piece in the upcoming Dance Spectrum. Klein is the first student to be selected to create an entire line for an SHSU performance. —Submitted photos
Story by Hannah Zedaker.
"Sewing and dancing both run in my family; now, both of those skills are crossing paths," said Sam Houston State University senior dance major Aurora Klein.
Klein began dance lessons at the tender age of 3 years old. As the daughter of both a dancer and owner of a dance studio, Klein was around tights, leotards and tutus long before she was even old enough to wear them—let alone make them.
This semester, 19 years later, Klein is SHSU's first student costume designer to pattern, cut and construct an entire line of dance costumes as the lead student costume designer for assistant professor of dance and choreographer Erin Reck's piece in Dance Spectrum, a faculty-choreographed show that takes place at the end of each semester and serves as part of the curriculum for students in the dance department.
While dancers audition for each piece in the show and are respectively paired with choreographers, Barry Doss—costume designer, instructor and costume shop supervisor—works to partner student designers with choreographers to create the look of each dancer.
"Aurora entered the program already having extensive experience because her mother is a dancer and owned a dance studio, so she grew up having to make dance costumes for recitals," Doss said. "That's why this semester, I was able to progress to a student and say 'you're ready to pattern, cut and construct.' There have been other students who have worked as designers but this semester, Aurora has helped us raise the bar."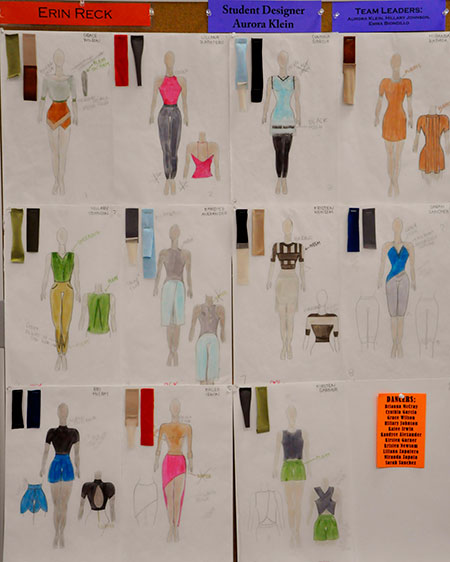 Klein's designs for Reck's dance piece were to "reveal the individuality amongst a group of people," but, at the same time, show "the common thread that runs through people."
Reck, who is not a fan of traditional, theatrical dance costumes and prefers the "pedestrian" look, was paired with Klein as a means of helping Klein step out of her comfort zone as a designer while simultaneously helping the choreographer to achieve her vision of revealing humanity's quest for meaning in life.
"In this idea of revealing humanity, we're all individuals," Reck said. "So I think the costuming is different enough that it reveals the individuality amongst a group of people, but, at the same time, there's similarities between Aurora's design choices that show the common thread through people; it reveals both the individuality of each person and the commonalities that we share."
The piece Klein is costuming for is a modern dance piece that will be performed by an all-female cast of 11 dancers wearing a total of 21 garments crafted from Klein's imagination and hands. According to Reck, the choice to go with a more "pedestrian look" had a lot to do with enhancing and reinforcing her intentions with her piece.
"This piece is more about putting human beings and the human experience on stage, as opposed to creating another worldly environment with high theatrics and high technology," Reck said. "At one point we talk to the audience, the lights come up in the audience and we sort of communicate with them—so we're actually breaking the fourth wall.
"When something is highly costumed, it tends to create a different, very specific kind of world and in this piece; that's not what we're trying to do," she said.
Klein has put in more than 100 hours of work on the costumes for the one piece in the Dance Spectrum since she started the project at the beginning of the semester.
"It's a lot of work; it's very time-consuming. When you sit down to start something, you say 'I have three hours I should be able to finish this shirt' and I look at the clock and it's been three hours and I'm only halfway through the shirt," Klein said. "It's a very big project that I'm well-capable of handling, but sometimes it does get very stressful because we're four weeks out [from the show] and we still have so much to do; it is a little bit of added stress."
In addition to the challenge of creating her own patterns, Klein's project is also uniquely difficult because she is working strictly with stretch fabric and spandex material, which according to Doss, is not an easy feat in the world of sewing.
"I gave Aurora the challenge of creating a set of dance costumes based on the pedestrian look like a line of fashion, because what is the 'pedestrian look' but whatever is in current fashion?" Doss said. "Part of the fun of dance costuming is trying to find out how you can achieve a certain look while engineering it for dance—for maximum movement. In the end they will look like clothes, but they are engineered like costumes."
Klein began the process by talking with Reck and figuring out what her likes and dislikes in terms of fashion choices and design were. Once she pinpointed Reck's style—"minimalistic chic," Klein began sketching and drawing her ideas for each individual dancer.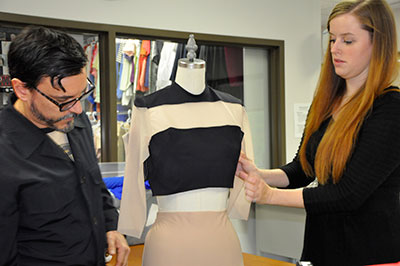 Barry Doss (left), the dance department costume designer and costume shop supervisor, paired Klein with Reck for the Dance Spectrum costumes.
"I know all of the dancers, so when I was designing, I wanted to make something that they would be comfortable in and something that would match each of their personalities and styles; I really kept in mind who I was designing for," Klein said.
After receiving approval from the choreographer, Klein and Doss, along with the entire dance costume crew, have been working together to help materialize Klein's creations. With less than a month left until Dance Spectrum, the crew is in the final stage of creating the actual garments, customized for each individual dancer, from the mock-ups.
"I cannot wait to see the costumes on stage," Klein said. "I am so excited because I had not really been in rehearsals with Erin or seen her piece and I went in the other day and watched her run-through; the designs are going to work so perfectly with her piece. To know that I did it and to see it in 3-D form, instead of just on paper or as ideas in my head, will be very cool."
Klein, who wants to earn her teaching certificate after graduating in May and eventually use dance to help teach academic concepts to young children, said she is grateful for the opportunities she's had at SHSU, especially in the costume shop.
"It's really great that we have this program because it's opening up job opportunities for all of us who are in here to go, not only dance for a company, but also be a part of designing and creating costumes for the company as well," Klein said. "[This program] absolutely makes us more marketable as dancers because not only could I help design, create and construct garments but I also would be able to contribute that to a company any kind of alteration, or anything along those lines."
Reck agreed that not only is the costume design program headed by Doss beneficial to the Department of Dance, but also to the futures of each student.
"Aurora was really great, she really spearheaded the whole thing; it was all her—she was the creative mind behind it," Reck said. "She's a phenomenally creative person.
"It's so great that our dean and the college are supporting costume design as part of this program; it's so great for our students," Reck said. "Some of our students thrive as costume designers, performers, choreographers, teachers, lighting designers–or a combination thereof, but there are so many options here that they can glom onto. Aurora has really found a lot of inspiration, talent and passion in costume design."
Dance Spectrum will take place Dec. 3-5 at 8 p.m. on Thursday and Friday and at 2 p.m. on Saturday in the Gaertner Performing Arts Center Dance Theatre. For ticket information, contact the box office either online at shsu.edu/boxoffice or by calling 936.294.2339.
- END -
This page maintained by SHSU's Communications Office:
Associate Director, Communications: Emily Binetti
Telephone: 936.294.1836; Fax: 936.294.1834
Communications Manager: Wes Hamilton
Telephone: 936.294.1837; FAX: 936.294.1834
Communications Writer: Hannah Haney
Telephone: 936.294.2638; FAX: 936.294.1834
Thomason Building: Suite 102
Please send comments, corrections, news tips to Today@Sam.edu
---