Global Center Series To Tackle Illegal Immigration
Oct. 23, 2015
SHSU Media Contact: Romney Thomas
An estimated 11 million people reside in the U.S. illegally and more than 1.6 million of those inhabit Texas alone. With numbers like these, there is no doubt that immigration is an issue that personally impacts many.
With the presidential campaign season well underway, there are numerous proposals that purport to solve the immigration issues.
Because of this, Sam Houston State University's Global Center for Journalism and Democracy is poised to host a series of events on campus to educate students, faculty and staff about immigration.
"Candidate's Corner," on Oct. 28, will allow Bearkats to hear from student representations of the top six presidential hopefuls, including Hillary Clinton, Bernie Sanders, Ben Carson, and Donald Trump, as they discuss immigration reform. The event will be held from 11 a.m. to 1 p.m., in the Lowman Student Center Mall Area.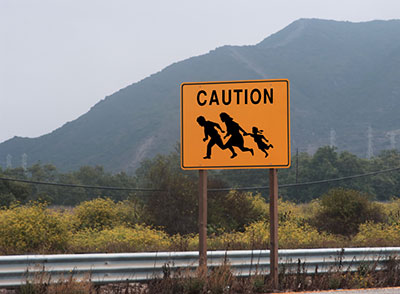 On Nov. 1, the library will feature an assortment of books about immigration selected by students and on Nov. 10, from 11 a.m. to 1 p.m., in the LSC Mall Area, students will perform a dramatic demonstration centering on immigration.
Also in the LSC Mall Area on Nov. 11, from 11 a.m. to 1 p.m., an array of coffee samples from around the world will be offered, as a means of showing students one of the products that immigrants introduced to the U.S. culture.
Students are also encouraged to pick up a copy of the Houstonian, which will feature a special section on immigration with the contribution of personal stories from fellow Bearkats.
On Nov. 17, at 6 p.m. in the LSC Theater Sonia Nazario, Pulitzer prize-winning reporter and author of "Enrique's Journey," will speak on the topics of immigration, children and justice.
All the GCJD events will coincide with a social media campaign, #ImmigrationNation, utilizing the center's Facebook, Youtube, Twitter, Instagram, and other digital media venues.
Each semester, the GCJD workshop students choose a current events topic to share with the rest of campus in order to create a more informed student population. Previous topics the GCJD has brought awareness to include racism, mental health, terrorism, wrongful incarceration, and press freedom.
"It is so important for our students to be civically engaged," said GCJD director Kelli Arena. "The more they know about important issues, the better they will be able to contribute to society."
- END -
This page maintained by SHSU's Communications Office:
Director of Content Communications: Emily Binetti
Communications Manager: Mikah Boyd
Telephone: 936.294.1837
Communications Specialist: Campbell Atkins
Telephone: 936.294.2638
Please send comments, corrections, news tips to Today@Sam.edu