Faculty, Staff Show Financial Support For SHSU
March 30, 2015
SHSU Media Contact: Julia May, Cindy Truax
Sam Houston State University faculty and staff contributed more than $234,000 during the active phase of the SHSU Faculty/Staff Annual Fund Campaign this academic year.
The campaign ran from mid-October through December with a total of 1,467 donors making an outright gift or pledging an amount.
Results of the campaign were announced at a recognition luncheon held March 5 in the Peabody Library, during which volunteers were applauded for their efforts.
SHSU President Dana Hoyt praised the 70-member committee for their work and the university community for their dedication and support. She expressed her appreciation for reaching a 78-80 percent giving rate again this year. The university has maintained that level of giving the past seven years.
"With the generous support the university receives each year from the faculty and staff, Sam Houston State University is able to maintain and increase the momentum that has grown from successes in student enrollment, program development, research funding, and academic enhancement," she said. "It also sends a strong message of commitment and belief in the university's mission to those outside the SHSU family."
Jim Bexley, campaign general chairman, said SHSU reached a record number of donors to the campaign this past fall, and he commended the committee, reporting that four areas had reached 100 percent participation and an additional five areas reached more than 80 percent participation.
A listing of employees who have contributed and details on how to participate is available online.
Campaign participants include:
The College of Business Administration was chaired by Bill Green, with members Gloria Buchanan, Joe Kavanaugh, Jan Morris and Laura Sullivan.
Amanda Burris and Ann Broussard co-chaired the College of Criminal Justice committee, with members Leana Bouffard and Donna Garcia.
The College of Education committee was chaired by Sherry Hirsh with members Staci Baker, Susan Hayes, Sue Horne and Mary Petron.
Weslie Gray chaired the College of Fine Arts and Mass Communication, with members Hollie Davis, Megan Hobbs-Barrett, Kyle Kindred, Andy Noble, Katie Stefaniak and Nicole Sullivan.
The College of Health Sciences was chaired by Kerry Berry, with committee members Brent Estes, Janis White and Miguel Zuniga.
The College of Humanities and Social Sciences was chaired by Deanna Briones, with committee members Jeff Anastasi, Tracy Bilsing, Heather Evans, David Gerling, Brenda McNeely and Terry Thibodeaux.
The College of Sciences campaign committee was co-chaired by Bobby Lane and Dwayne Pavelock, with members David Burris, Susan Floyd, Donovan Haines, Melinda Holt, John Strait, Joel Walker and Justin Williams
The Academic Affairs committee was chaired by Julie Schwab, with committee members Cathi Gillette and Trina Strange.
Sherry Henke and Jesse Bernal co-chaired the committee for Enrollment Management, with members Angela Buckner and Amy Wilson.
The Finance and Operations committee was co-chaired by Heather Dolezal, Scott Dolezal and Edgar Smith with members Bob Chapa, Dave Hammonds, Ivanette Lofton, Kevin Morris and Lori Proctor.
Rachel Shorter chaired Information Technology's committee, with members Joshua Gray and Suzette Kohers.
Erin Cassidy chaired the committee for the Newton Gresham Library, with committee members Marsha Dickens and Stephen Strubing.
The President's Office committee was co-chaired by Kathy Gilcrease and JR Ohr, with committee member Ashten Acherman.
Leah Mulligan chaired the Student Services committee, with members Cindy Allbright and Lynn Clopton.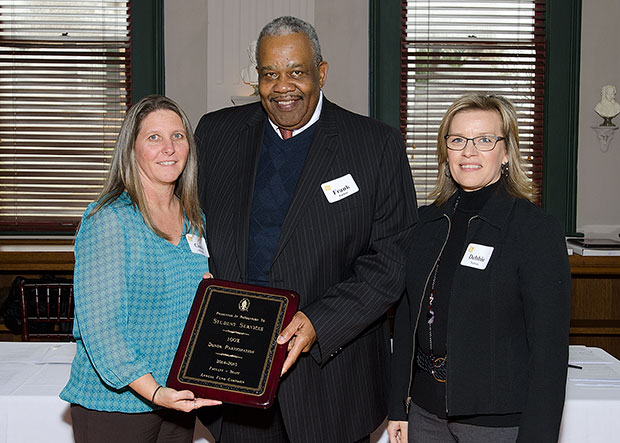 Student Services had 100 percent participation this year. From left: Cindy Allbright, Frank Parker and Debbie Nichols.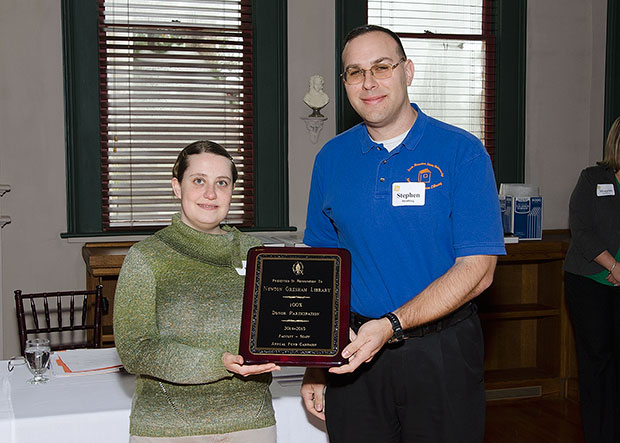 The Newton Gresham Library reached 100 percent participation. From left: Erin Cassidy and Stephen Strubing.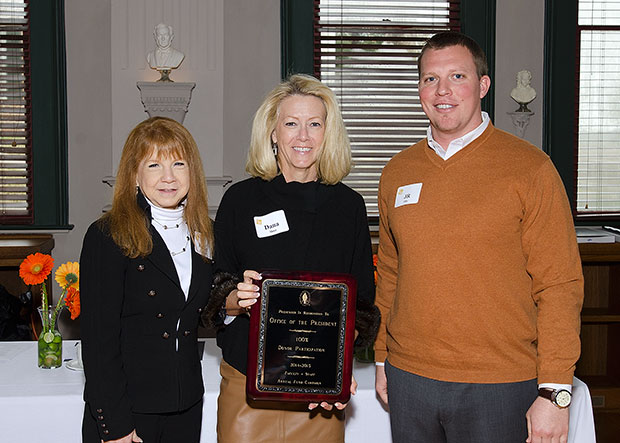 The Office of the President had 100 percent participation this year. From left: Kathy Gilcrease, President Dana Hoyt and J.R. Ohr.
University Advancement had 100 percent participation. From left: Thelma Mooney, Frank Holmes, Cindy Truax, and Meggan Thompson.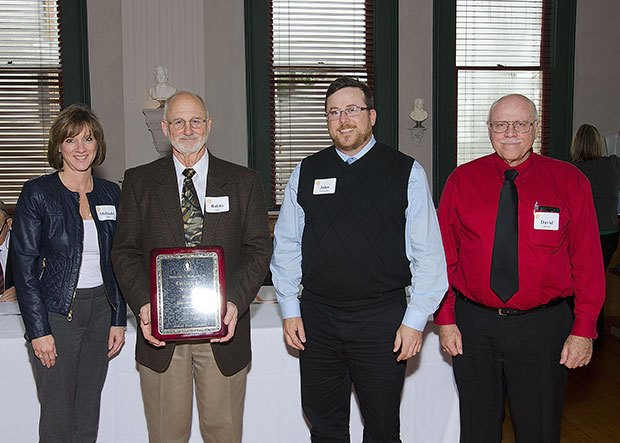 The College of Sciences was recognized for raising the most money during the campaign. From left: Melinda Holt, Bobby Lane, John Pascarella, and David Burris.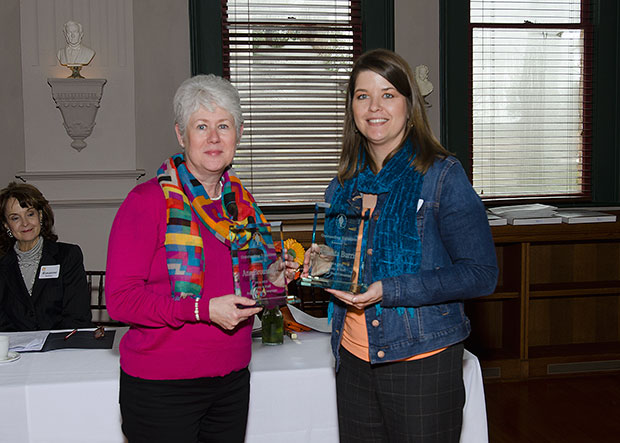 The Outstanding Volunteer Award went to co-chairs Ann Broussard and Amanda Burris, of the College of Criminal Justice.
- END -
This page maintained by SHSU's Communications Office:
Director of Content Communications: Emily Binetti
Communications Manager: Mikah Boyd
Telephone: 936.294.1837
Communications Specialist: Campbell Atkins
Telephone: 936.294.2638
Please send comments, corrections, news tips to Today@Sam.edu