Constitution Day To Look At Court's Contentious Decisions
Sept. 10, 2015
SHSU Media Contact: Jennifer Gauntt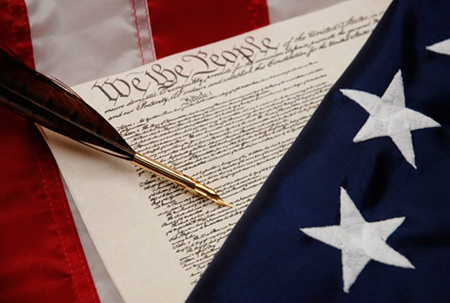 With the U.S. Supreme Court upholding its more recent reputation with its contentious decisions, Sam Houston State University will take a look at some of the country's most controversial social and political issues on Sept. 16-17 during the annual Constitution Day celebration.
The event will bring together some of SHSU's most prominent constitutional scholars, as well as one from Georgia, to discuss both the history of some Supreme Court decisions and modern issues that are currently plaguing the court.
The Constitution Day celebration will kick off on Wednesday with a keynote address featuring David Sehat, an associate professor of history at Georgia Southern University, who will discuss the "Storm over the Constitution: FDR and the Beginning of Modern Political Debate," from 4-6 p.m. in the Academic Building IV Olson Auditorium.
His talk will examine how modern politicians often disagree about the meaning and limits of the U.S. Constitution and often appeal to the Founding Fathers to support their positions.
"Although this debate has been with us for a long time, it assumed its modern form when FDR began to promote the New Deal during the 1930s," said Sehat. "By looking at the beginnings of that debate, we can see more clearly some of the problems that are still with us."
Following his presentation, Sehat will will sign copies of his bestselling book "The Jefferson Rule: How the Founding Fathers Became Infallible and Our Politics Inflexible" in the AB IV Rotunda.
Door prizes will be awarded during Sehat's address, and light refreshments will be served during the book signing.
On Thursday, SHSU professors will launch a full day of presentations in Lowman Student Center Room 320.
Associate professor of history Thomas Cox will start the day off with his 9:30 a.m. presentation "Through a Glass Darkly: International Views of the U.S. Constitution," which reveals how nations such as Great Britain and North Korea view the U.S. Constitution.
"Americans are taught since grade school to view the U.S. Constitution as a bulwark for liberty," Cox said. "Yet, around the world, different countries have viewed the Constitution alternately as a blueprint for their own nations, a risky experiment in self-government, or a hypocritical tool of U.S. imperialism."
At 11 a.m., assistant professor of history Wesley Phelps will examine the 2003 Supreme Court decision that ruled a Texas law that criminalized sexual activities between members of the same sex unconstitutional.
"Lawrence v. Texas: Myth vs. Reality in the Overturning of Texas's 'Homosexual Conduct' Law" also will explore the historical background of this landmark case and will try to separate myth from reality in how we remember it.
Next, associate history professor Jeffrey Littlejohn will examine the professional career of one of Texas's conservative congressmen beginning at 12:30 p.m.
"'In East Texas We Believe In Liberty:' Congressman John Dowdy, Lone Star Conservatism, and Cold War Civil Rights, 1952-1972" focuses special attention on Dowdy's constitutional arguments in defense of limited government, school prayer, gun rights, racial segregation, and equal rights for women.
"Dowdy's position on these issues helped to shape the 'law and order' conservatism that emerged in Texas in the late 1960s and reserved for him a special place of significance in the politics of Conroe, Huntsville, Livingston, Madisonville, Nacogdoches, Palestine, and spots in between," Littlejohn said.
Finally, philosophy professor Glenn Stanford will wrap up the day's presentations with a discussion of the Fourth Amendment at 2 p.m.
"The 4th Amendment: Limits, Loopholes, and the Loss of Privacy" will open with a brief overview of recent court decisions about Fourth Amendment protections, followed by a discussion of specific scenarios in which the government is granted the right to search a person, their car, their personal effects or their residence.
"The latter portion of the talk will emphasize the circumstances in which individuals who might otherwise enjoy Fourth Amendment protections may be subject to legal searches," Stanford said.
Each Constitution Day attendee will receive a copy of the "The Hip Guide to the United States Constitution," a pocket sized copy of the Constitution with commentary on the history and meaning of the document.
The Constitution Day celebration is sponsored by the SHSU American Democracy Project, the departments of history and political science, and the College of Humanities and Social Sciences.
For more information, contact Cox at 936.294.4804 or thc001@shsu.edu.
- END -
This page maintained by SHSU's Communications Office:
Director of Content Communications: Emily Binetti
Communications Manager: Mikah Boyd
Telephone: 936.294.1837
Communications Specialist: Campbell Atkins
Telephone: 936.294.2638
Please send comments, corrections, news tips to Today@Sam.edu