Students Share Culture With Global Ambassadors Program
Aug. 24, 2015
SHSU Media Contact: Romney Thomas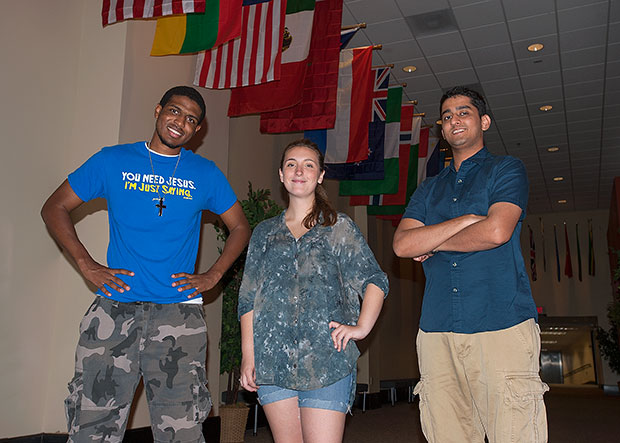 Charles Allen III, Corey Ann Snodgrass and Yash Rajani are members of the Global Ambassadors Program, which provides international and local students with the opportunity to interact and experience different cultures by partnering international
students with students who have grown up closer to SHSU. — Photos by Brian Blalock
Sam Houston State University boasts a wide array of student organizations that are sure to enrich the college experience of any student on campus. However, for those who are searching for an international experience without breaking the bank, the Global Ambassadors Program might be worth a second look.
Sponsored by the SHSU Office of International Programs, the GAP provides both international and local students with the opportunity to interact and exchange culture by partnering international students with students who have grown up closer to SHSU.
Particularly for international students, the GAP is an important resource for establishing broad peer groups, minimizing culture shock and building networking opportunities.
"The culture shock when coming to a place like this is really huge," said Yash Rajani, a Master of Business Administration candidate and GAP participant from Mumbai, India. "Even things that local students find simple, like going to the store, can be a bit overwhelming. This can be made even more difficult when international students only spend time with other international students."
As a business major, Rajani also sees participation in the GAP as a valuable networking opportunity.
"Since my first day at SHSU I've made an effort to make friends with a lot of people from different backgrounds," Rajani said. "I believe that socializing is an important way to make the most of my time here. Networking is important for any college student, and I think it's especially valuable to get to know people from multiple different backgrounds and cultures."
Rajani is also a part of the international student organization on campus.
"I'm the officer of marketing, so I think it's really important to stimulate the interaction between national students and international students. Sam Houston isn't a university that has a really big international student population. Because of this, I wanted to help other international students have a good experience here so when they return to their home countries, they tell other people about SHSU and encourage them to come here"
The advantages of participating in the program are easy to see from the perspective of an international student, but even students who have lived their whole lives in Texas can experience huge benefits from joining GAP.
"I'd been wanting to talk with someone from a different place for a while," said Charles Allen III, a senior criminal justice major and Rajani's GAP partner. "I wanted to learn about different cultures and expand my horizons, so when I heard about GAP I signed up right away."
For Allen, it's the first-hand intercultural experiences the GAP facilitates that he finds the most valuable.
"I think for American students, it's rare to experience different cultures without the media's interference or agenda," Allen said. "Through GAP I've been able to experience cultures and customs I've never been exposed to before through people who are native to those cultures and customs.
"I think being able to understand the cultures of those different from myself has been key to me growing as a person. Participating in GAP has really helped me expand my horizons."
Corey Ann Snodgrass, a freshman business major from Brownsville, also wished to make contact with students whose cultures differed from her own.
"I think people come to college not just to take classes, but to have an experience," Snodgrass said. "Part of that experience is interacting with people from different cultures. I can't go to China right now, but I have the opportunity to interact with someone from there and learn about the culture from someone who has lived there their whole life."
For students in the GAP, exploring those differences can be truly eye opening in terms of learning customs and ideas that American students take for granted.
"Last semester, I took several students to my aunt's ranch and had a really fun experience," said Snodgrass. "They all had an opportunity to ride four-wheelers and see real longhorns for the first time. They had never been exposed to anything like that before, and being able to see experience that through their eyes helped me to appreciate it even more."
To those who participate, the GAP is a way to further enrich the school experience at SHSU. It's also a good way to help expand peer groups and it encourages students to step out of their comfort zone.
"I was a little bit surprised about how the GAP facilitates meetings," said Allen. "When I signed up for the program, I filled out a short form to provide the program with some information about myself. A week later I received an email with the contact information for my GAP buddy last semester.
"That meant I had to take some initiative, but really, everyone in the program wants to be involved and connect with other people."
While the GAP encourages buddies to schedule their meetings and some activities on their own time, they do also provide several events throughout the semester where everyone in the GAP community can assemble and further explore each other's cultures.
"Each semester there's an orientation program where returning students can share about their experiences and the benefits of being involved in the program," said Rajani. "The GAP is growing every year, and we receive positive feedback from these events.
"One thing that I really appreciate my buddy doing last semester was including me in the celebration of some American holidays. Where I'm from, holidays and festivals are very different, and I know that international students such as myself don't always have anyone to celebrate our traditional festivals with.
"Another complication of that is not really understanding American holidays," said Rajani. "But just before Thanksgiving, Charles had a party with some of his friends and he invited me to join. Through that, I was able to learn about a holiday that's really significant to Americans and I was able to have that social experience."
"My friends really enjoyed being able to meet Yash," said Allen. "They all thought it was cool learn about his culture and holidays as well.
"There really is no disadvantage to participating in the GAP. The name of the program says it all. GAP helps to bridge the gap between American and international students on campus. It gives them the tools necessary to build strong bonds and relationships that span cultures."
To learn more about the GAP program, contact Dana Van De Walker at 936.294.2746.
- END -
This page maintained by SHSU's Communications Office:
Associate Director, Communications: Emily Binetti
Telephone: 936.294.1836; Fax: 936.294.1834
Communications Manager: Wes Hamilton
Telephone: 936.294.1837; FAX: 936.294.1834
Communications Writer: Hannah Haney
Telephone: 936.294.2638; FAX: 936.294.1834
Thomason Building: Suite 102
Please send comments, corrections, news tips to Today@Sam.edu
---