Sociology Major To Launch Podcast Following 'Death' Experience
Oct. 12, 2015
SHSU Media Contact: Tammy Parrett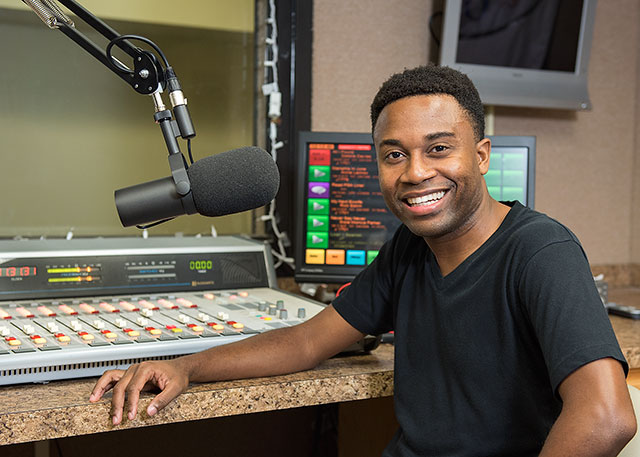 This summer, senior sociology major Benjamin Franklin got the opportunity of a lifetime when he was accepted an internship at WNYC, during which he would work alongside the crew of his favorite podcast "Death, Sex and Money."

—Photos by Brian Blalock
Everyone has a favorite form of entertainment that, if given an opportunity, he or she would love to make a career. Most people, however, don't get to wake up in the morning and actually work at this kind of place.
But in the case of senior sociology major Benjamin Franklin, that's exactly how he spent his summer.
Earlier this year, Franklin saw that his favorite podcast, "Death, Sex and Money," had posted to Facebook, encouraging listeners to apply for a summer internship at WNYC, the station that produces the podcast.
Despite the fact that WNYC is the largest public radio station in the United States and probably receives thousands of internship applications each year, Franklin submitted his own application, thinking, "What have I got to lose?"
Two months later, he found out that he was one of the two interns chosen to work on the show, and he packed his bags and started making arrangements to stay with his sister, who lives in New York City.
"'Death, Sex and Money' is a podcast about the big questions and topics that you normally wouldn't talk about out loud," Franklin said. "I fell in love with the show last summer when they interviewed singer-songwriter Bill Withers. I'm a musician, so he's the reason I tuned in, but I loved that they went deeper than just his music career; they talked about things like fear and what it was like caring for Withers's dying father."
Some of Franklin's favorite episodes included "Cheating Happens," during which both cheaters and those who had been cheated on called in to share their thoughts on the subject, as well as "Brooklyn Left Me Broke and Tired," which told the story of Heidi, a woman in her 50s who ended up losing her apartment in Brooklyn due to gentrification.
"'Brooklyn Left Me Broke and Tired' was particularly interesting to me," he said. "They talked about what can happen if you're older and not financially prepared; you could lose everything."
While many internships consist of getting coffee and running errands, Franklin was happy to be included in every aspect of running the show–even if he was just sitting in on meetings.
His duties included many of the same tasks a producer on the show would be responsible for, but on a smaller scale. He sat in on interviews and meetings, transcribed audio, and he had the opportunity to "cut" part of an episode called "Siblinghood" to cross-promote for another podcast called "Reply All."
"I had an advantage going into it, because as a musician, I already had an understanding of the recording and editing process," he said. "I also knew about interviews, from the perspective of both someone conducting the interview as well as the person being interviewed, so I was glad that they trusted me enough to include me in those parts of the job."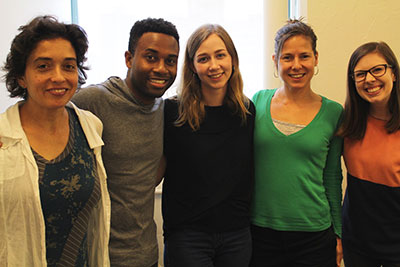 Franklin poses with the rest of the "Death, Sex and Money" crew. (From left to right: producer Emily Botein, Franklin, intern Rachel Aronoff, host Anna Sale and producer Katie Bishop.)

—submitted photo.
The information he learned from his studies in sociology also was an advantage that Franklin had going into the internship.
"The show focuses a lot on interaction and different conflicts that people have with themselves and each other, and that's really what sociology is–the study of human interaction," he said.
The skills his education provided him allowed him to understand how the "Death, Sex and Money" team created compelling storylines that would interest listeners and were relatable.
Another part of Franklin's experience included helping Anna Sale, the host of "Death, Sex and Money," with some of her other projects or duties.
"Sometimes she would contribute or fill in for hosts of other shows," Franklin said. "For my first interview experience, Anna was a guest contributor for 'Fresh Air,' the nationally syndicated NPR show hosted by Terry Gross. We interviewed Alfonso Gomez-Rejon, the director of 'Me, Earl and the Dying Girl,' and I loved every minute of it. It was so cool seeing her at work and knowing that millions of people would hear it."
Franklin also got the opportunity to sit in on a live taping of Buzzfeed's "Another Round" podcast with Sale.
While he enjoyed the experiences that his internship gave him, Franklin was amazed at how much he learned from Sale and her two producers, Emily Botein and Katie Bishop.
"I learned that you have to be really honest about your own work," Franklin said. "You have to be able to realize when something just doesn't work. I heard some incredibly honest conversations and I realized that in order to get the best content, you have to be able to acknowledge the flaws."
While the experience taught Franklin valuable lessons and allowed him to create connections with people in the industry, he is most thankful for the opportunities he received to perfect his own craft.
"I learned so much more than I expected," he said. "Working on the show made me realize that I wanted my own show in the future, and Anna was instrumental in helping me through the beginning stages."
Franklin, who goes by the pseudonym Namon Eugene for his creative projects, worked with Sale to organize his show after he came up with a concept.
His show will be called "How To Become An American Popstar" and will be what Franklin calls "part reality show, through audio, and part 'short-form' interview show."
The show will follow his journey of becoming the next big thing in music, while interviewing professionals who have already become successful in their fields and sharing their journeys, as well.
"The core of my show is to inspire people to become the 'thing' they desire most," Franklin said. "The tagline is 'What do you want to become?' and I hope to help millions figure that out through sharing my journey and exploring the journeys of others."
Franklin got the chance to sit down and interview Sale about her own journey–a piece he will feature in his pilot episode. Once he completes the pilot, he hopes to team up with the radio and podcast leaders he connected with during his internship to widen his audience and catch the attention of listeners.
While the internship helped to open his eyes to different opportunities, he believes the experience helped to complement his previous goals, rather than shift his focus in another direction. He still isn't sure where his career path will lead, but he hopes to be able to do something where he can combine music and media in a new and unique way.
"The experience definitely awakened me creatively," he said. "Not only did I get to do radio in such a big way, I was also able to grow with my music. It gave me the motivation to come into my last year and finish strong, so I can see what the next chapter of my life will hold."
For more information on "Death, Sex and Money," visit wnyc.org/shows/deathsexmoney, or for more information on Franklin or his upcoming show, visit namoneugene.com.
- END -
This page maintained by SHSU's Communications Office:
Associate Director, Communications: Emily Binetti
Telephone: 936.294.1836; Fax: 936.294.1834
Communications Manager: Wes Hamilton
Telephone: 936.294.1837; FAX: 936.294.1834
Communications Writer: Hannah Haney
Telephone: 936.294.2638; FAX: 936.294.1834
Thomason Building: Suite 102
Please send comments, corrections, news tips to Today@Sam.edu
---