Chemistry
,

Master of Science

Available: On Campus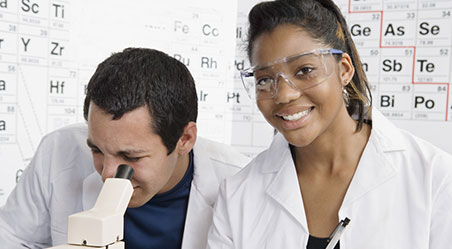 The Master of Science in Chemistry degree program at Sam Houston State University is designed to train chemists for a career in business, industry or academics. This degree is also appropriate for students planning to continue into PhD programs at other institutions.
The two-year degree program involves coursework in at least four of the following areas of chemistry: analytical, biochemistry, environmental, inorganic, organic, and physical; and an independent research project culminating in a written thesis. A non-thesis option is also available. There are active research groups in the Department of Chemistry in all of these areas.
The department has a small research mentor/graduate student ratio that produces close interaction between our students and faculty.
Study at the Huntsville-Main Campus
Courses for the Master of Science in Chemistry program are taught at the SHSU main campus in Huntsville.
For more information about program courses and campus locations, contact the program advisor.
Program Breakdown
Application Deadlines
Fall: June 1
Spring: November 1
Please note that application deadlines will occasionally change. Please contact your academic advisor (listed in the contact section) for confirmation on application deadlines.
Contact Info
Academic Advisor

Dr. Dustin Gross