Engineering Technology
,
Bachelor of Science
Available: On Campus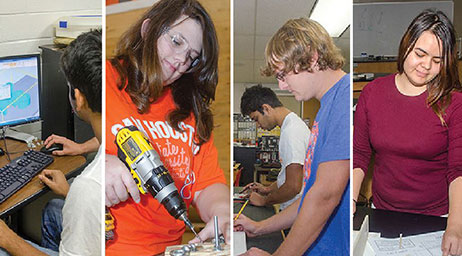 The engineering technology program is intended to provide an educational experience in the areas of management, leadership, and technology that prepares students to meet industry challenges for the 21st century. Students learn to draw upon the principles of management, leadership, physical sciences, technology of industry, and basic engineering for the solution of problems involving industrial products, services, materials and processes, and the supervision and management of facilities and personnel.
Concentrations are offered in Electronics; Environmental, Health, and Safety Management; and Manufacturing Engineering Technology.
Highlighted Scholarship
Fred Pirkle Scholarship Endowment

No less than $5,000 if awarded; awarded to qualifying full-time undergraduate or graduate students majoring in a discipline with a curriculum dedicated to Engineering Technology; maintain a minimum GPA of 2.50.
Find more Engineering & Technology Scholarships →
Careers in Engineering Technology
Engineering technologist positions in
construction
product design/development
testing
systems development
field engineering
technical operations
technical sales and service
quality control
Program Breakdown
Brief breakdown of the type, or types, of degree(s) available, their length, available enrollment, and estimated cost.
Category
Degree Summary
Length
120 Credit Hours
Required Courses

Engineering Technology, BS
Engineering Technology, BS: Concentration in Electronics
Engineering Technology, BS: Concentration in Environmental, Health, and Safety Management
Engineering Technology, BS: Concentration in Manufacturing Engineering Technology

Enrollment
Fall and Spring
Tuition/Costs
Rates Per Semester
Undergraduate Application Deadlines
Fall: August 1
Spring: December 15
Summer: May 15