Information
Sam Houston State University Homecoming 2022 King & Queen Application
For questions, contact SHSU Student Activities at (936) 294-3861 or studentactivities@shsu.edu.
---
Alyssa Bunch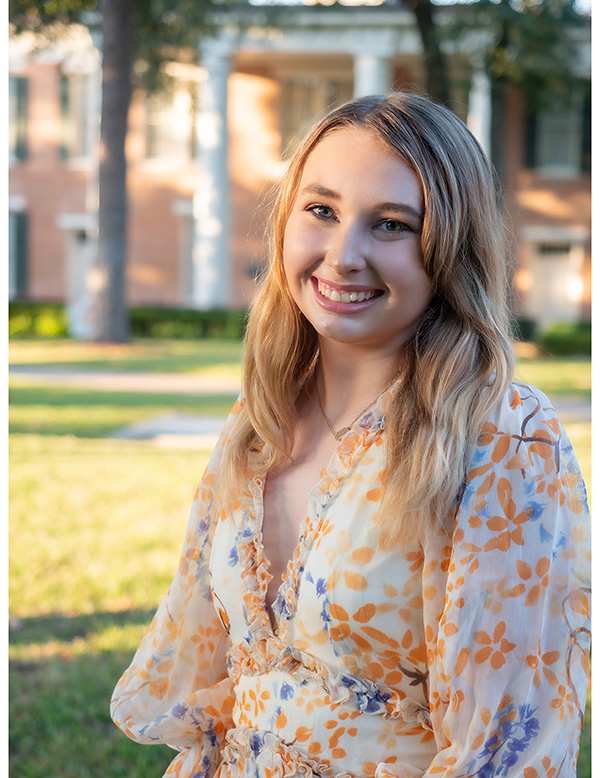 Alyssa Bunch is a Senior at Sam Houston State University who is majoring in Political Science with a minor in Mass Communication. She will be graduating on December 9th of this year. During her time at Sam, Alyssa has been involved in the Pre-Law Society, PRSSA (Public Relations Student Society of America), and the sorority of Alpha Omicron Pi. Alyssa is an active sweetheart for the fraternity of Phi Delta Theta. She has also been able to work full-time as the Account Manager at The Armory at Sam Houston while enrolled as a full-time student. When Alyssa is not at work, in class, or painting banners, she enjoys volunteering at local animal shelters including Abandoned Animal Rescue in Magnolia, TX.
---
Camille Dang-Fouty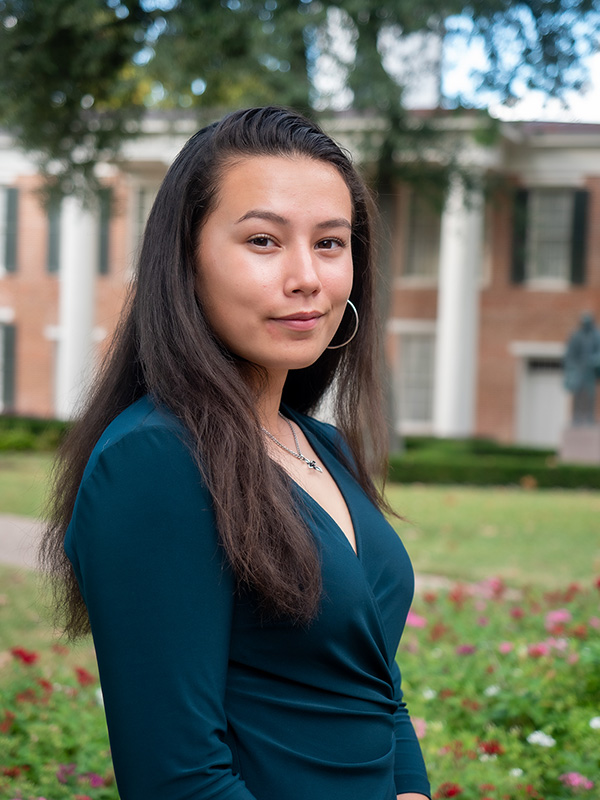 Camille Dang-Fouty is a second generation Asian-American and first-generation college student. She is majoring in Criminal Justice and minoring in Military science. Currently she is in Phi Sigma Pi, which is an honors fraternity, Chi Alpha, TRIO, ROTC, and is the president of the Student Alumni Association. She is also on the board of directors for the alumni association as a student representative and is on a couple of appointed committees on campus. Upon completion of college, she will be commissioned into the United States Army as a second lieutenant.
---
Cecilia Weatherford
Cecilia Weatherford is a Criminal Justice major from Houston, Texas. As a senior at Sam Houston, she is an active member of Sigma Sigma Sigma sorority as Panhellenic Delegate. Aside from her involvement in her sorority, she is an active member in Delights Ministries, Bearkat Best Buddies, and serves as a Greek Ambassador. Cecilia enjoys volunteering at the Montgomery County Food Bank, Rita B. Huff, on-campus events, and events within the Huntsville community. Cecilia is happy she made the decision to be a Barkat because of how many opportunities this university has given her along with the amazing friends that were brought into her life.
---
Hallee Hughes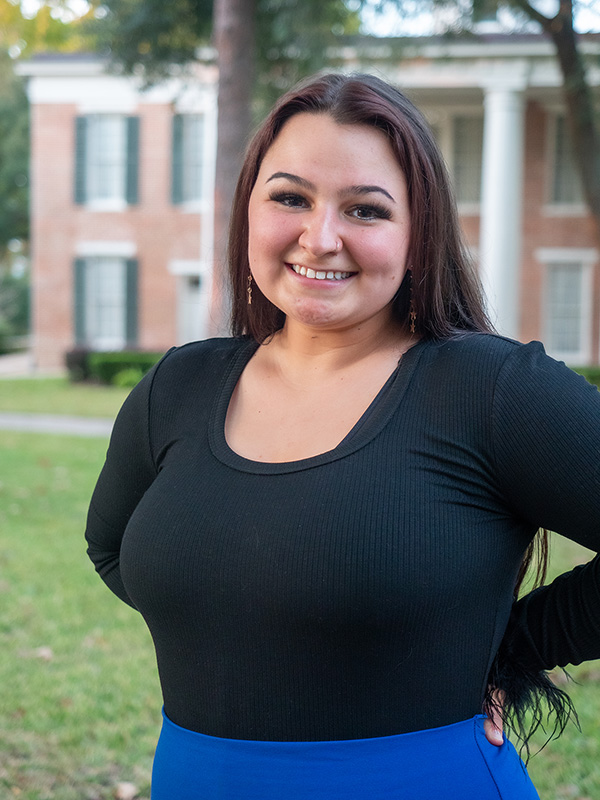 Hallee will be graduating Spring 2023 with a Bachelor's in Psychology with a double minor in Criminal Justice and Business, and she plans to continue to her education here at Sam Houston State University to pursue a Master's in Business with a focus in Human Resources. Throughout her time at SHSU, Hallee has taken Sam Houston's motto to heart.Hallee has served positions as Public Relations Chair & Co-Chair, Freshmen PAL Leader/Mentor, & House Ambassador for the Smith-Hutson Scholarship. She has also been a member of Evolve, a women's group who focus on giving each other support through college. Hallee works on campus as a Peer Mentor in the ASC, mentoring our first-year students on how to navigate their way through college, and works at our local HEB where she prepares samples and assists customers. No matter where you go, you always find Hallee helping someone in our community.
---
Hannah Whittington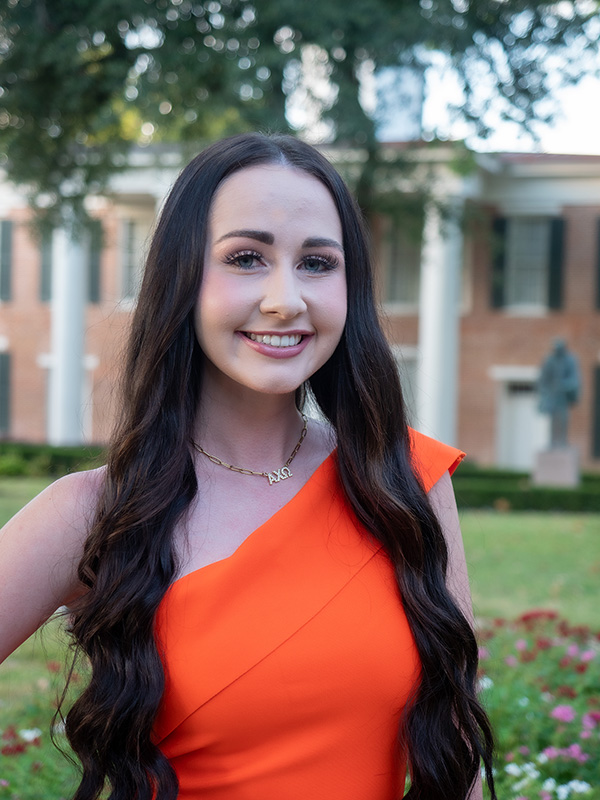 Hannah Whittington is a Senior majoring in Mass Communication. Hannah is a news anchor on the Bearkat Student Media News and has been for 3 semesters. She is a member of SHSU Panhellenic sorority, Alpha Chi Omega, since Fall 2020. During her time in Alpha Chi, Hannah has held four positions. She has served on the executive board since December 2021 as the New Member Educator. She has earned 75+ volunteer hours throughout her time in Alpha Chi, much of that benefited the SAAFE House in Huntsville. Hannah was also a founder of SHSU Delight Ministries and served on the executive board for 3 semesters as the Social Media Coordinator and the Community Coordinator. Hannah worked as a SHSU Freshman Orientation Leader in the Summer of 2021 and has also been on the Deans List. She received the Female People's Choice Award at the 2022 Pantheon Ceremony.
---
Jazmine Martinez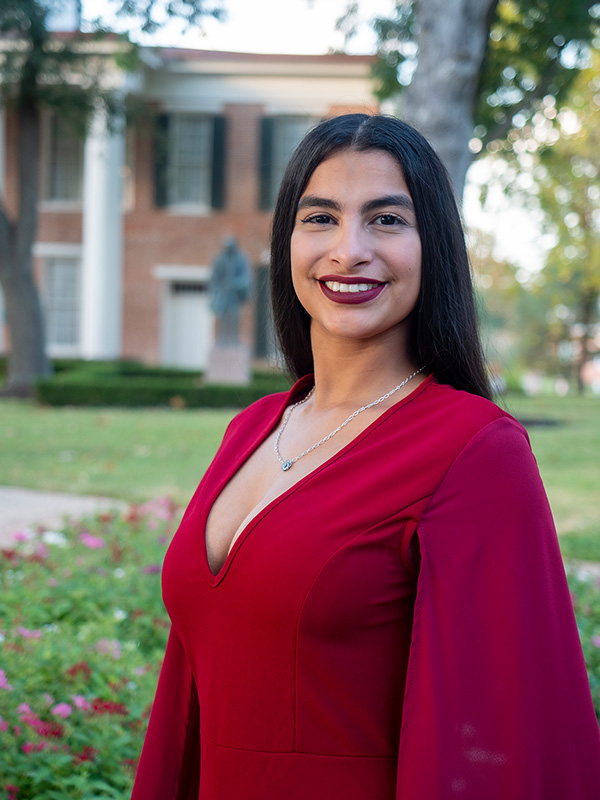 Jazmine Martinez is a Senior, Criminal Justice major from Pasadena, Texas. She previously was a part of an Early College Program and attended San Jacinto Community College and Sam Rayburn High School at the same time and obtained her Associates degree as well as her high school diploma. She is the first person in her family to go to college and is the oldest out of 4 siblings. She is extremely passionate and hardworking about everything she does. She loves making a change for the better in every aspect of life. She's very outspoken when there is a topic that needs the attention of others and makes sure it is heard by everyone. Jazmine hopes to become a law enforcement officer, as it has always been her dream since she was little to protect and serve her community. She will also soon be interning with the Houston Police Department.
---
Karleigh Amburn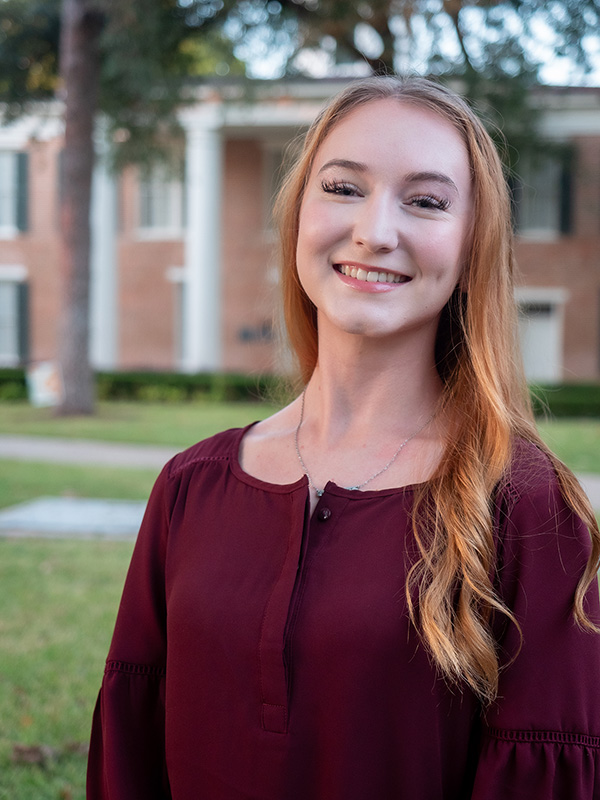 Karleigh Amburn was born in Lufkin, Texas on February 4th, 2003. As she grew up, she was heavily involved in sports and maintained straight A's. She did competitive Gymnastics for 8 years at Tall Timber Gymnastics, winning first in all-around at her junior year state competition. Graduating high school with honors and top 10 of her class, she took many dual credit college classes and started at Sam Houston as a Sophomore. Being involved on campus is very important to her, she was a Bearkat camp counselor last summer and now one the Lead Staff members for BKC 2023. She has been on the Dean's list fall 2021 and Spring 2022 along with the President's list for Spring 2022. Karleigh Amburn's latest achievement is being inducted into the 20th Cohort for the McNair Scholars Program. With hopes of attending graduate school for her Master's in Public Health.
---
Katelyn Martin
Katelyn Martin is a senior Marketing Major and graduating in May of 2023. Katelyn is a Sweetheart for a fraternity on campus, Phi Gamma Delta. In Alpha Delta Pi, Katelyn has held multiple positions ranging from recruitment to philanthropic leadership opportunities. This past year, Katelyn served on our Executive Board as Vice President of Philanthropy and coordinated multiple events around campus for the Ronald McDonald House Charities, raising over $30,000 in her term. During her term, Delta Mu was also recognized for our Philanthropic Excellence.
---
Kaylee Jefferson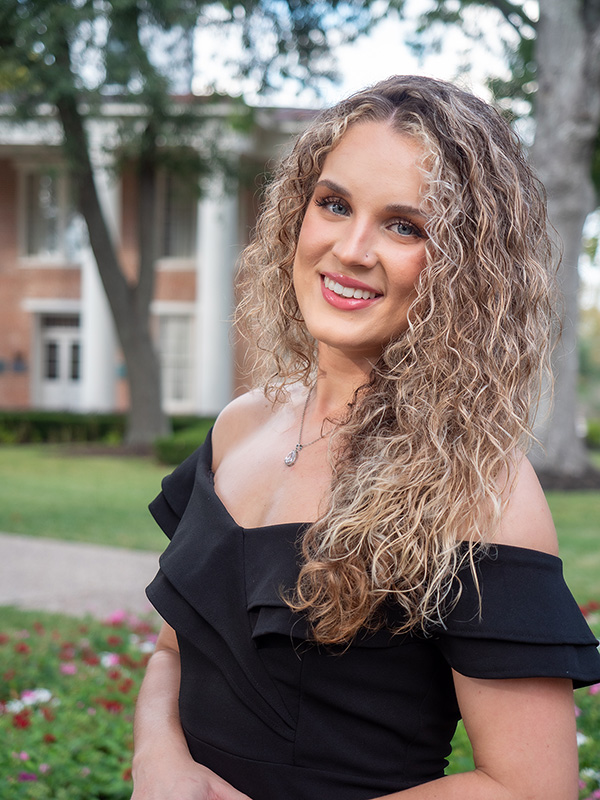 Kaylee Jefferson was born in Louisville, Kentucky and moved to Texas in the 5th grade. She grew up surrounded by sports, her mom played basketball and her dad played football at the University of Arkansas. She has two younger brothers; one is a top recruit for high school basketball, and the other plays D1 basketball at Iona College. Kaylee graduated from Sulphur Springs High School and was a 4-year starter for the varsity basketball and volleyball team. She is now one of the captains of the SHSU women's basketball team and is entering her 4th season. Her major is health science, and she plans to further her education by obtaining her MBA with the hopes of becoming a healthcare professional. Outside of sports, Kaylee enjoys spending time with her family, traveling, and making memories with her friends.
---
Marlyn Hernandez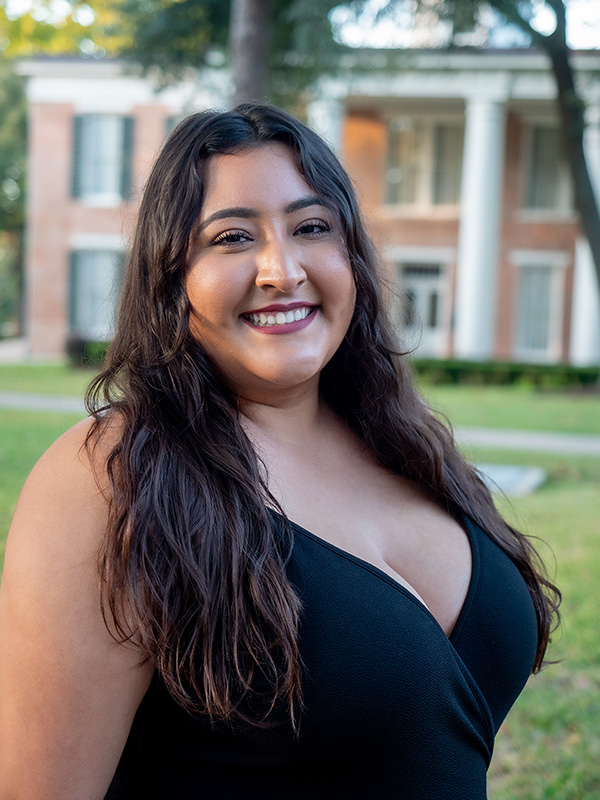 Marlyn Hernandez is a Senior Biomedical Science major with a minor in Psychology from Dayton, Texas. While at Sam Houston, Marlyn has made the most of her time on campus as a First-Generation Transfer student by getting involved with diverse organizations and programs including SHAMOS, PSUN, Sigma Lambda Gamma National Sorority Inc., and President of the Student Health Advisory Committee. She has also served as a Welcome Week Team Lead, Fall 2022 New Student Convocation Speaker, and is currently working with fellow students in a Biogeochemistry lab doing research. Marlyn is very passionate about helping her community and ensuring everyone feels included in any way she can. She strives to leave a legacy at Sam Houston by redefining the standards while inspiring others.
---
Sandy Schoeneberg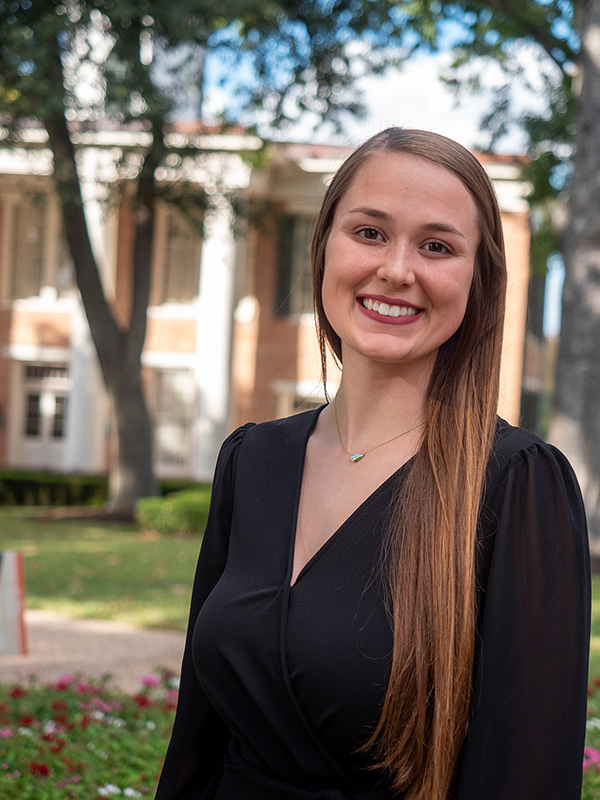 Sandy Schoeneberg is a first-generation student in her third year at Sam Houston State University. She is a double major in Biomedical Sciences and Animal Science with a concentration in Pre-Veterinary Medicine and a minor in General Business. She serves the university as an Orange Key and a Smith-Hutson Scholar, currently fulfilling the role as the Smith-Hutson Scholar Leadership Council President. She is a member of the Elliot T. Bowers Honors College, Alpha Lambda Delta Honors Society, and Phi Theta Kappa Honors Society. She works to serve the students of SHSU at the Academic Success Center on campus as a University 1101 peer mentor and as an Academic Recovery peer mentor. She serves the surrounding communities volunteering time at the National Forest, local retirement homes, local animal shelters, and around campus. After graduation she plans to continue her education towards receiving her Doctorate of Veterinary Medicine.
---
Simone Chenier Davis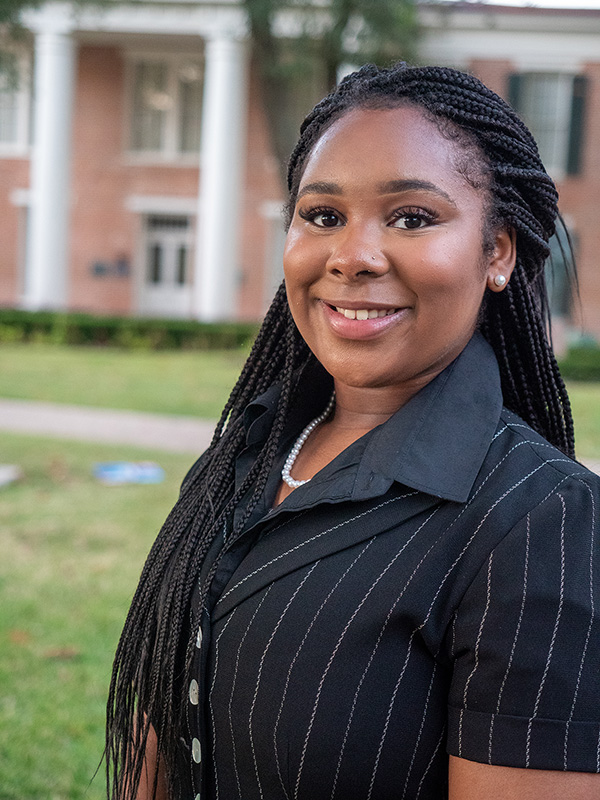 This is Simone Chenier Davis. She is a Senior here at Sam Houston State University. She is 21 years old and plans to graduate this Fall December 10th. She is a Public Health Major with a concentration in Nursing. Simone is a part of numerous organizations on campus such as: The Exquisite Theta Epsilon Chapter of Alpha Kappa Alpha Inc. National Pan-Hellenic Council ,Royalty, Eta Sigma Gamma Health Science Fraternity, Phi Sigma Pi honors Fraternity , Black Student Alliance, Diversity Ambassador, Black Catholic Nurses, Lead Vocalist for Black Catholic Association, Neonatal Association, SHSU Greek life Office, Student Government Association, just to name a few. After graduating, she plans on attending nursing school close to home so she can be with her loving family.
---
Uri-El Jackson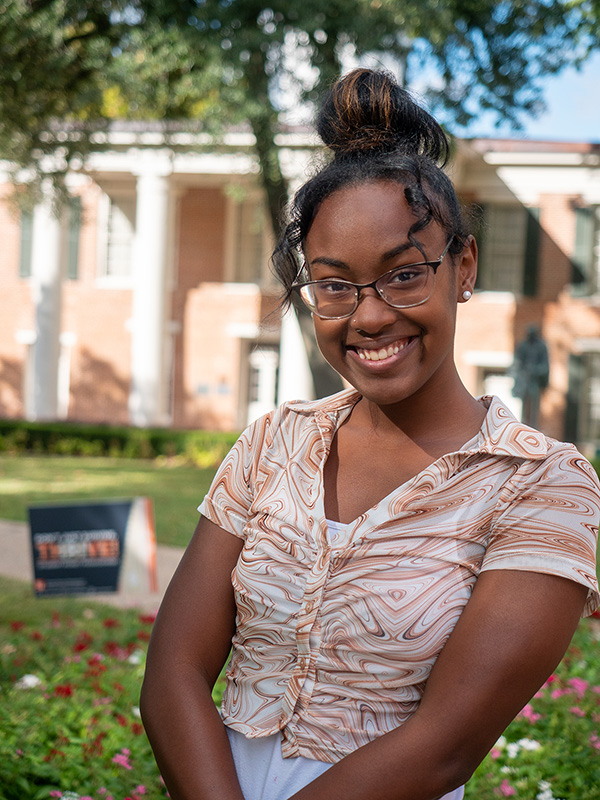 Uri-El Jackson is a first-generation senior education major from Houston, Texas. During her time at Sam Houston, she has found herself getting involved with organizations such as Zeta Phi Beta Sorority, Incorporated, The College of Education Advisory Board for Diversity, Equity, and Inclusion, and As We Are Natural Hair Society. Uri-El has also taken on leadership roles such as being the President and Historian of the previously named organizations as well as being a Welcome Week Leader and Welcome Week Team Lead, an Orientation Leader and current Orientation Team Leader. Uri-El has also had the honor of being a part of promotional videos for the university and known for emceeing events most notably The Sammy's. It's been an honor for Uri-El to be a part of the Bearkat Nation and display her Bearkat spirit and SHSU's motto "The measure of a Life is its Service".
---
Veronica Calderon
Veronica Calderon is a Junior studying Psychology with a minor in Criminal Justice. She has been very involved on campus within many organizations and even participated in the 2022 Miss Sam Houston Pageant with the social impact initiative of Cultural Awareness. She currently serves as the Student Government Association Vice President and uses her platform to advocate for sustainable practices to be implemented on campus while serving on the Campus Sustainability Committee, and throughout the Texas State University System as an executive member for the Student Advisory Board. During this recent election cycle, she became a Volunteer Deputy Registrar for Walker County to ensure the student body had more opportunities to register to vote on campus. She is a strong advocate for all students at Sam Houston State University and would love to serve as your homecoming queen.
---
Zycoria Dixon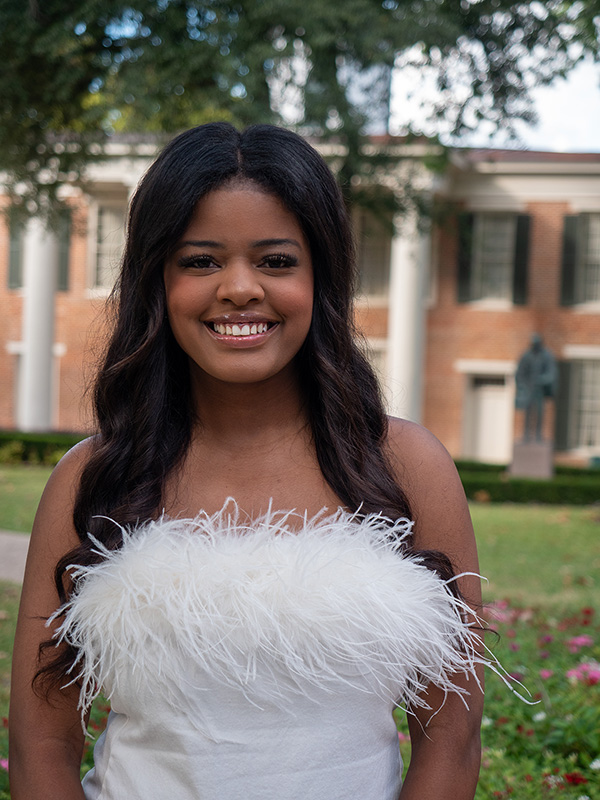 Zycoria Dixon, also known as "Z", is Tyler, TX. Being a first-generation student, she knew that one day she would call Sam Houston home. She is a senior marketing major, aspiring to be a sports reporter and social media influencer. Her involvement on campus includes Delight Ministries and Student Alumni Association. In addition, she is leaving her mark around Huntsville by being an ambassador for Arnaud's and volunteering at Rita B. Huff's Animal Shelter. Z is not only a full-time student, but also works as a part-time bank teller at First National Bank of Huntsville and runs her own small business named ZD Designs. She will be honored to be your next Homecoming queen.
---