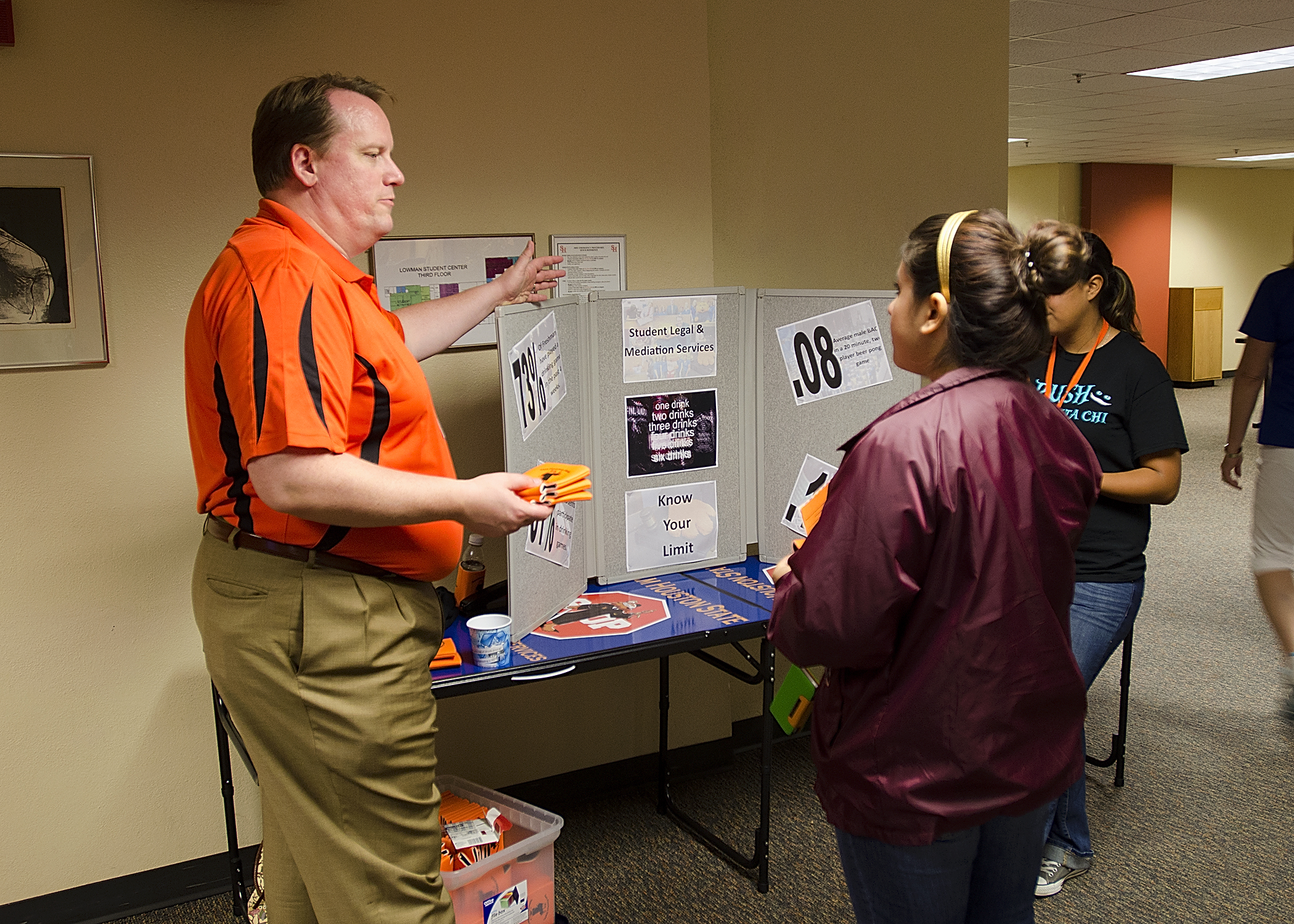 ATOD Education
The ADAI utilizes the SHSU Bearkat mascot theme to engage student participation in alcohol and drug education and promote their willingness to assist their peers when they are engaging in risky behaviors associated with alcohol use. The slogan for the ADAI is "Be SAFER". This serves a dual purpose of being a direct message that promotes safety and an acronym includes that actions necessary to accomplish that goal. Multiple teaching strategies combined with unique activities conducted by peers and professionals are used in an effort to improve the student knowledge, perceptions, attitudes, and behaviors associated with alcohol consumption. The primary focus areas of the campaign include drinking and driving, binge drinking, alcohol poisoning, and risky behaviors. The ADAI also offers alcohol & drug education in a contextual manner by also addressing alcohol and dating, and time management. This provides students with the tools needed to manage alcohol use in the event that they choose to drink.
For more information about the specific alcohol and drug education programs offered, visit Programs.
How to Get Help On-Campus
If you, or a friend, are in need of help for alcohol or drug abuse, there are resources on campus to help you.
For ALCOHOL OVERDOSE, contact EMS IMMEDIATELY! On campus, call 4-1000. Off-campus, dial 911.
Call 911 immediately (4-1000 from campus phones)Do not leave the person alone
Monitor the person's breathing and heart rate periodically
If breathing or heart rate ceases, begin CPR
If vomiting occurs, clear the airway by sweeping vomited material out of the person's mouth
To contact the University Crisis Team, call the University Police Department at (936) 294-1794 or in an emergency situation; dial 4-1000 on campus.
For help regarding substance abuse and addiction issues, contact the SHSU Counseling Center for set up an appointment by calling (936) 294-1720.
For help regarding violations of the student guidelines or risk management procedures, contact the Dean of Students Office at (936) 294-1785 or visit https://www.shsu.edu/dept/dean-of-students/index.html and Ask the Raven.
For non-emergency medical help, contact the Student Health Center at (936) 294-1805.
For all other questions or concerns, contact the Alcohol and Drug Abuse Initiative at (936) 294-2228.
---
Kats 4 Recovery is a peer-based system that allows SHSU students in recovery from substance abuse to stay motivated along with their fellow Bearkats.
Alcohol Anonymous
The Huntsville Group of Alcoholics Anonymous meets at 1214 12th Street daily at 8 p.m. and Monday through Saturday at noon. Call the meeting hall at (936) 291-3376 for information.
Narcotics Anonymous
The Huntsville Narcotics Anonymous group, Serious Undertakings, occurs at Wesley Memorial United Methodist Church. The address is 700 Highway 30 East. Meetings occur throughout the week, call (936) 295-7459 for more information.