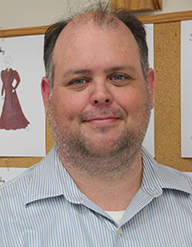 Costume Supervisor
Contact Information
stdgec14@shsu.edu
(936) 294-1329
(936) 294-3898
UTC 114
Links:
Houston Grand Opera
The Huntington Theatre
Houston Shakespeare Festival
A.D. Players
George joins Sam Houston State as the Costume Shop Supervisor for the Department of Theatre and Musical Theatre. Prior to returning to SHSU George worked both in professional and educational theatre. His professional credits include work with Barbara Matera Ltd. on Broadway productions of 42nd Street, Disney's Beauty and the Beast, The Boy from Oz, Dance of the Vampires, Flower Drum Song, Disney's Aida, Disney's The Lion King, Mamma Mia!, Thoroughly Modern Millie, Disney's Frozen on Ice, and Wicked; to name a few. George's regional professional credits include work with the Glimmerglass Festival, Houston Grand Opera, The Huntington Theatre, Opera Boston, Williamstown Theatre Festival, Houston Shakespeare Festival, and A.D. Players.
George has taught at Boston University, Lone Star College, and the University of Houston where he served as Costume Director for the School of Theatre, and as Costume Shop Manager for the Houston Shakespeare festival for 6 seasons. George is a professional member of the United State Institute for Theatre Technology, the Costume Society of America. George currently serves as the President for the United States Institute for Theatre Technology Southwest Inc. As a graduate of Boston University, George holds his MFA in Costume Production. He also holds a Bachelor's of Fine arts in Theatre from SHSU, as well as, advanced course work in the areas of design and technology from Brandeis University.