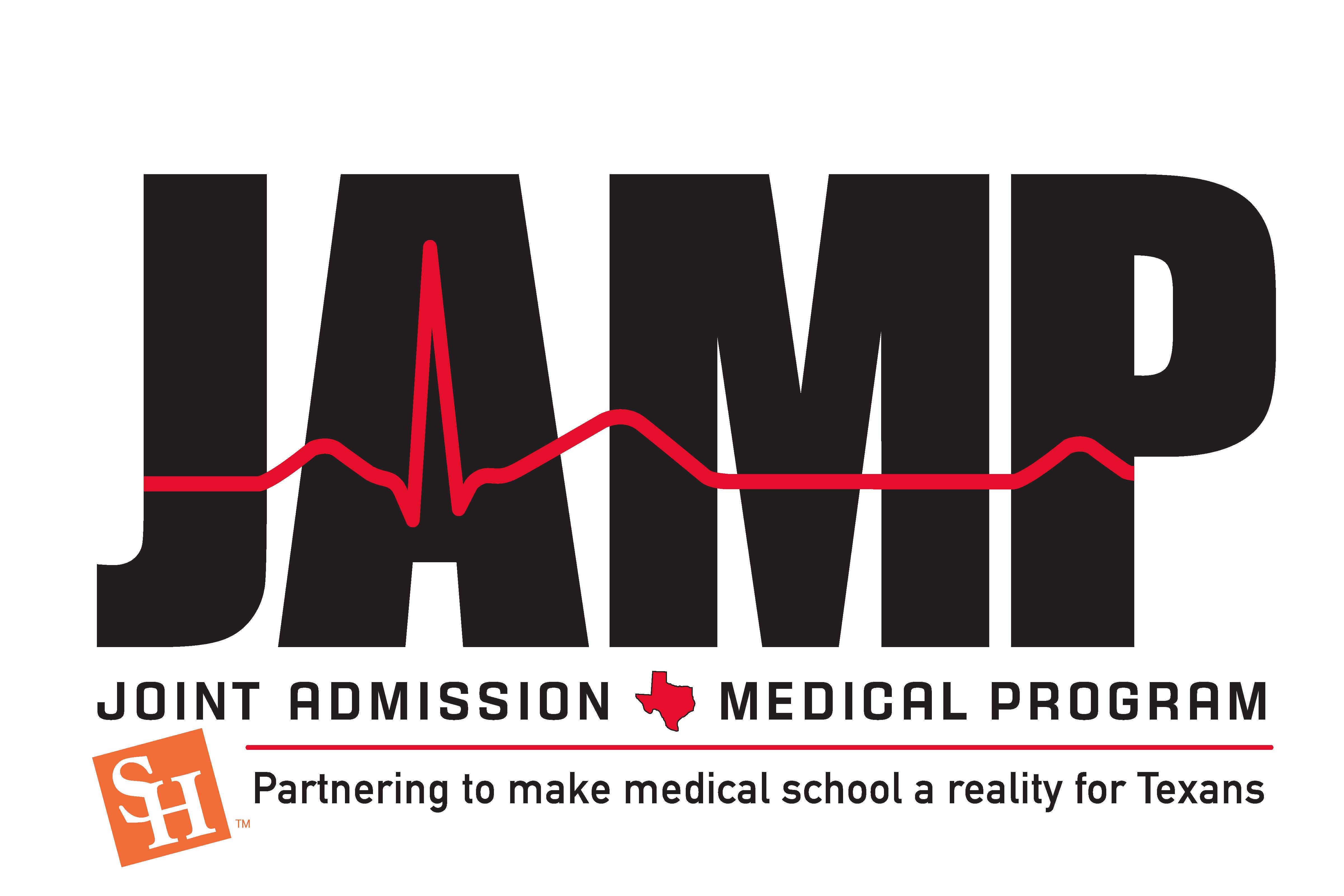 What is JAMP?
Senate Bill 940 from the 77th Texas Legislature created the Joint Admission Medical Program (JAMP) to provide services to support and encourage highly qualified, economically disadvantaged students pursuing a medical career. The JAMP program provides for undergraduate and medical school scholarships as well as medical school admission to those students who satisfy the both academic and nonacademic requirements to at least one of the participating medical schools.
To join the growing JAMP student body at Sam Houston State University (SHSU), you must be a Texas resident for purposes of tuition under Subchapter B, Chapter 54 of the Texas Education Code, and a high school or a home-schooled program graduate. As a high school senior, you must complete either the ACT or SAT, perform at or above the mean for the State of Texas, and provide your scores to SHSU with your application for admission. Entrance to Sam Houston State University must be no later than the first fall semester following graduation from high school or from a home-schooled program. Exceptions to this criterion may be granted on a case-by-case basis for unusual circumstances such as individuals who entered the armed services immediately upon graduation from high school. Applicants must complete and submit the FAFSA and be eligible to receive a Pell Grant and/or an Estimated Family Contribution (EFC) up to 8,000 unless other evidence of economic disadvantaged status exists in the student's freshman year of college.
How to Apply?
Before you start, your family contribution according to your Free Application for Federal Student Aid ( FAFSA)Student Aid Report must be no more than $8000.00 annually. This documentation is required to show proof that you are economically disadvantaged. You must also be a Texas resident to qualify for JAMP.
Enroll at a participating undergraduate institution the first fall semester following graduation from high school or a home-school program.
You must complete the "Notice of Intent to Apply to the Joint Admission Medical Program and Authorization to Release Records" (one form) located in the office of the JAMP Faculty Director before you start the online application.
Complete 27 semester hours of undergraduate credit by the end of the spring semester of the freshman year (no more than 3 hours of AP credit can be counted toward this requirement) with an overall GPA of 3.25 and a science GPA of 3.25. Grades from all courses completed before the final selection meeting will be considered.
Submit a completed copy of your high school transcript.
Earn an SAT or ACT score not less than the mean for the State of Texas, with no section on either the SAT or ACT below the mean attained in the state.
Provide two letters of recommendation, one of which must be from the JAMP Faculty Director, and one from a Sam Houston State University faculty member.
Submit a completed JAMP web application by September 1 of the sophomore year.
An official transcript(s) of all academic work completed by September 1 must be submitted by September 15.
Qualified JAMP applicants will be interviewed at one of the Texas medical schools by members of the JAMP Council to determine participation.
What Does JAMP Require?
Sign an agreement with the JAMP Council, which specifies the requirements of the program.
Attend the undergraduate program where you were admitted.
Maintain a minimum cumulative and science GPA of 3.25 in all medical school prerequisite science courses taken at your home university.
Take courses that lead to a degree and graduate in four years.
Take the MCAT in the spring of your junior year.
Successfully complete the summer internships after each year (sophomore and junior) of undergraduate study (2 total) and participate in a pre-matriculation internship, if required, by the medical school to which the student will matriculate.
Meet with your university JAMP Faculty Director at least once per term.
Apply for admission to a participating medical school before the beginning of your senior year.
Satisfy both academic and nonacademic admission requirements of the medical schools, including an interview with the Admissions Committee.
---
Students interested in this program may find additional information on the JAMP website.
Application for admission to the JAMP program is not later than the student's Sophomore year while enrolled at SHSU.The Sophomore year is defined as the second year of full time enrollment in an institution of higher education after graduation from high school. Grades from all courses completed before the final JAMP selection meeting will be considered for program admission.
Students interested in this program may contact Dr. Anne Gaillard the JAMP Faculty advisor at SHSU. She can be reached at (936) 294-1549.