Three SHSU Students Earn JAMP Resources
Feb. 19, 2016
SHSU Media Contact: Natasha Rider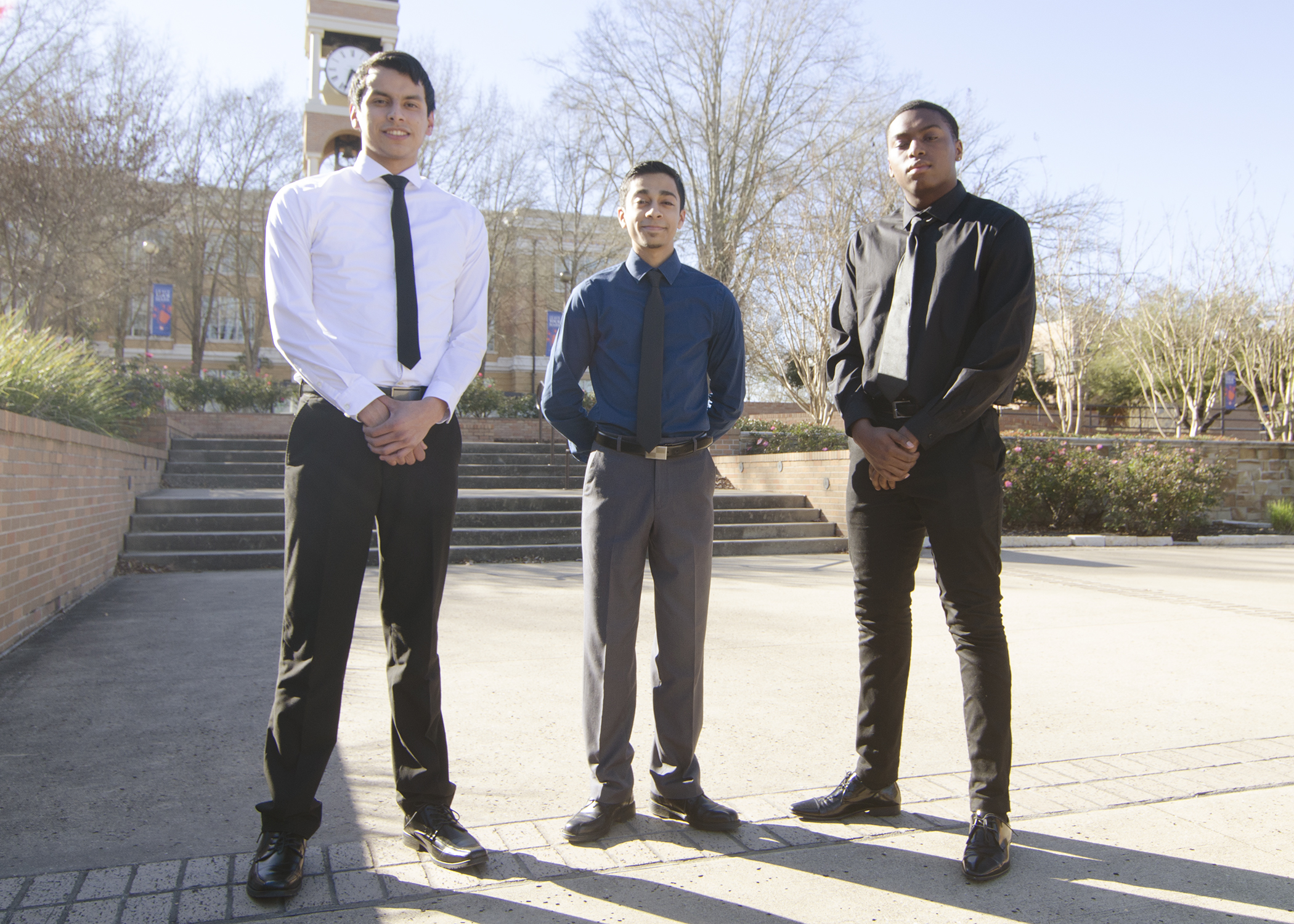 (From left) SHSU students Cresencio Adame IV, Hamza Uddin and Samson Ndukwe will have the opportunity to attend medical school in Texas following their graduation from SHSU as recent selections for the Joint Admissions Medical Program. Only around 100 students from all of Texas's universities are currently participating in JAMP. —Photo by Brynn Castro
Three Sam Houston State University students are one step closer to realizing their dream of becoming a doctor.
Through the financial and academic guidance of the Joint Admissions Medical Program, Hamza Uddin and Cresencio Adame IV have secured seats in one of the nine medical schools in Texas. Samson Ndukwe has been selected as an alternate for the program.
JAMP is a special program created by the Texas Legislature to support and encourage highly qualified, economically disadvantaged students pursuing a medical education.
Students accepted into the program must maintain certain academic standards throughout the duration of their undergraduate careers and complete two summer internships.
In return, JAMP provides the financial and academic resources that allow them to excel, and those who maintain a 3.25 grade point average and earn a minimum score on the Medical College Admission Test are guaranteed admission to a medical school in Texas. Alternates receive academic support from JAMP and must maintain the same criteria.
Only about 100 students from among all Texas universities have been selected to participate in JAMP.
"The process to get here has been long and difficult but very rewarding," said Uddin, a sophomore health sciences major from Richmond.
"But, if you want it bad enough, you will make the sacrifice," added Ndukwe, a sophomore biomedical sciences major from Alief.
For Adame, a junior chemistry major from Crystal City, the opportunity is surreal.
"This is all much bigger than me. I have been fixated on changing how my family and I live for a long time," he said. "Ultimately, I want to show people [in Crystal City] that you can get out. One day, I want to create a scholarship program at my high school and help influence others."
Adame acknowledges that he couldn't have done it without the encouragement and advisement he received along the way from teachers, friends and the academic advisers.
"I want to honor those people that have encouraged us in this journey," he said, referring to people such as Brandy Colvin, assistant academic adviser, and Kathleen Gilbert, administrative assistant and JAMP coordinator of the College of Health Sciences, who assisted the students through the JAMP application process.
"We're very excited to be a part of these students' educational journey," Gilbert said. "They're exceptional students and leaders who will make great doctors."
Last year, Ashley Platero, a senior health science major, was also accepted to the JAMP program.
More recently, the College of Health Sciences received a $20,000 grant from JAMP, for the second consecutive year, to help promote a summer camp that is offered for high school students to learn about JAMP and the medical field.
"It's an excellent opportunity for selected students to learn the finer details of the JAMP program at SHSU and engage in activities geared toward their success in college and as medical professionals," Gilbert said. "We hope that as a result of hosting the camp, we will increase awareness of the benefits of participation in the JAMP program."
For more information, visit shsu.edu/academics/health-sciences/JAMP.html.
- END -
This page maintained by SHSU's Communications Office:
Director of Content Communications: Emily Binetti
Communications Manager: Mikah Boyd
Telephone: 936.294.1837
Communications Specialist: Campbell Atkins
Telephone: 936.294.2638
Please send comments, corrections, news tips to Today@Sam.edu