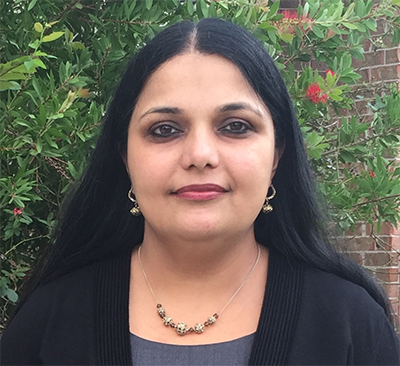 Falguni Mukherjee
Department of Environmental and Geosciences
P.O. Box 2148
Huntsville, TX 77341
Office: LDB 314
(936) 294-1073
fsm002@shsu.edu

Courses:
| | |
| --- | --- |
| GEOG 2464 | Introduction to GIS |
| GEOG 5312 | GIS Model Builder |
| GEOG 5363 | Internet GIS |
| GEOG 5362 | GIS Principles and Applications |
| GEOG 5366 | Cartography and Visualization |
| GEOG 5310 | GIS Project Management |
Research:
Associate Professor
GIS
I received my undergraduate degree in civil engineering in India. Thereafter I worked as an environmental consultant utilizing GIS and remote sensing technologies. Ever since, I have been fascinated with the principles and applications of geospatial technologies. The interaction between society and technology continues to be my main focus today and was the central theme of my master's work in Texas and doctoral work in Wisconsin.
I utilize both quantitative and qualitative methods in my research. I use a synthesized theoretical framework in my research that integrates Critical GIScience, Organizational GIS, Political Economy and Urban Geography. I particularly focus on the process of GIS spatial knowledge production by urban local bodies in a non-western context and how this process is shaped by the internal and external social, political and institutional contexts.
In the past I have worked with Dane county officials in Wisconsin to examine the history of their GIS usage and its repercussions on their contemporary GIS knowledge production. Past research has also involved the use of remote sensing technology to investigate drainage patterns and stream reversals in the Lake Plateau region of the Nile basin. My current work focusses on the use of GIS by urban local bodies in India in response to the country's rapid urban transformation and the government's ambitions to build a modern information infrastructure.
My teaching responsibilities include undergraduate and graduate GIS classes. I also serve as the department's GIS graduate program coordinator.
I enjoy interacting with students and guiding them in their academic and professional endeavors.