---
Job Growth
According to the U.S. Bureau of Labor Statistics, employment of accountants and auditors is expected to grow 16% from 2010 to 2020.
Utilize a Diverse Skill Set
Accountants need more skills than just a knack for numbers. But they also need to be able to analyze that documentation, identify issues and offer solutions. To do that requires communication skills--listening carefully to clients and discussing the results of their work.
Other jobs using the same skill set:
Budget Analysis
Cost Estimators
Financial Analysts
Financial Examiners
Financial Managers
Management Analysts
Personal Financial Advisors
Tax Examiners and Revenue Agents
Forensic accountant
Read the course descriptions >>
Advance Quickly
Beginning accountants often move up the ranks within 1 to 2 years of starting their careers. After that, senior positions are only a another few years down the road. Certification from a variety of professional societies provides an advantage in the job market.
Get Certified!
Become a Certified Public Accountant
Become a Certified Internal Auditor
Become a Certified Management Accountant
Become a Certified Payroll Professional
Become a Certified Information Systems Auditor
Internships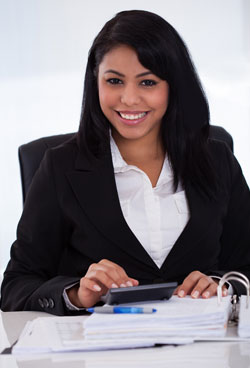 The Department provides paid internship opportunities that offer accounting students the chance to work, learn and grow within the profession while earning academic credit.
Students who are on the five-year track to meet the 150-hour Uniform CPA exam requirement and who have completed the first course in intermediate accounting with an overall GPA and accounting GPA of 3.0 or better are eligible to compete for available internship positions during the spring of their junior years.
Once selected, the students then spend half of the following spring semester in the field. After spring break, the interns return to campus to complete the academic portion of the course and the remainder of their senior year. Depending upon employer needs, summer internships may also be available.
For more information about internships, contact Ms. Candy Lynch at crl003@shsu.edu.