Software Engineering
,
Bachelor of Science
Available: On Campus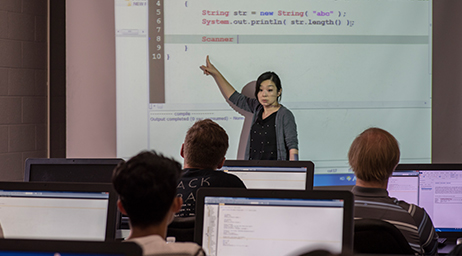 The Bachelor of Science in Software Engineering is designed to provide the skills and competencies required by students wishing to pursue a career in software development. Software developers typically focus on either systems or applications. Systems software developers create and maintain the operating systems that make computers and devices run. Application software developers design software programs that run on computers and devices, such as databases and games. Successful software developers are often strong in mathematics, effective communicators who work well with others, and detail-oriented.
Highlights
A variety of operating systems, network protocols, programming languages, and application packages are available in the comprehensive computing environment provided for students. In addition to campus resources, the Department of Computer Science operates a range of lab facilities, including network, robotics, and Unix/Linux labs, a data recovery lab, and a network security lab. Off-campus access to departmental computing resources is available.
Requirements
In addition to coursework about programming, databases, and other computer-related topics, the computer software engineering degree requires calculus, discrete mathematics, and statistics. This program does not require a minor; however, students may select a minor that suits their interests and career goals.
Careers in Software Engineering
Computer systems design
Software publishers
Government agencies
Electronics manufacturers
Financial institutions
Or continue your education with a graduate degree.
Program Breakdown
Brief breakdown of the type, or types, of degree(s) available, their length, available enrollment, and estimated cost.

| Category | Degree Summary |
| --- | --- |
| Catalog Entry | |
| Length | 120 Credit Hours |
| Enrollment | Fall and Spring |
| Tuition/Costs | Rates Per Semester |
Undergraduate Application Deadlines
Fall: August 1
Spring: December 15
Summer: May 15