CHAT & CHEWS
Chat & Chews are monthly discussions facilitated by the Diversity Council that allows students to engage in meaningful conversations regarding diverse topics. It also allows the student to explore other ideas different from their own. Each month, the Chat & Chew visits a new topic and is prepared with learning outcomes & takeaways. Food & refreshments are also provided for the students.
COMMUNITY MIXERS
In the past, the Center for Diversity & Intercultural Affairs (CDIA) has hosted the Lavender mixer for LGBTQ+ students, staff and faculty. In expanding our diversity efforts and initiatives, CDIA has developed four (4) new community mixers – Latinx, African American/Black, Asian/Pacific Islander & Women, which will all take place at the beginning of each fall and spring semester.
The idea behind a community mixer is for students (specifically incoming freshman & transfer students) to meet other students, staff and faculty who share experiences and are able to guide one another to programs, organizations and resources at Sam Houston State University that will assist in retention and student success. Community mixers are modeled from NASPA (National Association of Student Personnel Administrators) knowledge communities.
DIVERSITY LEADERSHIP CONFERENCE
The Diversity Leadership Conference is an outstanding student-led event designed to address diversity and leadership issues and their application in student development, higher education and the global society.
The conference, which is entering its 16th year, broadens horizons in a tactful and engaging manner through keynote speakers, interactive presentations and workshop presentations. The 16th annual Diversity Leadership Conference will be held on February 21 – 22, 2020. For more information, please visit the Diversity Leadership Conference webpage.
EMBRACING OUR DIVERSITY LUNCHEON SERIES
The Division of Student Affairs includes diversity as a core value and celebrates embracing the belonging and pride at Sam Houston State University. As a result, the purpose of the "Embracing Our Diversity" Luncheon Series is to proactively engage students into the conversation of campus diversity through facilitated discussions with the Vice President for Student Affairs, Mr. Frank Parker and the President of Sam Houston State University, Dr. Dana Hoyt. The intent of the series is to qualitatively assess campus climate as it pertains to diversity and inclusion from a student point of view.
HERITAGE/HISTORY MONTH CELEBRATIONS
In accordance with the various heritage and history months during the academic year, the Center for Diversity & Intercultural Affairs coordinates Celebrations in the LSC Mall area. These celebrations include games and activities reflecting the heritage/history month, t-shirts and an educational component. The Heritage/History month celebrations are coordinated by the Diversity Council. For the 2019 – 2020 academic year, the dates are as follows:
September – Hispanic Heritage Month Celebration
October – LGBT History Month Celebration
November – Native American Indian Heritage Month Celebration
February – Black History Month Celebration
March – Women's History Month Celebration


May – Asian/Pacific Islander Heritage Month Celebration
RED BALL
In recognition of the annual World AIDS Day on December 1st, the Center for Diversity & Intercultural Affairs hosts an annual Red Ball to increase awareness, fight prejudice/the stigmas and improve HIV/AIDS education. The Red Ball was conceived in 2016 and had its inaugural event on December 1, 2016. Since then, the Center for Diversity & Intercultural Affairs has collaborated with other organizations and departments at Sam Houston State University to build upon this event.
UNITYFEST
Unityfest is a celebration of diversity – cultural and underrepresented student organizations & various departments across Sam Houston State University are invited to showcase their services/culture through tabling and activities.
Students are encouraged to participate by visiting tables and collecting "points" on their Unityfest Card. Once students have amassed enough points, they are able to get their Unityfest t-shirt and enjoy food from cultures across the world.
The event also features various cultural performances, giveaways, henna tattoo artist and fun! Unityfest is an annual Welcome Week event sponsored by the Center for Diversity & Intercultural Affairs. This year, the event will be a little bit different due to COVID-19 safety measures! Unityfest 2020 will be featured in a hybrid component on Thursday, August 20, 2020. You may participate in person in the Bearkat Plaza from 11:00 AM - 1:00 PM or virtually via our Instagram account @SHSUDiversity! Check out the Unityfest resource guide below!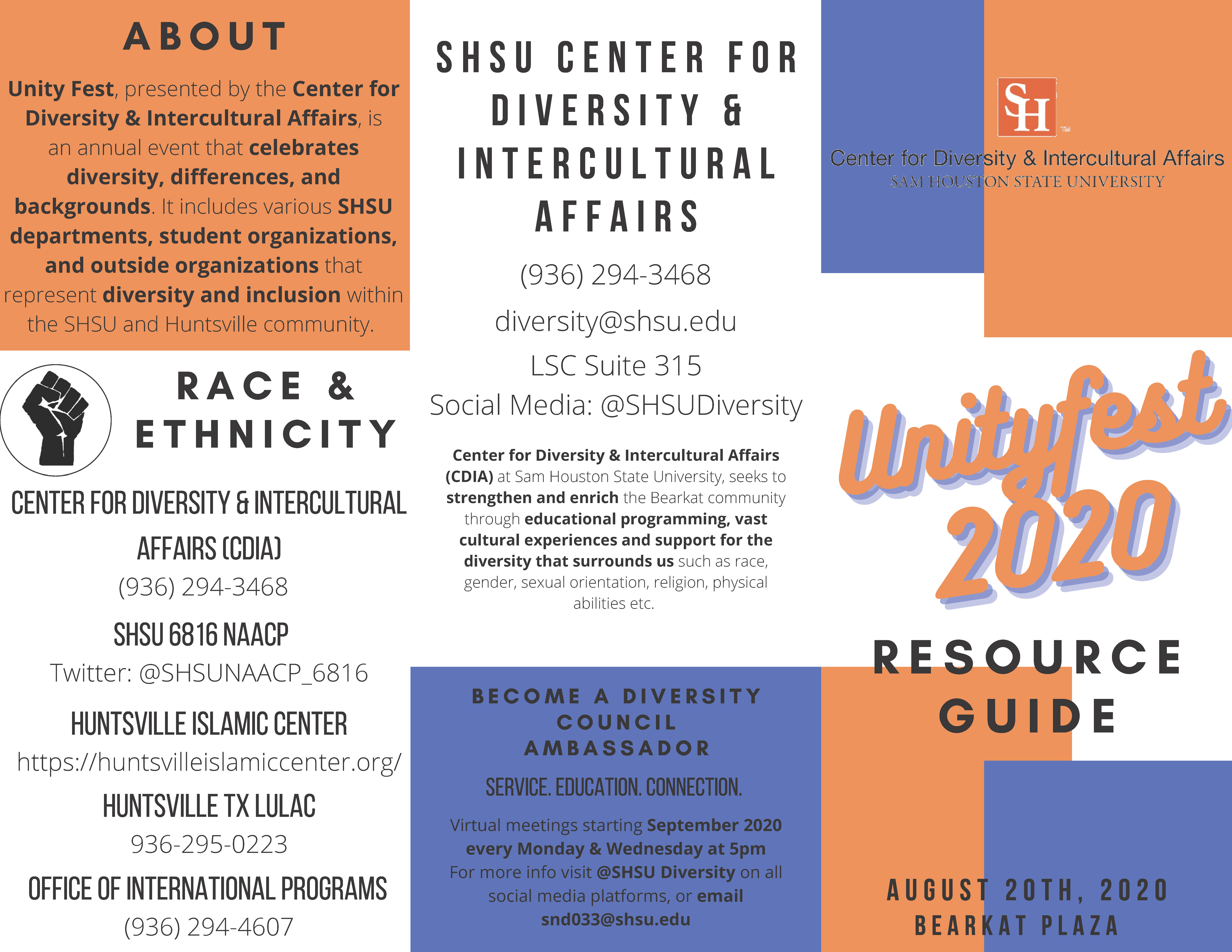 VIRTUAL DIVERSITY SPEAKER SERIES
This year, the Center for Diversity & Intercultural Affairs (CDIA) is hosting a virtual diversity speaker series. Each month, we will facilitate a conversation with a featured guest speaker on a topic within diversity & inclusion.
Virtual Speaker Series Calendar
Monday, September 30th: Hispanic Heritage Month featuring Saul Flores
Monday, October 26th: LGBT History Month featuring Jared Sampson
Monday, November 23rd: Native American Indian Heritage Month featuring Miss Indian World, Cheyenne Kippenberger