---
Mission
The mission of the SHSU Ombuds Office is to provide a confidential, informal, impartial, and independent conflict management and resolution service for faculty and staff members of the University community. The office aims to create an environment of mutual respect, equity, integrity, accountability, ethical conduct, and civility on campus that promotes constructive problem solving and communication as an effective means of conflict resolution. The SHSU Ombuds Office supports the goal of creating a safe and an equitable environment on campus.
The office operates independently and supplements existing formal channels of conflict resolution and fair treatment on campus (e.g., Human Resources, Office of Institutional Diversity & Inclusion, Title IX, Compliance, etc.).
---
Guiding Principles
The SHSU Ombuds Office operates as per the Standards of Practice (SOP) and Code of Ethics (COE) of the International Ombuds Association (IOA). The following four principles guide the operations of the Ombuds Office.
Confidentiality
Independence
Impartiality/Neutrality
Informality
Read more

Confidentiality: Confidentiality is an important element of the Ombuds Office. Confidentiality helps to create a safe place that faculty and staff members of the University community can reach out to raise questions, voice concerns, discuss conflicts, and evaluate their options and determine their next steps.

All communication with the Ombuds Office is strictly confidential and off-the record. The office does not maintain records with individually identifiable information, nor will it disclose the identity or the contents of the conversation with faculty or staff who reach out to the office.

The only exception to confidentiality would be if

an imminent risk of serious harm to self or to others is identified,
a faculty or staff gives express permission to the Ombuds to disclose their identity or contents of their conversation during confidential communication
disclosure is required under TSUS Rules and Regulations (e.g., reporting of wrongful or fraudulent conduct) or local, state, or federal law. If during a confidential communication any allegations of Title IX violations are reported, the Ombuds Office is required by law to notify the SHSU Office of Equity and Title IX.

The Ombuds cannot be called to testify or participate in any legal, administrative, or formal proceedings.

Independence: The SHSU Ombuds Office is independent in its structure and functions and operates free from interference and any undue influence from the University or its administrators. The Ombuds Office reports directly to the Office of the Provost.

Impartiality/Neutrality: The office does not advocate for or on behalf of or against any individual, office, position, or cause. The Ombuds Office promotes fair and equitable processes for all SHSU faculty and staff members.

Informality: The Ombuds Office is an informal resource for conflict management and resolution and hence functions on an off-the-record basis. The Ombuds Office is not authorized to make, change or overrule any University decision or policy, initiate a formal process or investigation, conduct disciplinary action, adjudicate or participate in any formal investigation.

The Ombuds Office may provide information about existing formal channels of compliance, complaint redressal and conflict resolution for faculty and staff so that they may make informed choices and decide about the process that works best for them.

The Ombuds Office is not authorized to accept legal notice or claims against the University.
---
Ombuds Office Charter
---
Meet the Ombuds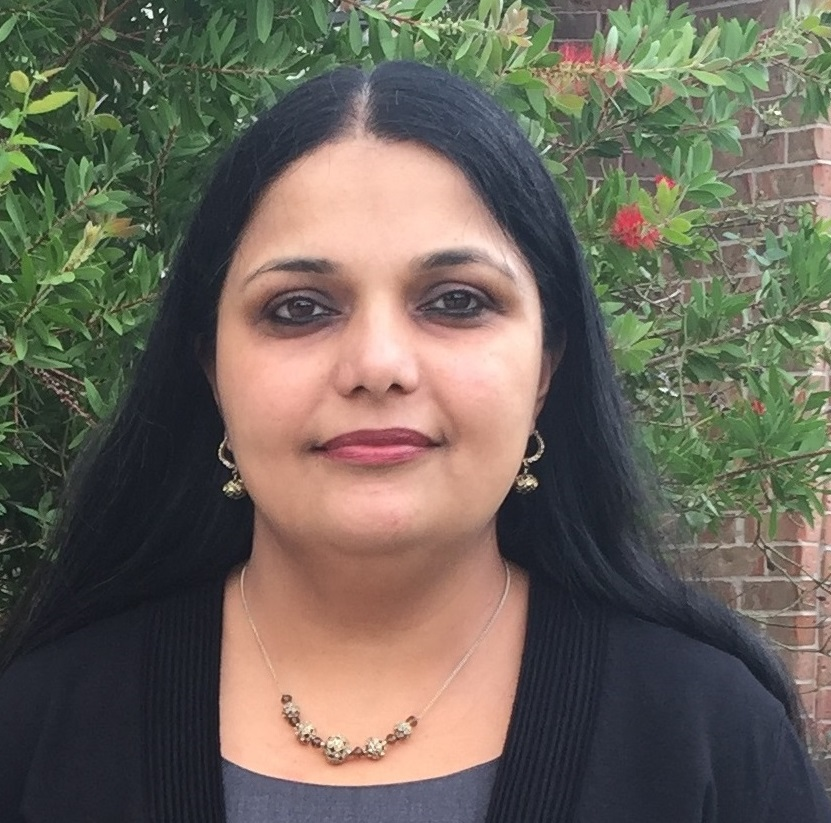 Falguni Mukherjee
Sam Houston State University Faculty and Staff Ombuds, Falguni Mukherjee was appointed in January 2022. She is a current member of the International Ombuds Association and follows the Standards of Practice (SOP) and Code of Ethics (COE) of the International Ombuds Association (IOA). Dr. Mukherjee has received extensive ombuds training. She has completed 80+ hours of training through the foundations of an Organizational Ombuds practice course, general mediation training, foundations of setting up an Ombuds Office course, and other related training courses and webinars. Dr. Mukherjee is a professionally trained and certified mediator.
Dr. Mukherjee is a professor in the Department of Environmental and Geosciences. She also serves as the graduate coordinator for the MS in Geographic Information Systems program. Dr. Mukherjee joined SHSU in 2010 and has engaged in a variety of teaching, research, and service activities. She has served on many department, college and university committees.
Dr. Mukherjee received her PhD from the University of Wisconsin - Milwaukee and M.S. in GIS from University of Texas at Dallas. She also holds a bachelor's degree in Civil Engineering.
---
The Ombuds Office is open and providing consultations in person, by Zoom, or by phone.
Contact Us
Phone: 936-294-2222
Email: ombuds@shsu.edu
Request an appointment
Please use email to only initiate a meeting with the Ombuds. Due to the limits of technology, confidentiality cannot be ensured in email communication. Therefore, please refrain from including any confidential information in your email. Details about your specific concern will be discussed during a confidential meeting.
---
Conversations with the Ombuds Office are voluntary, confidential and informal. The Ombuds Office is not authorized to receive notice of claims against the university. By using our voluntary services, you agree not to record our confidential conversation or call members of the office to testify in a court of law.
---