ABOUT SHSU OPERA...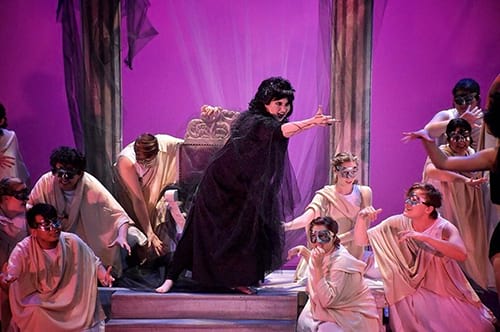 Nationally recognized SHSU Opera is the premier solo performance ensemble for the Vocal Area in the SHSU School of Music. This ensemble provides students the opportunity to develop their solo performance skills through master classes, opera scenes and full opera productions. SHSU Opera produces three major programs during the academic year, and is often featured at VIP events for the University and the greater community.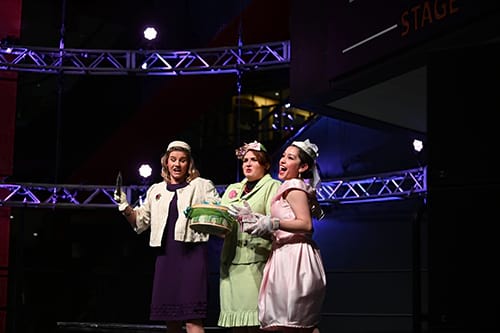 The ensemble also maintains an active national and international performance profile. Since 2011, SHSU Opera has been invited to compete at the National Opera Association Scenes competition as a finalist in cities across the country, placing second in the Musical Theatre Division in 2015 and 2018, and the Graduate Division in 2020. In addition, SHSU Opera was awarded the American Prize in Collegiate Opera production in 2014 and 2015, and was honored with a 2012 Opera Production Award with the National Opera Association. In 2018, the ensemble traveled to Osaka, Japan to present a joint production of Purcell's Dido and Aeneas with the students of Kobe College.
SHSU Opera alumni have gone on to attend some of the top conservatories and music schools in the United States and Europe, including New England Conservatory, Manhattan School of Music, University of Missouri-Kansas City, Indiana University and Rice University. In addition, many of our alumni have launched successful solo careers in both the United States and Europe, including The Metropolitan Opera in New York.
SHSU Opera Workshop is currently under the direction of Dr. Rebecca Renfro, who, in addition to her work as a director, performer and teacher, is the co-founder of Boston-based Opera del West, as well as an executive board member of Greater Worcester Opera in New England. Dr. Renfro currently sits on the Executive Board of the National Opera Association as acting Treasurer.
Selection for participation in SHSU Opera Workshop is by audition at the beginning of the academic year. For information, please contact Dr. Rebecca Renfro.