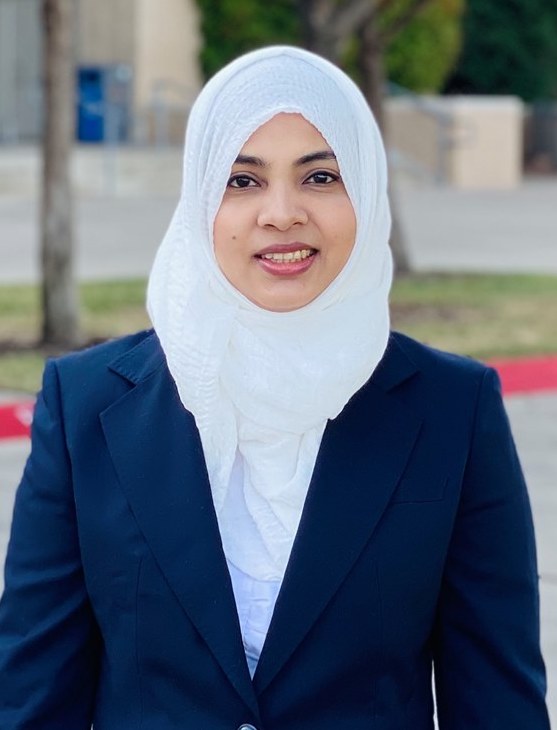 Assistant Professor
email: sxh130@shsu.edu
Research Interests
Cellular and Molecular Biology
Office: LSB 300L
phone: 936-294-3549
In the Sharmin Lab, a cell, molecular and developmental Biology Lab, we are interested to explore early embryonic developmental disorders and muscle development using zebrafish as a model organism. Our research and areas of study include:
Project 1: Molecular biological studies on muscle growth and development of teleosts.
In this study, we are exploring the expression regulation and function of myomiRNAs in muscle fiber-type specification mechanism by generating zebrafish (Danio rerio) CRISPR/Cas9 knockouts. The two key aims of this project are:
Aim 1: Expression regulation analysis of muscle-specific microRNAs (myomiRNAs).

Aim 2: Functional study of myomiRNAs by generating zebrafish (

Danio rerio

) knockouts by CRISPR.
Project 2: Functional characterization of non-canonical Wnt protein Dennd5a/b playing important roles in early embryonic development of vertebrate
Wingless integrated-1 (Wnt) signaling is a key developmental signaling pathway that has been conserved pathway in metazoan animals and is required in most embryonic developmental processes. Wnt signaling pathway's main functions during embryonic development range from cell fate determination, cell migration, cell polarity, neural patterning as well as organogenesis and stem cell renewal. In the non-canonical pathway, Wnt signaling directly causes a signaling cascade in which the disheveled-associated activator of morphogenesis protein directly interacts with DENN domain-containing protein 5a which is essential for two signaling pathways. Thus, Daam1 and Dennd5a protein interactions are important in the non-canonical signaling pathway during embryonic development. However, it is still unknown in which domains of the Daam1 and Dennd5 proteins the protein-protein interactions occur. It is important to identify the domains of the protein-protein interactions to identify possible protein mutations that can affect the Wnt non-canonical pathway during embryonic development as well as to better understand the process of the Wnt non-canonical pathway. The roles of the proteins can also be further explored in terms of observing how they affect the organism by comparing the gain of function and the loss of function through the process of CRISPR/cas9.
Aim 1:

In this study, we will functionally characterize the role of the important effector proteins of Daam1 during the early embryonic development of zebrafish.

Aim 2:

Daam1 and Dennd5a protein-protein domain interactions and possible functions in early embryonic development