Sam Houston - Schoolmaster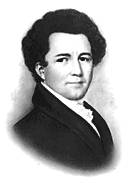 Sam Houston, who had little formal schooling, advised colleagues in one of his last speeches as president of the Republic of Texas on the importance of education.
"Give to the rising generation instruction," he said. "Establish schools everywhere among you...Intelligence elevates man to the highest destiny, but ignorance degrades him to slavery." He might have added, "Do as I say, not as I did."
Houston made "slight advantage of the excellent opportunities" for education that his father had provided for his children, wrote Marquis James in "The Raven," "but he read every book in reach." He memorized almost the entire 24-book "Iliad."
When the 19-year-old Houston returned from living with the Cherokees in the spring of 1812, he had a $100 debt. He decided to open a school, and despite jokes about his "degree" from the "Indian University," it was a success.
His tuition was $8 for the term. One-third was payable in cash, one-third in corn, and one-third in varicolored calico from which he was to have his shirts made. In one six-month term he wiped out the debt and had money left over.
Years later he was asked what office--U. S. representative from Tennessee, governor of Tennessee, general of the Texas Army, president of the Republic of Texas, governor of Texas, or U. S. senator from the state of Texas--had given him the most pride.
"When a young man in Tennessee I kept a country school," he answered, telling how he would go into the nearby woods after having lunch with his pupils, cut himself a "sour wood" stick, and color it half white and half blue by searing it in a fire.
"With this emblem of ornament and authority in my hand, dressed in a hunting-shirt of flowered calico, a long queue down my back, and the sense of authority over my pupils, I experienced a higher feeling of dignity and self-satisfaction than from any office or honor which I have since held."
After his enlistment in the U. S. Army and his heroism at Horseshoe Bend, he traveled to New Orleans for treatment of a shoulder wound. His travel companions, James listed, included Shakespeare, Akenside's poems, "Robinson Crusoe," "The Pilgrim's Progress," "The Vicar of Wakefield," and a Bible.
Houston resigned his commission in the Army in March, 1818, again in debt. He began reading law in Nashville, six months later passed the bar exam, and set up a practice in nearby Lebanon.
One of his big expense items, which he was able to put on credit, was postage. It cost 25 cents to send a letter, a comparatively high amount when compared to today's postage. But he dressed well, was popular, and prospered. In a short time he was appointed adjutant-general of the state militia, and later to the position that today would be called district attorney for the Nashville district.
It was the beginning of a political rise that included election to Congress from Tennessee, governor of the state and mention as U. S. presidential material by the time he was 35. Then came his failed marriage and relocation to Texas.
Houston's next direct involvement with education came when he was living in Huntsville, and the Presbyterian Church sought a location for a college they hoped to build. The Rev. Daniel Baker came to Huntsville and was offered a tract of land on a hill overlooking the community. The citizens had hoped the Texas capital would be relocated to their community, but it had remained in Austin.
"General Houston says that it would be a greater advantage to have a Presbyterian college located here than to have the place made the capitol of the State," Baker wrote in 1849. Houston became a member of Austin College's first board of trustees.
The board contracted in the spring of 1851 to erect a two-story brick structure. The dedicatory program was held on a hot, early summer day. Houston held an umbrella over the speaker. He also attended trustee meetings in Austin Hall, the building which today stands as the architectural symbol of Sam Houston State University .
Austin College was moved to Sherman in 1876. Austin Hall became available and was offered by Huntsville citizens to the state for the proposed normal school.
They asked that the school be named in honor of Sam Houston, and on April 21, 1879--San Jacinto Day--Gov. Oran M. Roberts signed the bill creating Sam Houston Normal Institute. Now, after well over a century of giving to the rising generation instruction, as suggested by its namesake, Sam Houston State University is truly "a great name in Texas education."
Text by: Frank Krystyniak