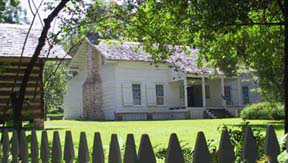 Houston's 'Woodland Home'
If Sam Houston had come to Texas in modern times instead of 1832, he might have kept on moving west. He lived in almost a dozen different places in the state and criss-crossed it many times, but it is hard to imagine him stuck in a city traffic jam.
Houston wrote political mentor Andrew Jackson in 1833 that "there can be no doubt but that the country East of the River Grand...would sustain a population of ten millions of souls...I may make Texas my abiding place!"
The current Texas population of almost double Houston's projection might give him a crowded feeling, although one of the reasons he professed for not liking Austin as the site for the Texas capital was that it was too sparsely populated and too far on the frontier--with "not a house between this and Santa Fe."
In the mid-1800s travel was tough, but it didn't stop Houston. In 1842 he boasted of making a record-breaking muleback trip from Austin to Houston in "two hours less than four days."
Sue Flanagan, a Texas writer, historian, and former director of the Sam Houston Memorial Museum in Huntsville, wrote that Houston lived at 11 different Texas sites at least six months.
At one time the Houston family maintained four residences--Huntsville, Cedar Point on Galveston Bay, Independence (near Brenham), and Grand Cane (north of Liberty). Marquis James wrote in "The Raven" that Houston preferred Huntsville, where he lived, is buried, and which is the site of Sam Houston State University.
His other homes included Nacogdoches, San Augustine, Raven Hill (northeast of Huntsville), Houston, Washington-on-the-Brazos, Columbia (now West Columbia) and Austin. Several of the sites were seats of the Texas government during its days as a Republic from 1836 to 1845 and then statehood.
Houston's family was the first to occupy the Texas governor's mansion. Their last child, Temple Houston, was born there on Aug. 12, 1860.
They lived there 15 months before Houston was deposed for refusing to take an oath of allegiance to the Confederacy. Theirs was the largest family, with eight children, to ever live there.
Houston is said to have designed the home his family occupied beginning in 1848 in Huntsville, and lived in periodically until it was sold in 1858, and that it resembled his Virginia birthplace. He referred to it as "our dear Woodland Home," but wrote to his wife that she was free to select "a better name."
In a letter in the summer of 1851 he described his life there, "in my woodland residence, with my wife and brats." He had little interest in returning to the U. S. Senate, he said, but was "farming in a small way...and busy as a 'bee in a tar barrel.'"
Marquis James described the Huntsville property this way in "The Raven":
"It stood on spacious grounds at the edge of the village, which prided itself on being a replica of an old-fashioned southern community. In the side yard General Houston erected of squared logs his particular sanctum, where he could whittle and scatter papers and pipe ashes to his heart's content."
He also loved to travel. James wrote that Houston would bundle up Margaret and the seven children (there would eventually be eight), and take off in a "big yellow coach," with Houston and his driver Joshua riding ahead in a single-seated buggy.
"A notion to trek would strike the General," James wrote. "In an hour the children would be rounded up..." and "...the great yellow carry-all and four horses would be off in a cloud of rolling dust."
The Woodland Home and the "law office" described by James are located on their original site at the Sam Houston Memorial Museum Complex in Huntsville. Other attractions include the Museum itself, the Walker Education Center, the Steamboat House, and a 15-acre park.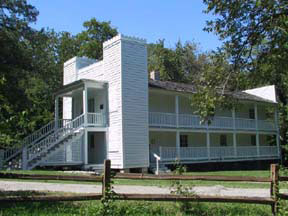 The 'Steamboat House'
It was in the Steamboat House that Houston died on July 26, 1863. He had moved back to Huntsville after being forced out of the governor's mansion and tried to buy back the Woodland Home. When he could not he rented the Steamboat House, which was moved from its original location into the park in 1936.
When Houston died his estate was valued at $89,000. "While by no means a poor man," wrote James, "General Houston's scale of living caused people to exaggerate his wealth." Although "pressed for ready cash" in the Civil War years, "this had little effect on his open-handed style of living."
When he had the money, it seems, he was generous with it. Records of Austin College, of which Houston was a trustee in its formative years, indicate that he loaned the college $2,000 in 1858.
Text by: Frank Krystyniak