A three-day workshop and subsequent two-day follow-up with professors, instructors, and graduate students at Chiang Mai University, featuring projects created to help education students understand the concept of project-based learning (PBL), may actually benefit a nation in helping to preserve an ancient cultural tradition.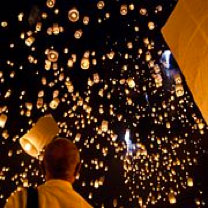 Yi Peng (Loi Krathong) festival in Tudongkasatan Lanna (Lanna Meditation Retreat Centre), Mae Jo Chiang Mai, Thailand.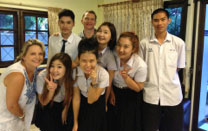 Sam Houston State Assistant Professor Dr. Karla Eidson poses with students and instructors from Chiang Mai University.
The tradition of lighting sky lanterns dates as far back as the third century A.D. and has been practiced in many countries including China, Brazil, and Thailand. The Lanna people of northern Thailand use "floating lanterns" (โคมลอย, khom loi) year-round, for celebrations and other special occasions. One very important festival in which sky lanterns are used is the Lanna Yi Peng festival, which is held on a full moon of the second month (ยี่เป็ง, Yi Peng) of the Lanna calendar (which coincides with Loi Krathong, the traditional festival on the twelfth month of the Thai lunar calendar). During the Yi Peng festival, a multitude of lanterns are launched into the air, where they resemble large flocks of giant, fluorescent jellyfish gracefully floating through the sky. The most elaborate Yi Peng celebrations can be seen in Chiang Mai, the ancient capital of the former Lanna kingdom. The festival is meant as a time to obtain Buddhist merit (ทำบุญ, tham bun, "fire lamps"). It is considered good luck to release a sky lantern, and many Thais believe they are symbolic of problems and worries floating away. Releasing sky lanterns is also viewed as paying homage to the Buddha as well as sending away unpleasantness in life. [1]
A sky lantern is a small hot-air balloon traditionally made from oiled rice paper stretched on a bamboo frame. The source of hot air may be a small candle or fuel cell composed of a waxy, flammable material. In recent years there has been growing concern about the balloons' potential to cause crop or building fires and harm animals that may eat their remains. [2] Several countries have banned them for that reason.[3]
At the end of the first day of the PBL workshop, led by Sam Houston State University assistant professor Dr. Karla Eidson, attendees settled on this project as the prototype they wanted to focus on for the duration of the workshop. When attendants were asked to think about an issue they knew about that could benefit from modification in some manner, one graduate student related the story of his grandfather's farm suffering burn damage and a loss of several fruit trees due to a fire caused by a lantern during the festival the previous February. This led to a focused issue discussion, resulting in the decision to create a project beginning in Fall 2013 in the education class entitled "Effective Teaching Techniques" taught in the third year of the education program at Chiang Mai University. In cooperation with the Department of Art, Physics and Biology, the education students will embark on the creation of a safer, bio-degradable sky lantern design. The workshop attendees were enthusiastic about the entire process of project-based learning and were eager to learn more, although several changes and accommodations to the method were made to better suit the Thai culture. These changes and procedures were documented throughout the workshop, and a working document is ready for use in launching the fall semester class. Referring to his thought about the fire at his grandfather's farm, graduate student and workshop attendee Payat Krusak said,
"I was nervous about saying what I was thinking, but I was very happy when I see that my idea is now a big idea we all will work on! I have released lanterns since I was a small boy, and I would like the same experience for my children someday."
"Lantern Festival of the Yee Peng Month." Welcome to Chiangmai and Chiangrai magazine. 2012-12-03. Retrieved 2013-07-29.
Chinese lanterns pose danger to livestock, NFU says." BBC News. 2010-02-01. Retrieved 2013-07-29.
"Fire danger prompts ban of sky lanterns." 2013-06-20. Retrieved 2013-07-29.