Events
Applications are due by the first week of October for students who want to intern with the 84th Texas Legislature.




President Dana G. Hoyt recognized more than 40 SHSU employees for service exceeding 20 years on Sept. 4.




English professor Robert Adams will step into a more recent, and local, past for his presentation on Oct. 3.



Spotlight
SHSU English students find a source of personal enrichment in their coursework. They develop verbal, analytic, and cultural skills that are readily adaptable to a variety of careers. The department offers a Bachelor of Arts degree in English (with and without a teaching certification), and minors in English, creative writing, technical and professional writing, and a minor in English with a standard secondary certification. Students in the Master of Arts program can qualify for a number of graduate assistantships. The department's 27 faculty members represent a wide range of disciplinary foci, teaching courses in British, American, world, and multicultural literature; creative writing; rhetoric and composition; technical and professional writing; and linguistics.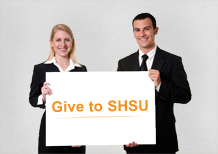 SHSU Main Campus
1806 Avenue J
Huntsville, TX 77340
(936) 294-1111
(866) BEARKAT
The Woodlands Center
3380 College Park Drive
The Woodlands, TX 77384
(936) 202-5000
University Park
20515 SH 249
Houston, TX 77070
(281) 290-2900