Events
The Bearkat Battalion shared the lessons they're learning with the women's basketball team through a series of activities Sept. 20.




Bearkat women and men are encouraged to sign up for the Women's Leadership Conference by Nov. 7.




The second CVI study reports that college police believe stalking is a problem, just not on their campus.



Spotlight
The W.A.S.H. program is a unique opportunity for SHSU art students to participate in an experimental studio environment and explore contemporary issues surrounding the visual arts. The only program of its kind in Texas, W.A.S.H. allows students examine various aspects of art in both theory and practice through a two-part curriculum that includes studio and lecture components. The program is designed to be a thorough introduction to both art and the visual arts and also maintains its own facility, the W.A.S.H. house. Through their participation, students attain a sense of camaraderie and establish bonds that will follow them throughout their academic careers.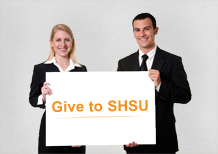 SHSU Main Campus
1806 Avenue J
Huntsville, TX 77340
(936) 294-1111
(866) BEARKAT
The Woodlands Center
3380 College Park Drive
The Woodlands, TX 77384
(936) 202-5000
University Park
20515 SH 249
Houston, TX 77070
(281) 290-2900