Events
A panel of sexual assault investigations experts will discuss challenges faced by law enforcement during a free webinar Oct. 31.




Before the Jazz Ensemble heads to Chicago for a "prestigious" convention, the group will preview its program on Oct. 30.




The Bearkat Battalion shared the lessons they're learning with the women's basketball team through a series of activities Sept. 20.



Spotlight
Orange Keys, the official ambassadors of Sam Houston State University, serve as hosts for university functions such as banquets, luncheons, meetings, speakers, visitation days and career fairs. The group was founded in 1959 as a service organization for women. Men joined the group for the first time in 1982. Today, Orange Keys is composed of 18 upper class students and selection to this prestigious group is recognized as one of the highest honors a student can achieve at SHSU. Service, leadership, and academic excellence are the foundations of this elite organization.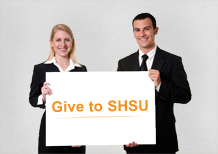 SHSU Main Campus
1806 Avenue J
Huntsville, TX 77340
(936) 294-1111
(866) BEARKAT
The Woodlands Center
3380 College Park Drive
The Woodlands, TX 77384
(936) 202-5000
University Park
20515 SH 249
Houston, TX 77070
(281) 290-2900