Campus Notice
Having Problems Getting Football Tickets?
Due to a national outage with SHSU's online athletic ticketing service, all ticket purchases must made by calling the SHSU athletic ticket office at 936.294.1729 or by stopping by the office in the Ron Mafrige Field House. Ticket office hours are 8 a.m. to 5 p.m. Thursday and Friday. Follow Bearkat Athletics on Twitter or on Facebook for updates on the outage.
Events
Andy Noble and Dionne Sparkman Noble "journey into deep space" for their Houston premier, Aug. 29-30 and Sept. 4-6.




Longtime CJ professor Phillip Lyons has taken over as dean for Vincent Webb, who has returned to the classroom.




Congrats to SHSU President Dana Gibson, who, as of Aug. 4, is now Dana G. Hoyt.



Spotlight
The SHSU Counseling Center staff understands that life doesn't stop just because you're enrolled in college. It can be hard to care about going to class if you're struggling with depression or anxiety. Or maybe you're having a hard time studying because of a relationship problem. You might even be questioning why you came to college in the first place. Whatever problems you're facing, the Counseling Center can help students get back on track. The center offers individual and couples counseling, as well as a range of therapy groups. Services are free to currently enrolled students, and sessions are completely confidential.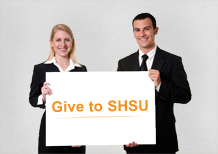 SHSU Main Campus
1806 Avenue J
Huntsville, TX 77340
(936) 294-1111
(866) BEARKAT
The Woodlands Center
3380 College Park Drive
The Woodlands, TX 77384
(936) 202-5000
University Park
20515 SH 249
Houston, TX 77070
(281) 290-2900