Events
This fall, the College of Criminal Justice will open a house for freshman CJ majors to live and study together.




Through the Blue Star Program, active duty military personnel and their families can visit museums across the U.S.




Alan Tinsley will share his thoughts and experiences during 9:30 a.m. and 2:30 p.m. commencement ceremonies on Aug. 2.



Welcome, Freshmen!

Get information about New Student Orientation, for students entering SHSU in the fall, through the link above.

Summer Commencement

On Aug. 2, at 9:30 a.m. and at 2:30 p.m. in the Bernard G. Johnson Coliseum.

Summer II Dates

The last class day is July 30, with finals exams on July 31. Residence halls close at 6 p.m. on Aug. 1.
See Calendar >>
Spotlight
One of only four in the country, the STAFS Facility is a remote site that serves as a state-of-the-art research and training location. STAFS researchers focus on the application of forensic sciences to the human body and the vast amount of evidence that can be gleaned from the careful recognition, collection, and preservation of that evidence. It is recognized by the Anatomical Board of Texas as a willed-body donor facility and accepts human body donations for the purposes of scientific research.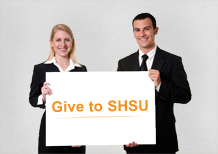 SHSU Main Campus
1806 Avenue J
Huntsville, TX 77340
(936) 294-1111
(866) BEARKAT
The Woodlands Center
3380 College Park Drive
The Woodlands, TX 77384
(936) 202-5000
University Park
20515 SH 249
Houston, TX 77070
(281) 290-2900