Events
Works by Emelia Bates, Michelle Pena, Amber Eggleton, and Megan Mulholland will be in the Satellite Gallery April 16-19.




Law enforcement officers must sign up for the training, on issues associated with elderly abuse, by April 16.




The screening of "Holy Week in San Miguel De Allende" will begin at 3:30 p.m. on April 17.



Spotlight
SHSU's Student Health Center provides health services and education to currently enrolled students, offering referral services, nursing care, allergy injections, TB testing, physical exams, and Sexually Transmitted Infection screening. The Student Health Center also has an in-house laboratory and pharmacy at a significant savings.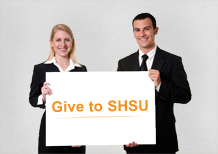 SHSU Main Campus
1806 Avenue J
Huntsville, TX 77340
(936) 294-1111
(866) BEARKAT
The Woodlands Center
3380 College Park Drive
The Woodlands, TX 77384
(936) 202-5000
University Park
20515 SH 249
Houston, TX 77070
(281) 290-2900