Events
The Sam Houston Memorial Museum joins only 3 percent of the nation's museums accredited by the AAM.




Edward Morin's animated work "In Between Here and There" was selected as one of 19 participants from 263 international entries.




View and read some of this year's winning entries from SHSU's many "Ready Player One"-themed contests.



"Made in the USA"

Featuring opera scenes from American composers, today and Saturday, at 7:30 p.m. in the GPAC Recital Hall.

Dance Spectrum Concert

"Vantage Point:" at 8 p.m. today and Saturday, with a 2 p.m. Saturday matinee, in the GPAC Dance Theater.

Bearkat Football

Vs. Central Arkansas, on Saturday, at 3 p.m. at Bowers Stadium.
See Calendar >>
Spotlight
Located on the first floor of the Lowman Student Center, the Kat Klub provides an environment where students, faculty, staff and guests can gather for relaxing, lounging and gaming with friends, or making new ones. Considered one of the best in the state, the game room offers eight full-sized billiard tables, two ping-pong tables, an air hockey machine and Nintendo Wii, a 10-by-6 foot LCD video wall and 13-by-7 foot projector used to watch the latest sports and news.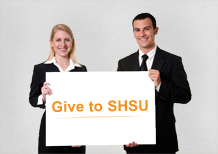 SHSU Main Campus
1806 Avenue J
Huntsville, TX 77340
(936) 294-1111
(866) BEARKAT
The Woodlands Center
3380 College Park Drive
The Woodlands, TX 77384
(936) 202-5000
University Park
20515 SH 249
Houston, TX 77070
(281) 290-2900