Events
Discussion leaders for this year's Honors College fundraiser will include Dave Elmendorf, Neal McCoy, Ernie Manouse and Mike Capps.




College of Criminal Justice ambassadors represent the college at various events and mentor new and prospective students.




The inaugural "National Book Awards at Sam Houston" will feature Tea Obreht, Lucie Brock-Broido and Gene Luen Yang.



Bearkat Softball

Vs. McNeese State, at 1 p.m. on March 8 and March 9 at the Bearkat Softball Complex.

Spring Recess

March 10-14 for students and faculty. SHSU will be closed on March 14.

Bearkat Baseball

Vs. Cal State Northridge, at 4 p.m. on March 8 and 1 p.m. on March 9 at Don Sanders Stadium.
See Calendar >>
Spotlight
Dedicated to the life and times of Gen. Sam Houston, the museum hosts educational programs, demonstrations, tours and exhibitions throughout the year. The 18-acre site serves as the location of historical buildings and structures, artifacts, material culture objects, books, manuscripts, and archives. The museum has two major emphases: Sam and Margaret Houston, members of the Houston family and descendants; and the history, culture, and development of Texas and the Southwest, especially the period 1832-1865.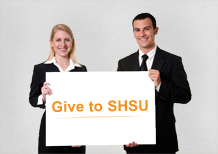 SHSU Main Campus
1806 Avenue J
Huntsville, TX 77340
(936) 294-1111
(866) BEARKAT
The Woodlands Center
3380 College Park Drive
The Woodlands, TX 77384
(936) 202-5000
University Park
20515 SH 249
Houston, TX 77070
(281) 290-2900