Events
Avid photographers can get exposure for their work and compete for prizes through the annual amateur photography contest.




Andy Noble and Dionne Sparkman Noble "journey into deep space" for their Houston premier, Aug. 29-30 and Sept. 4-6.




Laura Pregeant brought home a $1,000 prize, and Amber Eggleton, Elise Weber and Justin Zachary were also selected to compete.



Spotlight
The SHSU Department of Foreign Languages offers a broad and coherent undergraduate liberal arts approach to American Sign Language, Arabic, Chinese, French, German, Japanese and Spanish languages, arts and cultures, which prepares students for careers that will serve the human community and meet the global challenges which face our society.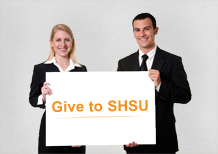 SHSU Main Campus
1806 Avenue J
Huntsville, TX 77340
(936) 294-1111
(866) BEARKAT
The Woodlands Center
3380 College Park Drive
The Woodlands, TX 77384
(936) 202-5000
University Park
20515 SH 249
Houston, TX 77070
(281) 290-2900