Events
Through the Blue Star Program, active duty military personnel and their families can visit museums across the U.S.




New Bearkat OneCards were mailed June 16, and the current, orange OneCards will be deactivated in the fall.




Andy Noble and Dionne Sparkman Noble "journey into deep space" for their Houston premier, Aug. 29-30 and Sept. 4-6.



Welcome, Freshmen!

Get information about New Student Orientation, for students entering SHSU in the fall, through the link above.

Summer Commencement

On Aug. 2, at 9:30 a.m. and at 2:30 p.m. in the Bernard G. Johnson Coliseum.

Summer II Dates

The last class day is July 30, with finals exams on July 31. Residence halls close at 6 p.m. on Aug. 1.
See Calendar >>
Spotlight
Located on the first floor of the Lowman Student Center, the Kat Klub provides an environment where students, faculty, staff and guests can gather for relaxing, lounging and gaming with friends, or making new ones. Considered one of the best in the state, the game room offers eight full-sized billiard tables, two ping-pong tables, an air hockey machine and Nintendo Wii, a 10-by-6 foot LCD video wall and 13-by-7 foot projector used to watch the latest sports and news.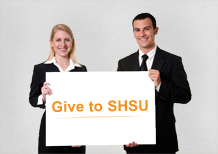 SHSU Main Campus
1806 Avenue J
Huntsville, TX 77340
(936) 294-1111
(866) BEARKAT
The Woodlands Center
3380 College Park Drive
The Woodlands, TX 77384
(936) 202-5000
University Park
20515 SH 249
Houston, TX 77070
(281) 290-2900