Events
The fellowship will allow Michael Henderson to work with a mentor and expand his skill as an administrator.




The grant will assist with recruitment in two programs in which minority students have been historically underrpresented.




Longtime CJ professor Phillip Lyons has taken over as dean for Vincent Webb, who has returned to the classroom.



Spotlight
Part of the Office of International Programs, the English Language Institute helps students from around the world achieve their academic and professional objectives. In understanding the variety of English learning goals students have, the ELI provides an effective learning program where international students can improve their English communication skills in a friendly and supportive atmosphere.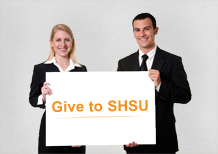 SHSU Main Campus
1806 Avenue J
Huntsville, TX 77340
(936) 294-1111
(866) BEARKAT
The Woodlands Center
3380 College Park Drive
The Woodlands, TX 77384
(936) 202-5000
University Park
20515 SH 249
Houston, TX 77070
(281) 290-2900