Events
Grad students with interesting research projects can submit their ideas until Aug. 22 for a chance to win prizes.




Laura Pregeant brought home a $1,000 prize, and Amber Eggleton, Elise Weber and Justin Zachary were also selected to compete.




Students, faculty and staff can get two free tickets at 936.294.3021 or Johnson Coliseum Box Office No. 2.



Bearkat Soccer

Season home opener vs. Louisiana-Lafayette, on Aug. 22 at 6:30 p.m. at the Pritchett Field Complex.

Fall Semester Dates

Residence halls open on Aug. 23 for fall occupancy, and classes begin Aug. 27.

Media Madness

Explore the various campus media on Aug. 26, at 2 p.m. in Dan Rather Building Room 125.
See Calendar >>
Spotlight
SHSU English students find a source of personal enrichment in their coursework. They develop verbal, analytic, and cultural skills that are readily adaptable to a variety of careers. The department offers a Bachelor of Arts degree in English (with and without a teaching certification), and minors in English, creative writing, technical and professional writing, and a minor in English with a standard secondary certification. Students in the Master of Arts program can qualify for a number of graduate assistantships. The department's 27 faculty members represent a wide range of disciplinary foci, teaching courses in British, American, world, and multicultural literature; creative writing; rhetoric and composition; technical and professional writing; and linguistics.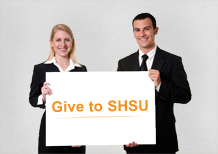 SHSU Main Campus
1806 Avenue J
Huntsville, TX 77340
(936) 294-1111
(866) BEARKAT
The Woodlands Center
3380 College Park Drive
The Woodlands, TX 77384
(936) 202-5000
University Park
20515 SH 249
Houston, TX 77070
(281) 290-2900