Events
The Sam Houston Memorial Museum joins only 3 percent of the nation's museums accredited by the AAM.




Richard Watts has been honored with the Texas State University System's "Regents' Professor Award."




Students from all disciplines can submit their projects, which will be recognized during the Graduate Research Exchange, by Dec. 1.



Spotlight
The SHSU Counseling Center staff understands that life doesn't stop just because you're enrolled in college. It can be hard to care about going to class if you're struggling with depression or anxiety. Or maybe you're having a hard time studying because of a relationship problem. You might even be questioning why you came to college in the first place. Whatever problems you're facing, the Counseling Center can help students get back on track. The center offers individual and couples counseling, as well as a range of therapy groups. Services are free to currently enrolled students, and sessions are completely confidential.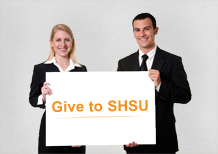 SHSU Main Campus
1806 Avenue J
Huntsville, TX 77340
(936) 294-1111
(866) BEARKAT
The Woodlands Center
3380 College Park Drive
The Woodlands, TX 77384
(936) 202-5000
University Park
20515 SH 249
Houston, TX 77070
(281) 290-2900