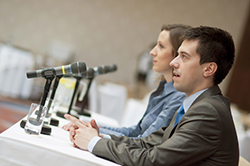 The Department of Economics and International Business presents Seminar Series, a collection of seminars that are designed to promote dialogue on relevant topics involving the economy. Its purpose is to promote discussion on topics beyond the classroom.
Seminar Series Archives
Fall 2013
Thursday, September 26
3:30 - 4:30 PM
Smith-Hutson Building, Room 135
Destination Taxation: Road to Economic Success?
Zhou Yang
Robert Morris University
---
Wednesday, October 23
3:30 - 4:30 PM
Smith-Hutson Building, Room 135
Lirong Liu
Sam Houston State University
---
Tuesday, November 5
3:30 - 4:30 PM
Smith-Hutson Building, Room 135
Christian Raschke
Sam Houston State University
---
Wednesday, November 20
3:30 - 4:30 PM
Smith-Hutson Building, Room 135
Median-based Rules for Decision-making under Complete Ignorance
Aditi Bhattacharyya
Sam Houston State University
Spring 2014
Wednesday, January 29
3:30 - 4:30 PM
Smith-Hutson Building, Room 135
Santosh Kumar
Sam Houston State University
---
Tuesday, February 18
3:30 - 4:30 PM
Smith-Hutson Building, Room 135
Raju Mandal
Sam Houston State University
---
Wednesday, March 5
3:30 - 4:30 PM
Smith-Hutson Building, Room 135
Michael Sposi
Dallas Fed
---
Tuesday, April 22
3:30 - 4:30 PM
Smith-Hutson Building, Room 135
Brian Piper
Sam Houston State University