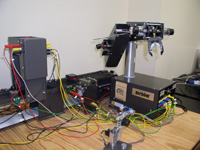 Mentor was the first technology in the lab. Mentor has been in the lab since 1992. This robot under went a major rebuild in 2006. The rebuilding was funded primarily by faculty members and former students (Contributors). Mentor has been used in work cell demonstrations for undergraduate and graduate courses over the years.
Thanks to the generosity of a variety of donors–many of whom are alumni who worked with Mentor when they were students–we raised over $33,000 which we used to upgrade Mentor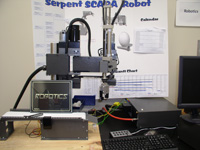 and to purchase a companion robot, SCARA, and some new RFID equipment. SCARA is a combination servo/pneumatic robot which the Fall 2007 MGT 560 class commissioned and programmed.
Several Technologies are integrated to create a line balancing simulation for undergraduate classes. Both Mentor and Serpent are used in this simulation. Mentor is used with the conveyor belt and gauges for quality control and Serpent is used to sort items. The simulation also incorporates barcode readers and RFID as well as the digital scale.