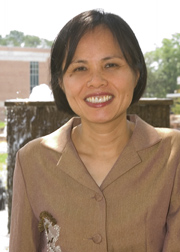 I entered the field of sociology by accident, not my choice at the beginning. However, once I was in I fell in love with it. Sociology helps me understand the meaning of every action I or other people take. It makes me become a better person and appreciate what I have more. It also provides me with a perspective that is beyond my personal life experience.

My current research interests include healthcare disparities research, quality of life among Asian cancer survivors, and cultural aspects of health-seeking behaviors. Currently, I teach introduction to ethnic studies, social problems, social analysis, environmental sociology, and social statistics. I have served at numerous committees at all levels-from the department level to the community level.

Currently, I am a member of master thesis and dissertation committees, college curriculum committee and tenure and promotion committees at the department and college levels, and I am also very active in grassroots or breast cancer organizations in the Asian-American community. I am a member of the Asian Cancer Council, a volunteer of Susan G. Komen for the Cure-Houston Affiliate and Can Care-Finding Hope for Cancer Patient, and an advisor for the Light and Salt Cancer Support Network and the Global Chinese Breast Cancer Support Groups Alliance.