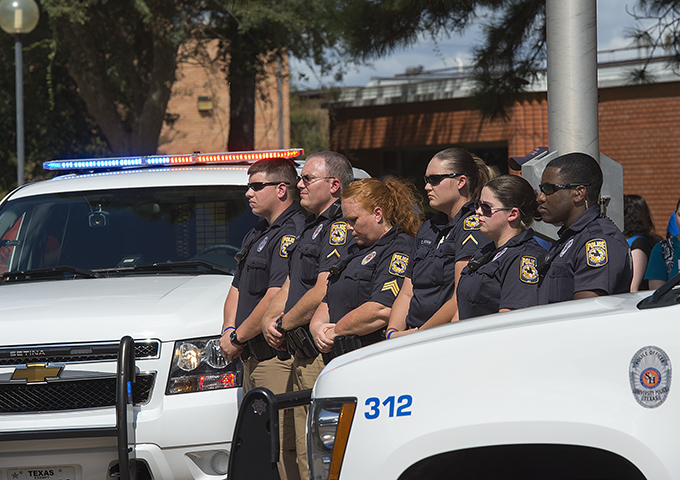 Sam Houston State University faculty, staff and students joined together with University Police Department officers on Friday morning to observe a moment of silence in remembrance of slain Harris County Deputy Darren Goforth. Texas Gov. Greg Abbott had asked that officers on patrol around the state turn on their vehicles' flashing lights for a minute as services begin 11 a.m. Friday. — Photo by Brian Blalock
For Week Of Aug. 30
Hoyt Recognizes Employees During Annual Meeting
SHSU President Dana Hoyt recognized university employees for their service and excellence, as well as shared some of the strides the university has made over the past five years of her tenure, during the annual Faculty and Staff General Meeting on Sept. 3. Details.
Presentation To Provide Overview Of Law Changes
To help Sam Houston State University students, faculty and staff members wade through an overwhelming number of important changes, SHSU's Student Legal and Mediation Services will highlight on Sept. 23 60 of the 1,282 laws passed during the 84th Texas legislative session. Details.

College To Partner With Old Town Theatre
Sam Houston State University's College of Fine Arts and Mass Communication is teaming up with Old Town Theatre to provide cultural events and performances in the heart of Huntsville's downtown square. Details.
Faculty Honored During Annual Academic Awards Dinner

Sam Houston State University faculty members who have obtained outstanding achievements and have reached significant milestones in their careers during the past year were recognized during the 11th annual Academic Awards Dinner on Tuesday evening (Aug. 25) in the Lowman Student Center Ballroom. Details.
CJ Welcome Week To Introduce College Activities
The College of Criminal Justice will welcome students back to the fall semester and introduce students to the many opportunities offered in the College of Criminal Justice with a series of events beginning on Monday (Aug. 31). Details.
Six Recognized For Distinguished Accomplishments, Service

Four SHSU alumni who have made names for themselves in business, the NFL and politics, and two alumni whose service to their alma mater and their communities is distinguished in itself, will be recognized during this year's homecoming festivities with the SHSU Distinguished Alumni and SHSU Service Awards. Details.
SHSU, UT Tyler Sign Engineering Agreement
Through the agreement, SHSU students will be able to begin their study in Huntsville taking lower-level courses through SHSU's engineering technology program and complete their engineering degree with The University of Texas at Tyler, at either the main campus or through the course offerings at the UT Tyler Houston Engineering Center. Details.
Regents Approve Purchases, Recognize Professor
The Texas State University System Board of Regents authorized the purchase of two pieces of land, adopted a resolution recognizing 2015 Piper Professor Joyce McCauley and extended the contract for the Raven Nest Golf Course lease during the board's quarterly meeting in Alpine on Aug. 14. Details.
Division Recognized Nationally For Diversity
Sam Houston State University's Student Services division has stood out in a national survey for its workplace diversity, equitable staffing practices and supportive work environment and has been listed as one of 14 "2015 Promising Places to Work in Student Affairs at Research Institutions." Details.
SHSU Nursing Grads Rank High In National Test
SHSU's May 2015 nursing graduates had a 97 percent first-time National Council Licensure Examination for Registered Nurses pass rate, significantly higher than the most recent state and national pass rate. Details.
Program Allows Students To Research With Top Profs
SHSU's math and statistics department is currently hosting its second Research Experience for Undergraduates program. Fourteen college students from across the nation were selected to participate in the NSF-funded activity, which is designed to strengthen America's pool of mathematicians and scientists. Details.

SHSU Named Great Workplace For Sixth Year
Not only is Sam Houston State University a "great name in education," but also for the sixth consecutive year it has been named one of the best universities in the nation to work for, according to a new survey by The Chronicle of Higher Education. Details.
Family Weekend Scheduled For Sept. 25-27
Families of Sam Houston State University's more than 19,000 students are invited to participate in the spirit, pride and tradition of campus life Sept. 25-27 during this year's Bearkat Family Weekend. Details.
This page maintained by SHSU's Communications Office
Associate Director: Julia May
Manager: Jennifer Gauntt
Writer: Tammy Parrett
Located in the 115 Administration Building
Telephone: 936.294.1836; Fax: 936.294.1834
Please send comments, corrections, news tips to Today@Sam.edu.