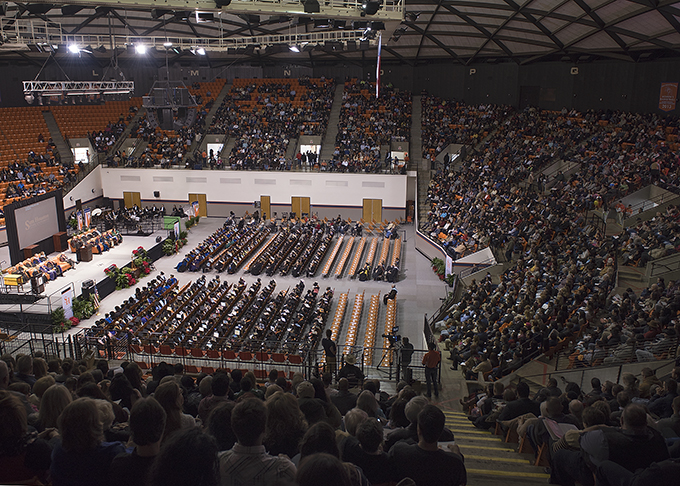 Friends and family gather at Bernard Johnson Coliseum to cheer for graduating Bearkats at the Dec. 2017 commencement. – Photo by Brian Blalock
---

NEW - Going Social with SHSU


For each segment, our team sits down with different influencers around the SHSU community to share their story. This time, we sat down with SHSU Alumnus and New York Best Selling Author Shea Serrano about the importance of "shooting your shot." Details.
---
SHSU Stories
Ag Business Senior To Defend First-Place Title At Top Pro Rodeo Challenge
In defense of his first-place title and $21,000, agricultural business senior Ty Arnold will compete against 33 other contestants in the 2017 Permit Challenge at the South Point Arena in Las Vegas, Nevada, Dec. 7. Details
Campus Goes Green With Campaign To Save Energy
The Go Green campaign is designed to promote efficient energy use. Students are encouraged to save energy across campus through simple acts like turning off lights and adjusting the thermostat to recommended temperatures. Details
Students Embarked Upon 'Trip Of A Lifetime' To Thailand
Students from the College of Education were able to check a mark off of their bucket lists when they traveled to Thailand as a part of a study abroad for education. Details
Tis' The Season Of Bearkats Giving
In the spirit of giving, departments across Sam Houston State University are hosting events and programs in order to encourage those on campus to give back to the community. Details.
Graphic Design Meets the Stage in Dance Spectrum
Mike Esperanza's creative approach to dance will be featured in the upcoming Dance Spectrum, Nov. 30 – Dec. 2. Details
SHSU Leadership Academy Honored With Development And Diversity Award
The American Association of State Colleges and Universities honored Sam Houston State University's High Potential Employee Leadership Academy with the Leadership Development and Diversity Award. Details
Criminal Justice And Criminology Ranked Third Globally
The Department of Criminal Justice and Criminology is now ranked third in the world among criminology and penology programs by the Center for World University Rankings. Details
Nicolay Dance Works Presents "A Wynne Home Nutcracker"
Professor of Dance Dana Nicolay along with SHSU dance students and alumni, will ring-in the holiday season hosting the third annual immersive production of "A Wynne Home Nutcracker" at the historic Wynne Home Arts Center on Dec. 5-9. Details
New Technology Provides Better "INSITE" For Officers
The Impaired Driving Initiatives program at Sam Houston State University received a $253,607 grant from the Texas Department of Transportation to provide new technology to enhance training for officers in administering field sobriety tests. Details
Film Producer, Alumnus and Congressman To Address Students In Fall Commencement
James Lopez, Earl C. "Duke" Austin, Jr. and Congressman Joaquin Castro are the confirmed speakers for Sam Houston State University's 2017 Fall Commencements taking place on Dec. 8 and 9. Details
International Programs To Host Study Abroad Info Sessions
The Office of International Programs at Sam Houston State University will host two study abroad informational sessions on Nov. 28 from 2 p.m. to 3 p.m. in Lowman Student Center Room 307 and Nov. 30 from 5:15 p.m. to 6:15 p.m. in LSC Room 315 to show students the many opportunities the program has to offer. Details.
Regents Approve Tuition/Fee Increase, Property Purchases and Master Plan
An increase in tuition and fees for Sam Houston State University was among the items approved by the Texas State University System Board of Regents at their regular quarterly meeting in Huntsville on Nov. 17. Details

LEMIT

Web App Helps Officers Respond To Environmental Crises

Web application focuses on the health and safety of law enforcement officers and the dangers of exposure to chemical, biological, and radioactive materials. Details
President Hoyt Named Chair Of AASCU Board Of Directors
Hoyt moves from 2018 chair-elect to chair of the American Association of State Colleges and Universities Board of Directors. Details
Philanthropy Day To Honor SHSU's Donors
Students are encouraged to stop by the Annual Giving table in the Lowman Student Center Mall Area to sign a "Thank You" banner to university alumni and friends who have made financial contributions to the university. Details
Museum Demonstration Focused on 19th Century Photography
Visitors are invited to explore 19th century photography as The Sam Houston Memorial Museum hosts a free demonstration on Nov. 18. Details
Career Services To Host Professional Panels
Sam Houston State University students will have the opportunity to hear from professionals in a variety of fields as the department of Career Services hosts a week-long event of panel discussions from Nov. 13 thru Nov. 16. entitled "What's Your Story?" with activities that focus on career development for students. Details.
Starfish Legend Comes To Life With College Of Ed Initiative
The College of Education at Sam Houston State University has started a new relief effort for its students who were affected by Hurricane Harvey and its aftermath. Details.
SHSU Offers New Graduate Certificate
The program provides students completing undergraduate degrees in mass communication (especially the public relations/advertising track) or public health the opportunity to build specialized skills. Details
Sport Executive Series Swings Into Action
CEO of the Houston Golf Association and Tournament Director for the Shell Houston Open, Steve Timms, discusses his career on Nov. 16. Details
The Houstonian Hosts Extra Life Marathon
The Houstonian, Sam Houston State University's student-run campus newspaper, will host their second annual Extra Life 25-hour video gaming marathon starting on Saturday, Nov. 4 thru Sunday, Nov. 5 to benefit Texas Children's Hospital and the fight against childhood cancer. Details.
Sweet Treat Served Up By SHSU Opera
In anticipation of the holiday season, SHSU Opera will present "Hansel and Gretel" with performances at 7:30 p.m. on Nov. 3 and 4, and at 3 p.m. on Nov. 5. Details
Criminal Justice Organization to Host Mental Health Awareness Discussion
Panel discussion will focus to raise awareness about mental health issues and how they affect criminal justice professionals and the communities they serve. Details
Acclaimed Author, Screenwriter To Speak At SHSU
The Sam Houston State University MFA Program in Creative Writing, Editing, and Publishing will welcome writer Doug Dorst to campus on Tuesday, Nov. 7 for a pair of events that are free and open to the public. Details.
The Korean War And Chinese Education To Be Explored In Speaker Series
The 2017 Asian Studies Speaker Series will conclude with presentations by two high-profile historians. Details
LEAP Center's Mock LSAT Prepares SHSU Students for Law School Admission
More than 70 pre-law students devoted half a Saturday to preparing for law school. Details
Forensic Science Bridges East and West
Two Ph.D. students and a faculty member from the College of Criminal Justice recently traveled to an international conference in South Korea to present their research. Details
SHSU To Rope In Audiences With Hit Musical 'Oklahoma!'
SHSU Department of Theatre and Musical Theatre brings award winning musical to the Erica Starr Theatre. Details
Art Gala To Honor Nancy Gaertner And Daryl Howard
SHSU's Department of Art will host their annual gala on Nov. 9 in the James and Nancy Gaertner Performing Arts Center. Details.
Scholars Program Announces Continued Funding To Support Student Success
Faculty leaders and staff from the McNair Scholars Program at SHSU have announced approved funding for another five years. Details.
Veterans Alliance Training Scheduled For Nov. 1
The Veterans Resource Center will offer an informative session to support veteran student success. Details.
SHSU To Host Geography Annual Meeting For First Time
For the first time, Sam Houston State University will host the Southwest Division of the American Association of Geographers (SWAAG) annual meeting from Oct. 25-28. Details.
New York Dance Festival Returns To SHSU
The SHSU Department of Dance and VON USSAR danceworks will present the ninth annual Dance Gallery Festival, featuring original works from emerging and renowned choreographers from around the country on Oct. 27-28. Details.
Fresh Check Day Aimed At Building Mental Health Awareness
SHSU departments have joined forces to build awareness and engage in conversations on the topic of mental health. The free event will take place on Oct. 25 from 10 a.m. to 1 p.m. in the Lowman Student Center Mall Area. Details.
Student-Produced TV Show Launches Fall Season
"City Spotlight," the 30-minute Sam Houston State University student-produced television show that focuses on people, places and events in Huntsville and on campus, will begin airing of shows for the fall semester on KSHU-TV, Channel 7, on Wednesday, Oct. 18, at 4 p.m. Details.
Top 10 Ways To Enjoy The Fall Season At SHSU
It's the sound of football stadium cheers, the feel of crisp cool air and the smell of pumpkin-spiced everything to get those warm and fuzzy feelings of the fall season flowing. To help you get into the mood (before it warms up again!) here's a quick top ten (or maybe 12) list of ways to enjoy the fall season on campus. Details.
Muftić Leads Special Issue Of Criminal Justice Review
Lisa Muftić, associate professor in the Department of Criminal Justice and Criminology at Sam Houston State University, served as a guest editor of Criminal Justice Review for an issue on special victim groups. Details.
Professor's Book Published In Croatian, Turkish
Mitchel Roth's book, "An Eye for an Eye: A Global History of Crime and Punishment," originally released in 2015, recently has been re-published in Croatian and Turkish language editions. The book chronicles the history of crime and punishment across the world. Details.
This page maintained by SHSU's Communications Office
University Communications Manager: Emily Binetti
Located in the 115 Administration Building
Telephone: 936.294.1836; Fax: 936.294.1834
Please send comments, corrections, news tips to Today@Sam.edu.