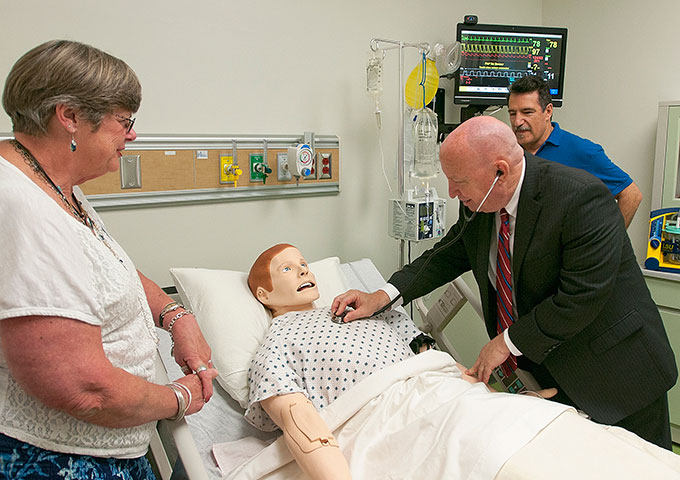 U.S. Congressman Kevin Brady learns how the Sim Man equipment is used in SHSU's nursing classes at The Woodlands Center during a visit on Monday. Answering his questions were nursing school director Anne Stiles and lab coordinator Ivan Najera. — Photo by Brian Blalock
SHSU Recognized For Promotional Efforts
Sam Houston State University's promotional and advancement efforts have earned the university four Communicator Awards of Distinction by the Academy of Interactive and Visual Arts, as well as three awards by the Council for Advancement and Support of Education. Details.
SHSU Alumnus Named To Board Of Regents
Texas Gov. Greg Abbott has appointed Alan Tinsley, a Sam Houston State University alumnus from Madisonville, to serve as a member of the Texas State University System Board of Regents. His term will expire Feb. 1, 2021. Details.
Internal Grant Recipients Announced
Twenty faculty members who have shown the beginnings of excellence in innovative projects have been selected to receive internal research grants. The program through which they were named is overseen by the Office of Researchand Sponsored Programs. Details.
New Lecture Series Focuses On 'Innovating Police'
The Law Enforcement Management Institute of Texas has launched a new Distinguished Lecture Series in honor of a longtime supporter that will present innovative and practical ideas to law enforcement agencies on policing in the 21st century. Details.
Alumni To Address More Than 2,100 Spring Graduates
Houston marketing and advertising chief executive officer Cindy Marion will address Friday (May 8) candidates at 9:30 a.m. for the College of Business Administration and at 2:30 p.m. for the Colleges of Education and Health Sciences. Sales CEO Ronald "Ron" Koska will speak at Saturday's (May 9) exercises, at 9:30 a.m. for the Colleges of Humanities and Social Sciences and Sciences and at 2:30 p.m. for the Colleges of Criminal Justice and Fine Arts and Mass Communication. Details.
Leadercast 2015 To Highlight 'Brave Ones'
Sam Houston State University will host the 2015 Leadercast "The Brave Ones" on Friday (May 8), filled with such speakers who have demonstrated bravery as Malala Yousafzai, Peyton Manning and Rudy Giuliani. Early bird registration ends March 31. Details.
Oliver Goes Three For Three With Publications
Willard M. Oliver, professor of criminal justice at Sam Houston State University, recently published his third co-authored/co-edit book in the past three months. The publications include a book on federal law enforcement agencies, an encyclopedia of drugs in American society and a volume on homeland security. Details.
This page maintained by SHSU's Communications Office
Associate Director: Julia May
Manager: Jennifer Gauntt
Writer: Tammy Parrett
Located in the 115 Administration Building
Telephone: 936.294.1836; Fax: 936.294.1834
Please send comments, corrections, news tips to Today@Sam.edu.