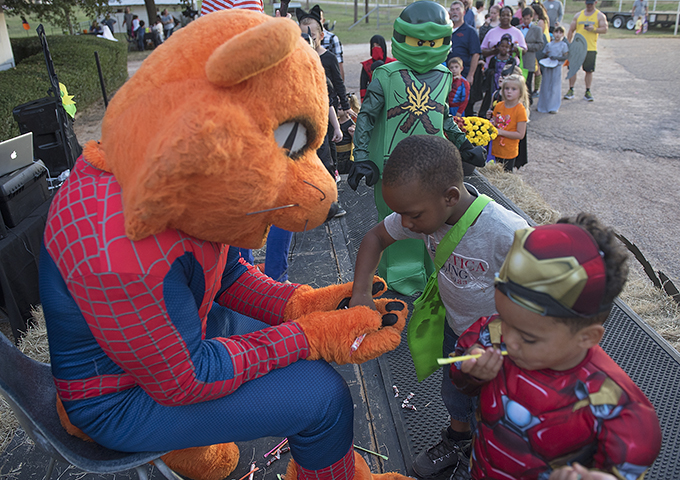 "SpiderSammy" offered the children of SHSU employees a few treats, handing out candy and taking pictures with attendees of President Dana Hoyt's annual Fall Festival Wednesday evening at Gibbs Ranch. — Photo by Brian Blalock
Share |
For Week of Oct. 23
Gaddis Geeslin Gallery Exhibit Explores 'Trace Echoes'
The Gaddis Geeslin Gallery in the Department of Art at Sam Houston State University will present "Trace Echo," an exhibit featuring work by artists Helen Altman, Rabéa Ballin and Brad Tucker through Nov. 22. Details.
Event To Celebrate, Raise Awareness For Gift Of Donating
Sam Houston State University's Student Legal and Mediation Services will host the second annual Donation Awareness Project to educate students and promote donation in all forms on Nov. 8 from 9 a.m. to 3 p.m. in the Lowman Student Center Ballroom. Details.
Local Alumni Club To Host Second Chili Fundraiser
The Sam Houston State University Walker County Alumni Club will join forces with City Hall Café on Nov. 7 to honor the university's value of service by giving back to the area with the second annual Community Chili Luncheon. Details.
SHSU To Go Into 'Full Swing' With 'Two Nights Of Jazz'
The Sam Houston State University School of Music will present "Two Nights of Jazz," featuring music from the award-winning SHSU Jazz Band and guest artists in residence The Dan Haerle Quartet, on Wednesday (Oct. 26) and Thursday (Oct. 27) in the James and Nancy Gaertner Performing Arts Center. Details.
Study Finds Police Receive Little Elder Abuse Training
Law enforcement officers are often the first to respond to and investigate suspected cases of elder abuse, but nine out of 10 officers receive no training on how to handle these cases, according to a study by the Law Enforcement Management Institute of Texas at Sam Houston State University. Details.
Museum Receives Houston Family Painting Donation
Thanks to the generosity of a Virginia family, a piece of Houston family history now hangs in the Sam Houston Memorial Museum. The great-granddaughter of Gen. Sam Houston, Katrina Houston painted the portrait of her mother, Margaret Belle Houston. Details.
Tasca Earns Prestigious National Institute Of Justice Award
Melinda Tasca, Sam Houston State University assistant professor of criminal justice and criminology, has been recognized with the prestigious W.E.B. Du Bois Fellowship from the National Institute of Justice to investigate disparities in the use of restrictive housing in correctional facilities. Details.
Noted Writer To Share Life Story In MFA Reading
Debra Monroe, a professor at Texas State University in San Marcos and the author of two memoirs and four works of fiction, will read from her work at 5:30 p.m. on Thursday (Oct. 27) in the Evans Complex's Ralph W. Pease Auditorium. Details.
University Camp Attains 'Firewise' Designation
A recognition ceremony was held on Oct. 13 at the University Camp in which representatives from the Firewise Community Program presented a plaque commemorating the camp's new designation. Details.
Students To Bring 'ACE' Theatrics To Library Program
The Sam Houston State University Department of Theatre and Musical Theatre has partnered with the Huntsville Public Library to provide a series of afterschool history drama lessons to elementary school-aged children. Activities are scheduled for Oct. 27. Details.
Seventh Dance Festival To Showcase 'Texas Experience'
The Sam Houston State University Department of Dance and VON USSAR danceworks will present the seventh annual Dance Gallery Festival: Texas Experience, with performances Nov. 4-5 in the James and Nancy Gaertner Performing Arts Center Dance Theater. Details.

SHSU Names Osteopathic Medicine Dean
Dr. Charles Henley, associate dean of clinical affairs at Marian University's College of Osteopathic Medicine in Indiana, has been named founding dean of the College of Osteopathic Medicine at Sam Houston State University. His appointment takes effect on Nov. 1. Details.
NIJ Director, Alumna To Share Career 'Journey' At SHSU
Nancy Rodriguez, director of the National Institute of Justice and a Sam Houston State University College of Criminal Justice Distinguished Alumna, will return to her alma mater on Oct. 27 to present "Following Science: My Journey from Research to Policy and Practice." Details.
Astronaut, Faculty To Present Common Reader Forum
The four-day series of events, Oct. 31 through Nov. 3, will include a keynote address by astronaut Chris Hadfield, a panel discussion, and presentations on women in STEM at NASA and seeing worlds from space, as well as a number of other activities. Details.
Dental Clinic Offers Convenience, Regular Promotions
Sam Houston State University's Dental Office opened in September 2014 as a way for students, faculty and staff to have convenient and quality dental access on campus. The clinic is located within the Student Health Center and offers discounted services and regular promotional specials throughout the year. Details.
Additional Parking Spaces Now Available
The Z1-24 West parking lot near the Fred Pirkle Engineering Technology building has been paved and is now open with 130 new spaces. See flyer for details.
Partnership To Train SHSU Students For Energy Industries
A multimillion-dollar partnership established between Sam Houston State University's Department of Agricultural Sciences and Engineering Technology and Houston-based Quanta Services will provide a unique opportunity for SHSU students to enhance their leadership abilities and workforce marketability by combining academics with hands-on training in way never before seen. Details.
Activities To Focus On 'Inspiring World, One Peace At A Time'
The Sam Houston State University Student Legal and Mediation Services will work to "Inspire the World: One Peace at a Time" through a series of interactive activities designed to equip Bearkats with useful insights and tools to effectively resolve disputes during its fourth annual Conflict Resolution Month events in October. Details.

Can We Find You In Case Of An Emergency?
From weather closings to safety issues, SHSU uses a variety of methods through KatSafe to provide alerts and updates on situations affecting the university community. Are you one of the 10,000 individuals on campus who do not have your text messaging number enabled to receive such messages? Details.
Contests To Launch Common Reader Author's Forum
More than $4,000 is up for grabs in seven contests that ask students to utilize themes in this year's common reading program selection, "An Astronaut's Guide To Life On Earth," by Col. Chris Hadfield, for competitions for art; poetry/lyrics; classroom design; science communication; freshman essays; YouTube videos; and research posters, as well as a daily social media contest. Details.
This page maintained by SHSU's Communications Office
Associate Director: Julia May
Manager: Jennifer Gauntt
Writer: TBD
Located in the 115 Administration Building
Telephone: 936.294.1836; Fax: 936.294.1834
Please send comments, corrections, news tips to Today@Sam.edu.