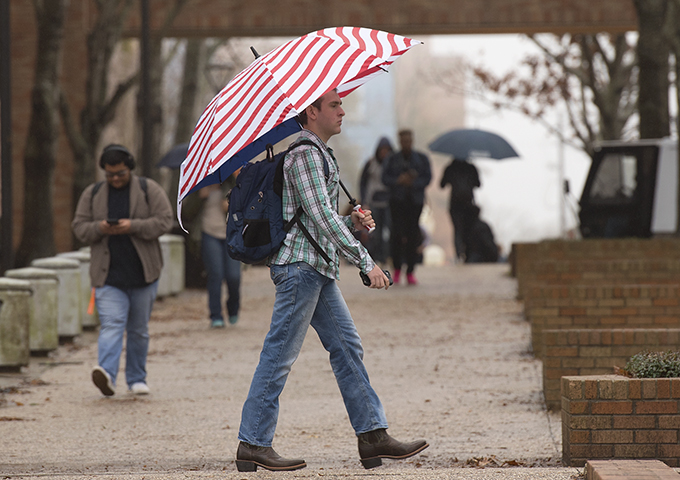 Bearkats braved the rain and temperatures in the 50s as they trekked across campus on Wednesday for the first class day of the spring 2017 semester. —Photo by Brian Blalock
Share |
For Week Of Jan. 22
SHSU Charter System Prepares For Fall Opening
In the year since the Sam Houston Charter School was authorized by the Texas State University System Board of Regents, a lot of headway has been made to develop a system that will benefit both the students of Sam Houston State University, as well as the elementary-aged students who will attend the open-enrollment schools. Details.
Forensic Science Faculty Appointed To Texas Commission
Sam Houston State University College of Criminal Justice professors Sarah Kerrigan and Sheree Hughes-Stamm have been appointed by Gov. Gregg Abbott to serve on the Texas Forensic Science Commission, a statewide body that accredits crime labs and investigates complaints of professional negligence or misconduct in forensic science. Details.
Study Examines Partner Sexual Assault Victim Cooperation

Sexual assault incidents involving intimate partners feature unique factors that affect a victim's willingness to cooperate with police, including the relationship between the suspect and victim, as well as law enforcement practices in investigating these crimes, according to a recent study by a Sam Houston State University criminal justice professor. Details.
Rec Sports Offers Two Programs To Help Achieve Fitness Goals

Sam Houston's Recreational Sports Department will offer rebranded group fitness classes called GroupX beginning Jan. 16. Women on Weights, a program that teaches women how to lift weights and feel comfortable in the gym, will begin Jan. 30. The Rec Sports Center also has changed its operating hours for the spring semester. Details.
Student Activities To Debut Spring Welcome Week
Through the inaugural Welcome Week: Spring Edition, Jan. 21-25, departments will have the opportunity to introduce, or re-introduce, students to the activities or resources available to them throughout the semester, according to Steven Begnaud, Student Activities program coordinator. Details.
Percussion Professor Finds 'Harmony' In Science, Art Festival
John Lane, director of percussion studies in the SHSU School of Music, was one of more than 100 invited to participate in Seattle's 9e2 Festival, a collaborative exhibition of music, glass art and gene science. Details.
Natural History Museum Gets Buzz-Worthy Donation

The Museum of Natural History at Sam Houston State University is now home to more than 300,000 parasitic wasp specimens that can be used for research and various biological functions. Details.
This page maintained by SHSU's Communications Office
Associate Director: Julia May
Manager: Jennifer Gauntt
Writer: Lane Fortenberry
Located in the 115 Administration Building
Telephone: 936.294.1836; Fax: 936.294.1834
Please send comments, corrections, news tips to Today@Sam.edu.