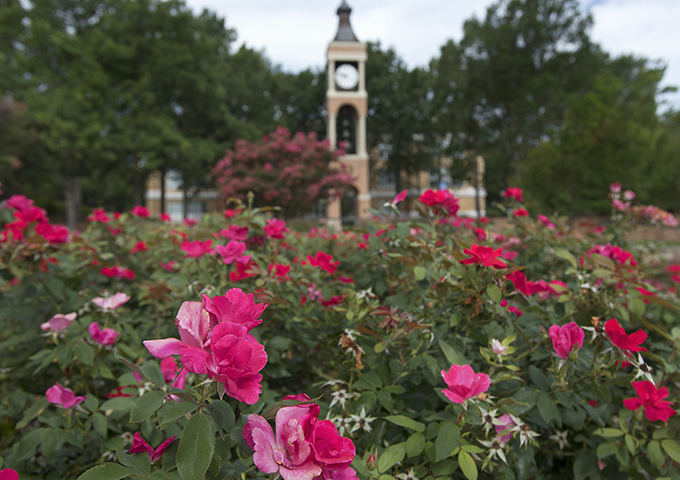 The Knock Out Roses are thriving this summer on the beautiful Sam Houston State University campus. -- Photo by Brian Blalock
Share |
For Week Of June 4
Summer Shakespeare Coming To SHSU
The Department of Theatre and Musical Theatre Summer Repertory will present William Shakespeare's fantastical comedy, "A Midsummer Night's Dream," in the University Theatre Center's Showcase Theatre on Aug. 1-3, at 8 o'clock each evening. Details.
Education Honor Society Leads By Example
SHSU's Delta Theta Chapter of Kappa Delta Pi education honor society has chosen two service projects that address the needs of some Huntsville area children. By making books come alive for second graders and providing coats for little ones from low-income families, the future teachers are indeed proving that "The measure of a Life is its Service." Details.
Angrove Named TSUS Chief Online Ed Officer
Bill Angrove, associate vice president for distance education at SHSU, has been named chief online education officer for The Texas State University System by Chancellor Brian McCall. Details.
SHSU Offers New Graduate Certificate
State University has collaborated among the departments of Mass Communication, Population Health and Sociology to offer a new Graduate Certificate in Health Communication and Public Relations. Details.
Graphic Design Students Awarded For Work
Sam Houston State University's Department of Art has announced several notable achievements from students in the graphic design program. Details.
SHSU Teacher Retention Rates Higher Than State
According to "Performance Analysis for Colleges of Education," a report by the Center for Research Evaluation and Advancement of Teacher Education (CREATE), Sam Houston State University's teacher retention rate from 2012-2016 is 87.7 percent, compared to the state's 72.5 percent. Details.
Adu-Prah Selected For Carnegie Fellowship
Samuel Adu-Prah, SHSU assistant professor of geography, has been awarded a fellowship by the Carnegie African Diaspora Fellowship Program to work with Kwame Nkrumah University of Science and Technology in Ghana this summer on geospatial technology curriculum enhancement. Details.
Orientation Heats Up For The Summer
Registration is officially open for incoming freshman and transfer students to be a part of Sam Houston State University's tradition of Bearkat Orientation's summer sessions. All incoming freshmen are required to register for and attend one of the nine two-day Freshman Orientation sessions. Details.
New Program To Help Prepare Future Educators
The College of Education at Sam Houston State University is developing a program, Grow Your Own, which will help prepare future educators during their junior and senior years of high school. Details.
Musical Theatre Student Wins National Award
A student in SHSU's musical theatre program has received a full ride scholarship to a prestigious summer institute in New York City after winning a national award for his performance at the Kennedy Center American CollegeTheatre Musical Festival. Details.
This page maintained by SHSU's Communications Office
Associate Director: Julia May
Manager: Jennifer Gauntt
Writer: Lane Fortenberry
Located in the 115 Administration Building
Telephone: 936.294.1836; Fax: 936.294.1834
Please send comments, corrections, news tips to Today@Sam.edu.