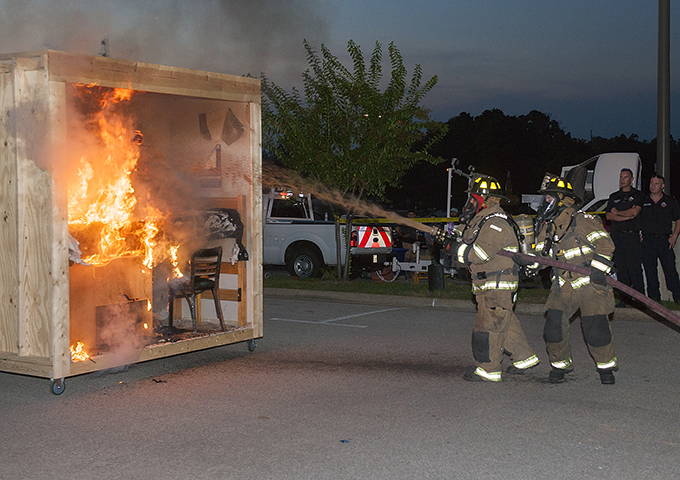 Members of the Huntsville Fire Department demonstrate putting out a fire in a mock dormitory room Wednesday night during the third annual Kats Safety Bash. The event is designed to educate the university community about a variety of safety topics. —Photo by Brian Blalock
Share |
For Week of Sept. 25
Partnership To Train SHSU Students For Energy Industries
A multimillion-dollar partnership established between Sam Houston State University's Department of Agricultural Sciences and Engineering Technology and Houston-based Quanta Services will provide a unique opportunity for SHSU students to enhance their leadership abilities and workforce marketability by combining academics with hands-on training in way never before seen. Details.
Activities To Focus On 'Inspiring World, One Peace At A Time'
The Sam Houston State University Student Legal and Mediation Services will work to "Inspire the World: One Peace at a Time" through a series of interactive activities designed to equip Bearkats with useful insights and tools to effectively resolve disputes during its fourth annual Conflict Resolution Month events in October. Details.
New Program Highlights 'Leading The Sam Way'
Sam Houston State University's Learning Academies @ SHSU has launched a new, annual leadership and mentoring program called "Leading the Sam Way" this semester as part of a strategic university initiative to cultivate emerging leaders among the university's staff. Details.
Same-Sex Couples Face Higher Abuse Rates, Fewer Services
Research by a professor and doctoral student with the Crime Victims' Institute at Sam Houston State University has illustrated that sexual minority survivors face higher risks of verbal, physical and sexual abuse due to the increased stress from bias, homophobia and discrimination. Details.
Professor To Host Free Old Town Theatre Film Series
The Sam Houston State University Mass Communication Department's fall film series at Huntsville's Old Town Theatre will premiere with a screening of the 1930 French drama "Port of Shadows" on Sept. 29. Details.

Can We Find You In Case Of An Emergency?
From weather closings to safety issues, SHSU uses a variety of methods through KatSafe to provide alerts and updates on situations affecting the university community. Are you one of the 10,000 individuals on campus who do not have your text messaging number enabled to receive such messages? Details.
College To Kick Off Reading Program With Coates Memoir
Members of the Bearkat community are invited to dig into "Between the World and Me," by Ta-Nehisi Coates, for a new Diversity Reading Program developed by the College of Humanities and Social Sciences's Diversity Committee. Participants are asked to have read the 176-page memoir by Oct. 11, and free copies are available. Details.
Contests To Launch Common Reader Author's Forum
More than $4,000 is up for grabs in seven contests that ask students to utilize themes in this year's common reading program selection, "An Astronaut's Guide To Life On Earth," by Col. Chris Hadfield, for competitions for art; poetry/lyrics; classroom design; science communication; freshman essays; YouTube videos; and research posters, as well as a daily social media contest. Details.
Faculty, Staff Recognized At Annual Meeting
Service awards were presented to more than 30 employees in recognition of their dedication to SHSU for 20 years and more during the annual faculty and staff meeting on Sept. 1. Dr. Max Coleman, professor of mathematics, has spent 50 years teaching at Sam Houston State University. Photos.
Alumni Recognized For Accomplishments, Service
Three SHSU alumni who have made a name for themselves in business, entertainment and news, and two alumni whose service to their alma mater and their communities is distinguished in itself, will be recognized during this year's homecoming festivities with the SHSU Distinguished and SHSU Alumni Awards. Details.
Family Weekend To Highlight Campus Life
Bearkat Family Weekend, Oct. 28-30, will actively engage the families of SHSU students and give them a glimpse of campus life, all while showing them their children's home away from home. The registration deadline to participate in this year's activities is Oct. 11. Details.
Bookstore, SHSU Partner With New Program, Scholarships

As the cost of a college education continues to rise, the Sam Houston State University Bookstore is providing students with various methods to alleviate the cost of course materials, through the FacultyEnlight program, new scholarships and textbook price-matching program. Details.

Outstanding Faculty Accomplishments Recognized
Faculty members who attained promotions and tenure, as well as those honored for their remarkable success in the academic profession this year, were recognized during the 12th Annual President's Academic Awards Dinner in the LSC Ballroom on Tuesday evening. See photos here.
Alliance Program Targets Veteran Student Success
To help SHSU's veteran students in dealing with the predominant issues associated with transitioning back to civilian life, the Veterans Resource Center will deploy a new program this fall that will aid faculty and staff in guiding those students to success. Trainings are scheduled for Sept. 27, Oct. 18 and Nov. 8 via Talent Management. Details.
This page maintained by SHSU's Communications Office
Associate Director: Julia May
Manager: Jennifer Gauntt
Writer: TBD
Located in the 115 Administration Building
Telephone: 936.294.1836; Fax: 936.294.1834
Please send comments, corrections, news tips to Today@Sam.edu.