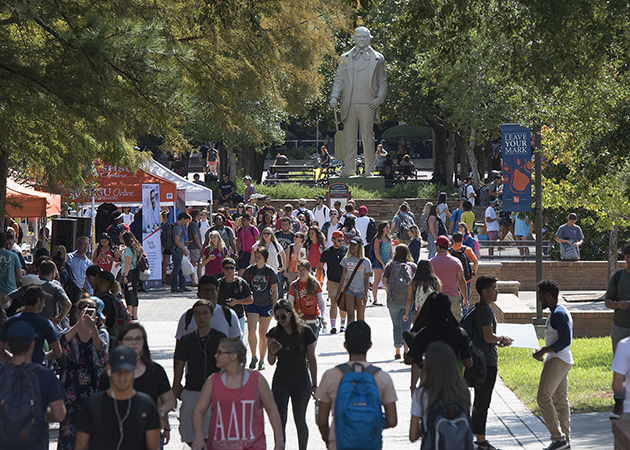 Students crowd the mall area as they return to campus after the summer break for the start of the fall semester. —Photo by Brian Blalock
Share |
Franklin Appointed Director Of SHSU's CVI
Cortney Franklin, associate professor in the Department of Criminal Justice and Criminology at Sam Houston State University, has been appointed director of the Crime Victims' Institute at SHSU, a research center that studies the impact of crime on victims and society. Details.
SHSU Regents Approve Osteopathic Medical Degree
Sam Houston State University is one step closer to being able to offer the Doctor of Osteopathic Medicine degree, following approval by the university's governing body last week. The Texas State University System Board of Regents approved the addition of the degree during its quarterly meeting at Sul Ross State University. Details.
SHSU To Offer Doctorate In Higher Ed Leadership
Sam Houston State University has been approved to offer a new doctoral program in higher education leadership by the Texas Higher Education Coordinating Board, beginning in the spring 2018 semester. Details.
University Art Collection Pieces On View Aug. 21-31
Sam Houston State University's Department of Art will exhibit selections from the University Art Collection at the Lowman Student Center Art Gallery from Aug. 21-31. Details.
Alternate Routes, New Parking Spaces Available
Students may have to walk a little farther to get to classes, but the good news is that additional parking spaces will be available when the semester begins. Details.
Health Science Interns Reflect On Experiences
A number of Sam Houston State University College of Health Science students interned at four different companies this summer. The companies included the Cleveland ISD Child Nutrition Program, Healing Species of Texas, the Leukemia and Lymphoma Society, and Make-A-Wish Foundation. Details.
Counseling Professor Receives Lifetime Award
Distinguished professor of counseling and Texas State University System regents' professor Richard Watts recently received the Lifetime Service Award for his service to the Association for Spiritual, Ethical and Religious Values in Counseling. Details.
Dubai Study Abroad Sign-Up Available
Sam Houston State University's Department of Management and Marketing and the College of Business Administration are offering the Dubai Study Abroad program during the fall semester. Details.
SHSU Receives Grant To Develop East Asian Studies
The One Asia Foundation recently awarded a $50,000 "Grant for Opening a Course on the Asian Community" to history professors Eric Vanden Bussche and Thomas Cox to promote East Asian studies at Sam Houston State University. Details.
Bearkat Family Weekend Scheduled
Sam Houston State University's students and their families are invited to be a part of the tradition of the annual Bearkat Family Weekend scheduled for Sept. 22-24. Registration will close on Sept. 4. Details.
Alumnus Travels The World Fighting Drugs
Timothy Jones received a degree in agriculture from Sam Houston State University in 1979, but his career turned to law enforcement, tracking money, drugs and crime across the world. Details.
SHSU Receives National Science Foundation Award
The National Science Foundation has awarded Sam Houston State University an intended total amount of more than $2 million to support the project entitled, "A Comprehensive Model for Improving the Success of STEM Majors through the STEM Center." Details.
Prof Researches Social Impacts Of Shale Oil, Gas
Sam Houston State University professor of sociology Gene Theodori recently completed research as a part of The Academy of Medicine, Engineering and Science of Texas Shale Task Force that was convened in late 2015 and published a final report in June. Details.
Welcome Week Leader Program Kicks Off
The Department of Student Activities will launch the pilot program "Welcome Week Leaders" during the upcoming Welcome Week to focus on ushering freshman students into a community that lasts during their time at SHSU. Details.
Intern Shadows Parole Officers In The Field
This summer, Kaitlin Ehrhart, a criminal justice major, shadowed parole officers as they visited with clients returning to their communities in Grimes, Leon, Madison, Polk, Trinity, and Walker counties and parts of Houston from prison. Details.
CJ Alumnus Heads Arkansas State
Kelly R. Damphousse, who received his Bachelor of Science in Criminal Justice from Sam Houston State University in 1987 and returned to teach for two years in 1995, has climbed to new heights as chancellor of the flagship institution of the Arkansas State University System. Details.
This page maintained by SHSU's Communications Office
Associate Director: Julia May
Manager: Jennifer Gauntt
Writer: Lane Fortenberry
Located in the 115 Administration Building
Telephone: 936.294.1836; Fax: 936.294.1834
Please send comments, corrections, news tips to Today@Sam.edu.