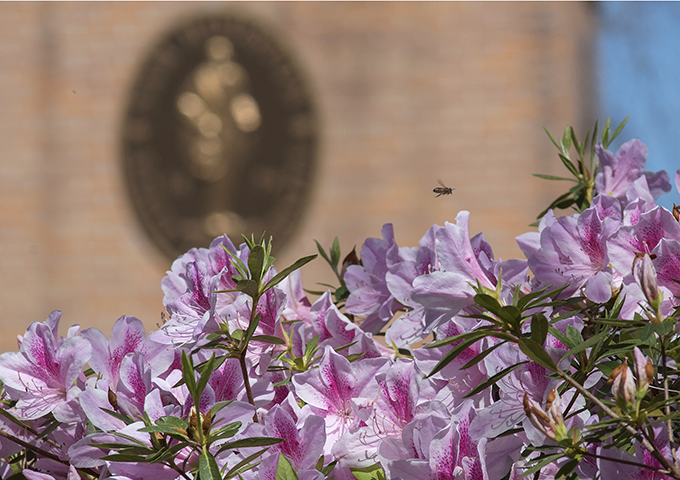 Although spring is still a few weeks away, the warm temperatures in southeast Texas this month have given the azaleas on campus an early boost. The bees are happy about the weather, as well as the Bearkats! —Photo by Brian Blalock
Share |
For Week Of Feb. 26
CJ Career Week To Showcase Job Opportunities
The Sam Houston State University College of Criminal Justice will help prepare its students for the future with a series of activities as part of the annual CJ Career Week, Feb. 27 through March 1. Details.
Five To Be Honored For 'Distinguished' Service In Education
Five educators whose influence has had a resounding effect on their students, their colleagues and the profession will be recognized on March 4 by the Sam Houston State University College of Education as the 2017 Distinguished Educators of the Year. Details.
Delta Theta Chapter Donates Coats, Books To Children
Sam Houston State University's Delta Theta chapter of Kappa Delta Pi annually donates winter coats and books to children as a part of their two programs "Change for a Change in the Weather" and "Literacy Alive." Details.
Annual Art Walk To Showcase Local Talent, Culture
Huntsville and Bearkat community members are invited to experience a free, interactive Art Walk, presented by the Sam Houston State University Department of Art and the Student Art Association on March 4, from 2-6 p.m. along University Avenue. Details.
Regents Hold Quarterly Meeting In Austin
The Texas State University System Board of Regents has given the go-ahead for the separation of the existing Department of Agricultural Sciences and Engineering Technology into two departments. Details.
Administrator, Former Prof Named To CHSS Wall Of Honor
College of Humanities and Social Sciences associate dean and professor of psychology Amos Jerry Bruce and the late Rupert C. Koeninger will be honored on Feb. 24 at 4 p.m. in CHSS Building Room C070. Details.
Modern Society Reflected In SHSU's 'As You Like It'
The SHSU production, directed by theatre professor Thomas Prior, takes place in 1989 Prague in the midst of the Velvet Revolution and will be presented in the University Theatre Center's Erica Starr Theatre Wednesday through Saturday (Feb. 22-25) at 8 p.m., with an additional 2 p.m. showing on Saturday. Details.
Cajun Mardi Gras Festival Set For Feb. 23
Sam Houston State University will highlight the music and culture of Mardi Gras featuring the Jambalaya Cajun Band, Grammy nominee D. L. Menard and Cajun historian Terry Thibodeaux. Details.
SHSU Team Wins First History Challenge Bowl
Sam Houston State University won the first American History and Western Civilization Challenge Bowl on Jan. 28 in Houston by presenting speeches and answering various questions over history topics. Details.
LEMIT Launches Fire Marshals Program
The Bill Blackwood Law Enforcement Management Institute of Texas at Sam Houston State University is partnering with the Texas Fire Marshals' Association to provide the first executive development program in the nation. Details.
Council To Host Professional Development Conference
SHSU's Staff Council will host its annual Professional Development Conference on March 14 from 8:30 a.m. to 4 p.m. in the Lowman Student Center. Registration is now open through Talent Management and will remain open until March 1. The conference is free to all staff. Details.
SHSU Launches $125 Million Capital Campaign
"Honoring Traditions. Creating Futures" targets fundraising for: academic support and student enrichment; funding for the Doctor of Osteopathic Medicine program and program enhancement for health sciences; a facility upgrade at Gibbs Ranch for agricultural sciences; and a Westside Complex renovation at Bowers Stadium for athletics. Details.
Officials Design Mental Health Training Model At SHSU
The Correctional Management Institute of Texas at Sam Houston State University hosted a group representing county jails, mental health professionals and federal partners to develop a model training initiative for jail detention officers in the State of Texas to address better mental health issues in their facilities. Details.
Eglsaer Named SHSU Provost
SHSU President Dana Hoyt announced today that Richard Eglsaer has been named provost and vice president for academic affairs, effective Feb. 1. Eglsaer has been serving as interim provost since July 1, 2016, and was associate vice provost prior to that appointment. Details.
Country, Rap Artists Highlight Sammypalooza Concert Lineup
Sam Houston State University will welcome the Eli Young Band and A$AP Ferg on March 29 for the spring Sammypalooza concert series. Student tickets will be available on Feb. 15 at Johnson Coliseum Box Office No. 2. Public tickets will go on sale for $20 on March 8. Details.
SHSU To Offer Language, Culture Courses In The Woodlands
To help those who wish to become more proficient in English, Sam Houston State University will offer Language and Culture Classes starting March 20 at SHSU's The Woodlands Center campus. Details.
Woodforest To Serve As Invitational Sponsor
Woodforest National Bank has partnered with Sam Houston State and the Department of Athletics to be the presenting sponsor of this year's Bearkat Invitational Golf Tournament, which will take place on June 5 at The Club at Carlton Woods in The Woodlands. Details.
February Events To Honor Black History
Sam Houston State University's College of Humanities and Social Sciences will celebrate Black History Month during February to highlight the achievements of black Americans and observe issues still present within society. Details.
Math Professor Named TSUS Faculty Fellow
Brian Loft, associate professor in the Department of Mathematics and Statistics, has been chosen for a new Texas State UniversitySystem program with the goal of finding innovative strategies to improve student success across the system. Details.
This page maintained by SHSU's Communications Office
Associate Director: Julia May
Manager: Jennifer Gauntt
Writer: Lane Fortenberry
Located in the 115 Administration Building
Telephone: 936.294.1836; Fax: 936.294.1834
Please send comments, corrections, news tips to Today@Sam.edu.