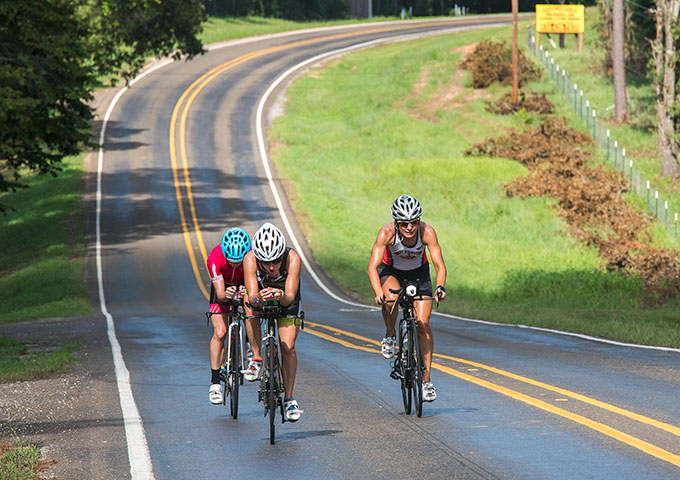 Elite, professional triathletes have been training on the SHSU campus and around Huntsville over the past week for upcoming IRONMAN races as part of the inaugural Ultra-Endurance Pro Camp, hosted by the Department of Kinesiology. These everyday heroes represent only a fraction of a percent of the population in competing in two to three 140-mile swimming, biking and running competitions annually. —Photo by Brian Blalock
Share |
For Week of Aug. 28
Family Weekend To Highlight Campus Life
Bearkat Family Weekend, Oct. 28-30, will actively engage the families of SHSU students and give them a glimpse of campus life, all while showing them their children's home away from home. The registration deadline to participate in this year's activities is Oct. 11. Details.
Bookstore, SHSU Partner With New Program, Scholarships

As the cost of a college education continues to rise, the Sam Houston State University Bookstore is providing students with various methods to alleviate the cost of course materials, through the FacultyEnlight program, new scholarships and textbook price-matching program. Details.

Outstanding Faculty Accomplishments Recognized
Faculty members who attained promotions and tenure, as well as those honored for their remarkable success in the academic profession this year, were recognized during the 12th Annual President's Academic Awards Dinner in the LSC Ballroom on Tuesday evening. See photos here.
Alliance Program Targets Veteran Student Success
To help SHSU's veteran students in dealing with the predominant issues associated with transitioning back to civilian life, the Veterans Resource Center will deploy a new program this fall that will aid faculty and staff in guiding those students to success. Trainings are scheduled for Sept. 27, Oct. 18 and Nov. 8 via Talent Management. Details.
Regents Approve Degree Changes, Recognize Faculty
The Texas State University System Board of Regents designated Smith-Hutson Endowed Chair of Banking James Bexley as a TSUS Regents' Professor and recognized Piper Professor Award recipient Rowland Miller as a Distinguished Professor of Psychology during its quarterly meeting Aug. 18-19 in Austin. Details.
CJ Welcome Week To Introduce College Resources
The Sam Houston State University College of Criminal Justice will highlight the great opportunities that await new and returning students during this year's "CJ Welcome Week" activities, Aug. 29 through Sept. 1. Details.
Triathletes To Train At Ultra-Endurance Pro Camp
The first university-hosted professional training camp in North America, which will provide specialized services to select triathletes who have either qualified for the IRONMAN World Championship in Kailua-Kona, Hawaii, in October or have a brutally hot race on the horizon. Details.
SHSU Study Explores Honor Crimes in the U.S.
Most so-called honor crimes in the U.S. happen during the process of separation or because the victim had become too westernized, according to new research by a team that includes Sam Houston State University assistant professor of criminal justice and criminology Brittany Hayes. Details.
International Expert To Address Conflict Resolution At TWC
Lee Jay Berman, president of the American Institute of Mediation, will share his expertise in mediation and conflict resolution in two presentations Sept. 1-2 at Sam Houston State University-The Woodlands Center. SHSU staff members can receive Talent Management credit for attending the events. Details.
SH ELITE Recognized For 'Excelencia'
For the second consecutive year, the SH ELITE program is one of 20 similar programs from universities across the country to be listed among Excelencia in Education's "Examples of Excelencia" listing, which recognizes organizations in four categories for their work with Latino students. SHSU is the only repeat university in its category. Details.
Book Relives Glory Days Of Texas Prison Rodeo
In his latest book, "Convict Cowboys: The Untold Story of the Texas Prison Rodeo," Mitchel P. Roth documents the annual event, which drew up to 100,000 people a month to Huntsville from 1931-1986. Roth will have a book reading and signing in Huntsville in October. Details.
This page maintained by SHSU's Communications Office
Associate Director: Julia May
Manager: Jennifer Gauntt
Writer: Tammy Parrett
Located in the 115 Administration Building
Telephone: 936.294.1836; Fax: 936.294.1834
Please send comments, corrections, news tips to Today@Sam.edu.