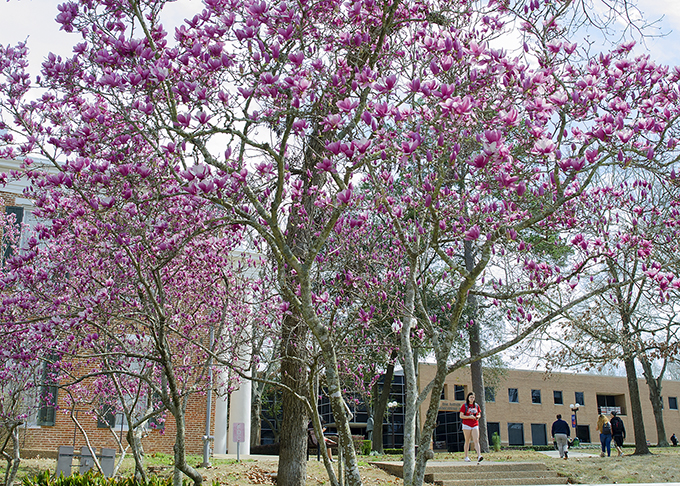 The Japanese Magnolia trees on the west side of Austin Hall began their annual late winter bloom this week. After several weeks of cloudy and misty conditions, measureable rainfall is expected to return to the Huntsville area starting Tuesday evening and continuing for the next several days. -Photo by Brian Blalock
---
SHSU Stories
PRSSA To Host Annual Living Expo
Sam Houston State University's Public Relations Student Society of America chapter will host its annual Living Expo, a one-stop-shop for students looking for their next housing option, on Tuesday, Feb. 27 from 11 a.m. to 1 p.m. in the Lowman Student Center Ballroom. Details.
Essay Contest Supports Student Service
The Academic Success Center is hosting an essay contest for students demonstrating the theme "The Measure of a Life is its Service." Details
Four Named To CHSS Wall Of Honor
The College of Humanities and Social Sciences honored four individuals on Feb. 16 who brought distinction and honor to the college through their accomplishments and service. Details
Award-Winning Author To Discuss Korean Tensions
Sam Houston State University will host Suzy Kim, an award-winning historian on North Korea, on February 23 at 10 a.m. in Academic Building IV Olson Auditorium Room 220. Details
Oscar Wilde Play Explores The Amusing Life Of Victorian High Society
"Lady Windermere's Fan" presented by SHSU Department of Theatre and Musical Theatre, runs Feb. 21-24. Details
Student Organization To Host Teaching Summit
Sam Houston State University and its chapter of the Texas Associate of Future Educators (TAFE) will host the 34th Annual Teach Tomorrow Summit on Feb. 15-17. Details
SHSU Encourages Discussions Of Diversity Through Documentary Filmmaking
Coinciding with Black History Month, Sam Houston State University will host the Africa World Documentary Film Festival to promote the experiences and culture of the people of Africa, in a Pan-African context, Feb. 15-16. Details
SHSU Holds Annual 'Thank A Donor Day'
Sam Houston State University's Annual Giving office will join more than 100 educational institutions worldwide to participate in Student Engagement and Philanthropy Month on "Thank a Donor Day," Wednesday, Feb. 28, by encouraging students to sign thank you cardsand send shout outs to SHSU's donors from 10:30 a.m. to 12:30 p.m. in the Lowman Student Center mall area. Details
Inspiring Conversations To Raise Money For Scholarships In "LET'S TALK!"
Sam Houston State University celebrates the art of conversation on March 22 with "LET'S TALK!," a fundraising event that offers entertaining and interactive "face time" with a host of diverse conversational leaders. Details
Leap Center, Princeton Review To Host Practice LSAT
The LEAP Center is partnering with the Princeton Review on Feb. 24 to host a free practice LSAT test given under test-day conditions for students interested in attending law school. Details
Campus Traffic Flow Changes To Begin Over Spring Break
Traffic flow changes are scheduled to begin over spring break. Due to new campus construction and a tremendous increase in pedestrians and vehicles, a number of streets will be rerouted to one-way in order to provide the safest method of vehicular and pedestrian movement. Details
Democracy Coach Returns To Campus For Civic-Engagement Workshop
Nancy Bocskor, a specialist in women's political leadership, fundraising and non-profits, will be hosted by the LEAP Center to speak, Feb. 19 and 20. Details
SHSU Identified As National Leader For Latino Student Success
Sam Houston State University has been named one of the top ten performing institutions in the country for Latino students out of 613 institutions surveyed. Details
Cajun Festival To Explore Culture, Music
For the 16th year, Sam Houston State University will celebrate Cajun culture for the annual Spring Cajun Festival on Feb. 8 starting at 6 p.m. in Evans Building Room 105. Details
Undergrads Reap The Rewards Of Research
On April 28, students are invited to participate in Sam Houston State University's Eleventh Annual Undergraduate Research Symposium from 8 a.m. to 5 p.m. in the College of Social Sciences and Humanities building. Details
Proposed College Aims To Improve Texas' Rural Healthcare "Report Card"
With limited access to medical care, high rates of fatal heart disease and stroke and sky-high uninsured rates, Texas received a "D-." Details
Financial Literacy Week To Teach Students A, B, C's Of 'Adulting'
The Student Money Management Center will host its Tenth Annual Financial Literacy Week Feb. 19-22, in the Lowman Student Center. Details
LEAP Center Offers Mock Law School Class
Students interested in going to law school or for those that have questions about how law school classes differ from undergraduate classes, can attend a simulated law school class on Wednesday, Feb. 21, from 6 - 7:15 p.m. Details
International Ph.D. Grads Contribute to American Universities, Research
Over the last two decades, dozens of international students came to the College of Criminal Justice at Sam Houston State University to earn a degree. Following graduation, almost half of these students stayed in the U.S. to teach or conduct research. Details
Hayes Named Researcher of Year by ASC Division of Victimology
Assistant Professor Brittany Hayes of the Department of Criminal Justice and Criminology was named the 2017 Faculty Researcher of the Year by the American Society of Criminology Division of Victimology. Details
Film Screenings To Explore Municipal Fraud
The Sam Houston State University Office of Compliance and the Accounting Department in the College of Business Administration will present three free film screenings from Jan. 24 to Jan. 25 of "All the Queen's Horses," a documentary that takes on the largest municipal fraud case in United States history. Details
Students Sought For 'Three Minute Thesis' Contest
Graduate students interested in showcasing their research, while competing for cash prizes, have until Jan. 26 to register for the Office of Graduate Studies' event. Details

Biological Sciences Receives Grant From Coastal Chemical
In collaboration with SHSU, Coastal Chemical Company is lending its support to the department of Biological Sciences for more than $100,000 in grant funding, equipment and labor in an attempt to devise a cost-effective and ecofriendly method that would reduce the level of oxygen from natural gas streams. Details
LEAP Hosts Ice Cream Social
Students can get the scoop on spring events hosted by the Center for Law, Engagement and Politics (LEAP) by attending an ice cream social on Wed. Jan. 24, from 4:00-5:30 p.m. in the Holcombe room of the College of Humanities and Social Sciences. Details
Spring Welcome Week Beckons Bearkats Back
The Department of Student Activities will jump start the new year by welcoming students back to campus during Welcome Week: Spring Edition, Jan. 15–19. Details
Staff Council Selects Spotlight On Staff Winner
Sam Houston State University's Staff Council's December Spotlight on Staff winner is, Brad Herget, assistant director of Event Services & Technology. Details
Runyan Named Dean Of College Of Health Sciences
Sam Houston State University has approved the appointment of Rodney Runyan as dean of the College of Health Sciences. Details
College of Criminal Justice Ranked No. 1 for Online Graduate Education
For the second year in a row the College of Criminal Justice has earned the No. 1 position among 60 universities across the country offering online graduate programs in criminal justice. Details
New Associate VP Of Research And Sponsored Programs Appointed
Associate Professor of Biology, Chad Hargrave, has been appointed Associate Vice President of Research and Sponsored Programs for Sam Houston State University. Details

COE Alumni Honored As School Namesakes
Sam Houston State University College of Education alumni and power couple, Jim and Pam Wells, were commemorated as the namesakes of one of the newest elementary schools in their community of Cypress-Fairbanks. Details
Resolution Approved For The Sam Houston Republic of Texas Presidential Library
The 85th Legislature of the State of Texas approved a resolution introduced by Representative Ernest Bailes for the creation of the Sam Houston Republic of Texas Presidential Library at Sam Houston State University. Details
Student Activities Grows From Giving Back
In the spirit of the season, the Department of Student Activities fostered the gift of giving to the Sam Houston State University community by hosting their annual canned food drive benefitting the Good Shepard Mission of Huntsville at the Tree of Light Ceremony on Nov. 28. Details
Bobby Lane Humbled By Excellence In Teaching Award
Professor Lane was honored in a ceremony in Washington D.C at the Annual Meeting of the Association of Public and Land-grant Universities where he was recognized as one of the regional United States Department of Agriculture Food and Agriculture Sciences Excellence in Teaching Award recipients. Details
Ag Business Senior To Defend First-Place Title At Top Pro Rodeo Challenge
In defense of his first-place title and $21,000, agricultural business senior Ty Arnold will compete against 33 other contestants in the 2017 Permit Challenge at the South Point Arena in Las Vegas, Nevada, Dec. 7. Details
Campus Goes Green With Campaign To Save Energy
The Go Green campaign is designed to promote efficient energy use. Students are encouraged to save energy across campus through simple acts like turning off lights and adjusting the thermostat to recommended temperatures. Details
Students Embarked Upon 'Trip Of A Lifetime' To Thailand
Students from the College of Education were able to check a mark off of their bucket lists when they traveled to Thailand as a part of a study abroad for education. Details
Tis' The Season Of Bearkats Giving
In the spirit of giving, departments across Sam Houston State University are hosting events and programs in order to encourage those on campus to give back to the community. Details.
Graphic Design Meets the Stage in Dance Spectrum
Mike Esperanza's creative approach to dance will be featured in the upcoming Dance Spectrum, Nov. 30 – Dec. 2. Details
SHSU Leadership Academy Honored With Development And Diversity Award
The American Association of State Colleges and Universities honored Sam Houston State University's High Potential Employee Leadership Academy with the Leadership Development and Diversity Award. Details
Criminal Justice And Criminology Ranked Third Globally
The Department of Criminal Justice and Criminology is now ranked third in the world among criminology and penology programs by the Center for World University Rankings. Details
This page maintained by SHSU's Communications Office
University Communications Manager: Emily Binetti
Located in the 115 Administration Building
Telephone: 936.294.1836; Fax: 936.294.1834
Please send comments, corrections, news tips to Today@Sam.edu.