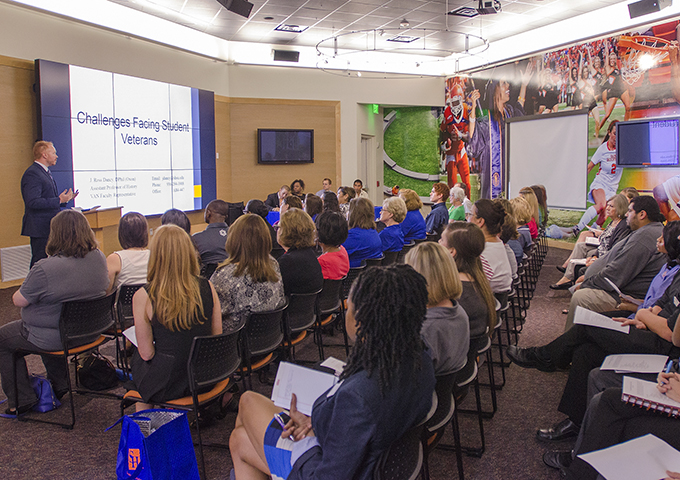 Assistant professor of history and Marine Corps veteran Jeremiah Dancy shares his experiences following his time in active duty with staff members to help them understand experiences veteran students enrolled at SHSU may be having as they transition back to civilian life. The presentation is part of the Veterans Resource Center's new Veterans Alliance Network, which will begin offering sessions for all faculty and staff in the fall. —Photo by Brian Blalock
Share |
For Month of July
Conference To Address Teaching, Learning
The all-day, Professional and Academic Center for Excellence-hosted Teaching and Learning Conference delves into the scholarly activity of teaching and how it may be improved by continuous assessment, according to PACE director Todd Primm. The preferred registration date for faculty, adjuncts and teaching assistants is Aug. 3. Details.
Play To Highlight Drama, Humor Of White House
Philip G. Warner Endowed Chair Peter Roussel's stage adaptation of his seriocomic novel, "Ruffled Flourishes," will debut on Saturday (Aug. 27) in two performances in the University Theatre Center's Showcase Theatre. Details.
Additional Parking Spaces Coming This Fall
A number of significant changes relating to parking are coming this fall, all with the intent of making the parking experience more positive for those who bring their vehicles to campus during peak operating hours. Details.
Woodlands Leaders To Speak At August Graduation
Two The Woodlands-area leaders in banking and health care will make a short trip on Aug. 5 to address Sam Houston State University's almost 960 graduates in a ceremony that will be unique for Bearkats in two ways—timing and location. Details.
College Receives NCATE Accreditation Renewal
The Sam Houston State University College of Education's accreditation was recently renewed for seven years, through the fall 2022 semester, through the National Council for Accreditation of Teacher Education standards. Details.
Dance Profs To 'Light Up' Stage With 'Alluring' Concert
Two Sam Houston State University professors and their NobleMotion Dance company will "light up" the stage, presenting two nights of "jaw-dropping" and "imaginative" programming at the Hobby Center's Zilkha Hall. Details.
Study Leads To Changes In Un-Submitted Assault Kits
A recent National Institute of Justice-funded project by faculty in the Sam Houston State University Department of Criminal Justice and Criminology reported that criminal justice agencies need to be prepared to follow up on sexual assault cases with a victim-centered approach in order to improve responses to these crimes in their communities. Details.
Hendrickson Appointed Grad Studies Dean
The filling of the dean of Graduate Studies position and the vacancy of the provost position have led to some administrative changes at Sam Houston State University. Details.
Museum To Exhibit Mexican Art, Culture
The Sam Houston Memorial Museum will present "Miguel Covarrubias: Caricaturista," an exhibition created in cooperation with the Harry Ransom Center at The University of Texas at Austin and Humanities Texas, June 7 until July 31 in the Katy and E. Don Walker Sr. Education Center Exhibit Gallery. Details.
Staff Recognized For Job Excellence
The 2016 Staff Excellence Award winners include Kay Angrove, Deanna Briones, Staci Baker, and Stephanie Bluth, who received 26 nominations from their peers recognizing their outstanding abilities, efficiency, motivation, innovation, and contribution to SHSU's students. Details.
Museum To Participate In Blue Star Museums Program
For the sixth year, the Sam Houston Memorial Museum is joining more than 2,000 museums across America to offer free admission throughout the summer to military personnel and their families in collaboration with the National Endowment for the Arts, Blue Star Families and the Department of Defense. Details.
This page maintained by SHSU's Communications Office
Associate Director: Julia May
Manager: Jennifer Gauntt
Writer: Tammy Parrett
Located in the 115 Administration Building
Telephone: 936.294.1836; Fax: 936.294.1834
Please send comments, corrections, news tips to Today@Sam.edu.