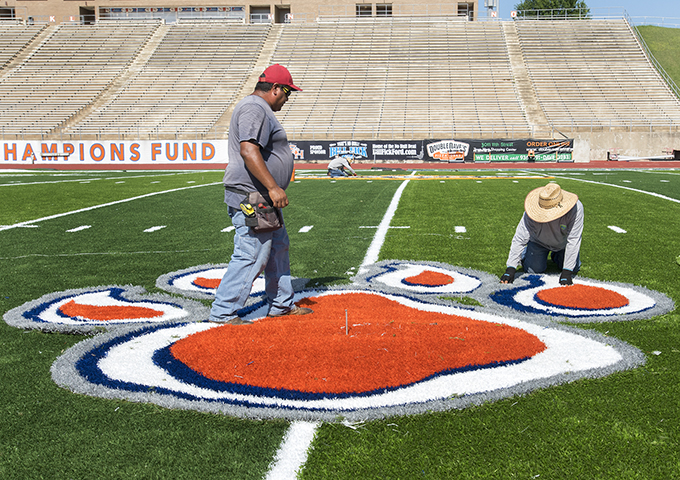 A new Bearkat paw logo is painted midfield at Elliott T. Bowers Stadium as the installation of the new AstroTurf 3D3-60 turf system wrapped up last week, with plenty of time for the 2016-17 "Orange Out" season opener on Sept. 3 against Oklahoma Panhandle State. Read more about the new turf here. —Photo by Brian Blalock
Share |
For Month of June
Study Leads To Changes In Un-Submitted Assault Kits
A recent National Institute of Justice-funded project by faculty in the Sam Houston State University Department of Criminal Justice and Criminology reported that criminal justice agencies need to be prepared to follow up on sexual assault cases with a victim-centered approach in order to improve responses to these crimes in their communities. Details.
Hendrickson Appointed Grad Studies Dean
The filling of the dean of Graduate Studies position and the vacancy of the provost position have led to some administrative changes at Sam Houston State University, all of which are effective June 1. Details.
Museum To Exhibit Mexican Art, Culture
The Sam Houston Memorial Museum will present "Miguel Covarrubias: Caricaturista," an exhibition created in cooperation with the Harry Ransom Center at The University of Texas at Austin and Humanities Texas, June 7 until July 31 in the Katy and E. Don Walker Sr. Education Center Exhibit Gallery. Details.
Staff Recognized For Job Excellence
The 2016 Staff Excellence Award winners include Kay Angrove, Deanna Briones, Staci Baker, and Stephanie Bluth, who received 26 nominations from their peers recognizing their outstanding abilities, efficiency, motivation, innovation, and contribution to SHSU's students. Details.
Regents Approve Academic, Financial Items
Degree changes and additions, design development documents for a biology laboratory building, an interlocal agreement with the City of Huntsville, and authorization to purchase a new property all were approved for Sam Houston State University by the Texas State University System Board of Regents May 26-27. Details.
Museum To Participate In Blue Star Museums Program
For the sixth year, the Sam Houston Memorial Museum is joining more than 2,000 museums across America to offer free admission throughout the summer to military personnel and their families in collaboration with the National Endowment for the Arts, Blue Star Families and the Department of Defense. Details.
SHSU Recognizes Four Faculty For Excellence
Four Sam Houston State University professors whose teaching, scholarly accomplishments, service, and academic engagement stand out among their peers have been honored with SHSU's 2016 Faculty Excellence Awards. Details.
Hoover Named Distinguished Professor
Larry Hoover, professor of criminal justice at Sam Houston State University, recently was named a Distinguished Professor at the annual College of Criminal Justice's Leadership Luncheon on April 28. Details.
This page maintained by SHSU's Communications Office
Associate Director: Julia May
Manager: Jennifer Gauntt
Writer: Tammy Parrett
Located in the 115 Administration Building
Telephone: 936.294.1836; Fax: 936.294.1834
Please send comments, corrections, news tips to Today@Sam.edu.