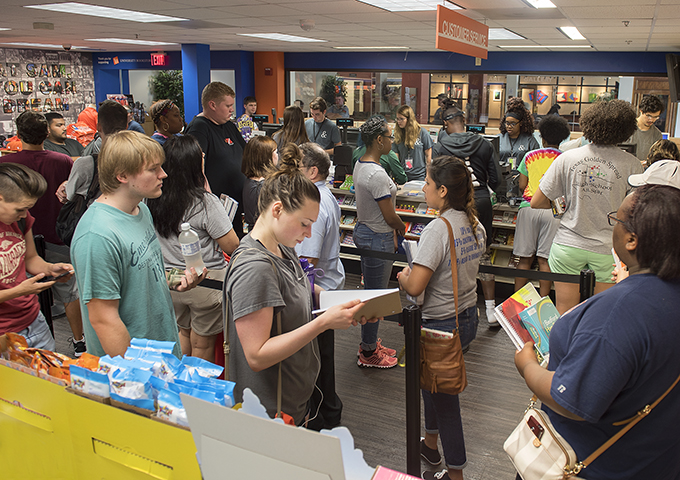 Eager Bearkats gear up for the fall semester early by purchasing their books and supplies on Monday and keeping University Bookstore employees busy in the days leading up to classes starting. The fall semester officially kicks off on Wednesday. —Photo by Brian Blalock
Share |
For Week of Aug. 21
Alliance Program Targets Veteran Student Success
To help SHSU's veteran students in dealing with the predominant issues associated with transitioning back to civilian life, the Veterans Resource Center will deploy a new program this fall that will aid faculty and staff in guiding those students to success. Trainings are scheduled for Sept. 27, Oct. 18 and Nov. 8 via Talent Management. Details.
Regents Approve Degree Changes, Recognize Faculty
The Texas State University System Board of Regents designated Smith-Hutson Endowed Chair of Banking James Bexley as a TSUS Regents' Professor and recognized Piper Professor Award recipient Rowland Miller as a Distinguished Professor of Psychology during its quarterly meeting Aug. 18-19 in Austin. Details.
CJ Welcome Week To Introduce College Resources
The Sam Houston State University College of Criminal Justice will highlight the great opportunities that await new and returning students during this year's "CJ Welcome Week" activities, Aug. 29 through Sept. 1. Details.
Triathletes To Train At Ultra-Endurance Pro Camp
The first university-hosted professional training camp in North America, which will provide specialized services to select triathletes who have either qualified for the IRONMAN World Championship in Kailua-Kona, Hawaii, in October or have a brutally hot race on the horizon. Details.
SHSU Study Explores Honor Crimes in the U.S.
Most so-called honor crimes in the U.S. happen during the process of separation or because the victim had become too westernized, according to new research by a team that includes Sam Houston State University assistant professor of criminal justice and criminology Brittany Hayes. Details.
International Expert To Address Conflict Resolution At TWC
Lee Jay Berman, president of the American Institute of Mediation, will share his expertise in mediation and conflict resolution in two presentations Sept. 1-2 at Sam Houston State University-The Woodlands Center. SHSU staff members can receive Talent Management credit for attending the events. Details.
SH ELITE Recognized For 'Excelencia'
For the second consecutive year, the SH ELITE program is one of 20 similar programs from universities across the country to be listed among Excelencia in Education's "Examples of Excelencia" listing, which recognizes organizations in four categories for their work with Latino students. SHSU is the only repeat university in its category. Details.
Book Relives Glory Days Of Texas Prison Rodeo
In his latest book, "Convict Cowboys: The Untold Story of the Texas Prison Rodeo," Mitchel P. Roth documents the annual event, which drew up to 100,000 people a month to Huntsville from 1931-1986. Roth will have a book reading and signing in Huntsville in October. Details.
Welcome Week To Engage Students Aug. 20-26
The fall semester is just about here, and for incoming students and those returning, Sam Houston State University's Welcome Week will be packed with events to engage the campus community. Details.
Conference To Address Teaching, Learning
The all-day, Professional and Academic Center for Excellence-hosted Teaching and Learning Conference delves into the scholarly activity of teaching and how it may be improved by continuous assessment, according to PACE director Todd Primm. Details.
Play To Highlight Drama, Humor Of White House
Philip G. Warner Endowed Chair Peter Roussel's stage adaptation of his seriocomic novel, "Ruffled Flourishes," will debut on Saturday (Aug. 27) in two performances in the University Theatre Center's Showcase Theatre. Details.
Additional Parking Spaces Coming This Fall
A number of significant changes relating to parking are coming this fall, all with the intent of making the parking experience more positive for those who bring their vehicles to campus during peak operating hours. Details.
College Receives NCATE Accreditation Renewal
The Sam Houston State University College of Education's accreditation was recently renewed for seven years, through the fall 2022 semester, through the National Council for Accreditation of Teacher Education standards. Details.
Dance Profs To 'Light Up' Stage With 'Alluring' Concert
Two Sam Houston State University professors and their NobleMotion Dance company will "light up" the stage, presenting two nights of "jaw-dropping" and "imaginative" programming at the Hobby Center's Zilkha Hall. Details.
Hendrickson Appointed Grad Studies Dean
The filling of the dean of Graduate Studies position and the vacancy of the provost position have led to some administrative changes at Sam Houston State University. Details.
This page maintained by SHSU's Communications Office
Associate Director: Julia May
Manager: Jennifer Gauntt
Writer: Tammy Parrett
Located in the 115 Administration Building
Telephone: 936.294.1836; Fax: 936.294.1834
Please send comments, corrections, news tips to Today@Sam.edu.