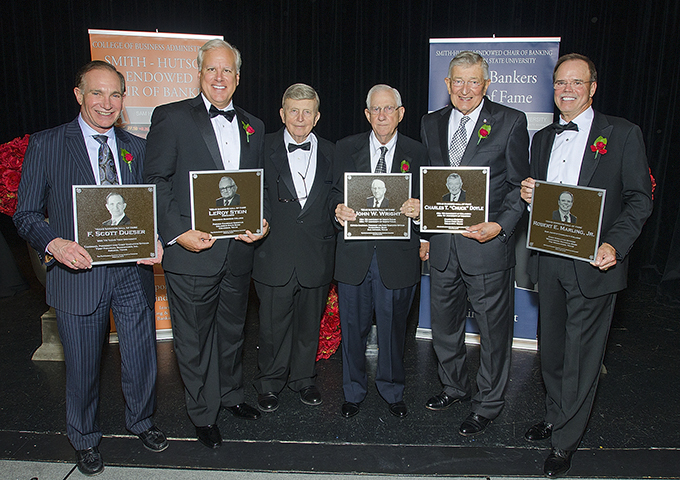 Five individuals who have made significant contributions to the bankig industry were inducted into the 2015 Texas Bankers Hall of Fame in the LSC Ballroom on Thursday evening. Pictured (from left): F. Scott Dueser; James Stein, who accepted the award for his father, the late LeRoy Stein; Chair of the Smith-Hutson Endowed Chair of Banking at SHSU James Bexley; John W. Wright; Charles T. "Chuck" Doyle; and Robert E. Marling Jr. — Photo by Brian Blalock




Global Center To Celebrate World Press Freedom Day
Texas Native and journalist Austin Tice has been missing since 2012. GCJD will celebrate World Press Freedom Day on April 29-30 to pay tribute to journalists like Tice who are missing, have been wounded or lost their lives in the line of duty. Details.
Alumni To Address More Than 2,100 Spring Graduates
Houston marketing and advertising chief executive officer Cindy Marion will address Friday (May 8) candidates at 9:30 a.m. for the College of Business Administration and at 2:30 p.m. for the Colleges of Education and Health Sciences. Sales CEO Ronald "Ron" Koska will speak at Saturday's (May 9) exercises, at 9:30 a.m. for the Colleges of Humanities and Social Sciences and Sciences and at 2:30 p.m. for the Colleges of Criminal Justice and Fine Arts and Mass Communication. Details.
Event To Explore Possibilities For Common Reader

During the 8th annual Faculty Common Reader Preview Luncheon, on April 24, Bearkats Read To Succeed committee members will discuss the novel, how it can be incorporated into the classroom and about the events being held in conjunction with this year's program. The deadline to RSVP is April 22. Details.
Festival To Showcase The Art Of Animation
Sam Houston State University's Department of Art will feature student works for the annual Computer Animation Festival on Friday (April 24) in the James and Nancy Gaertner Performing Arts Center Dance Theater. The festival will showcase more than 20 short animated pieces created over the past year. Details.
Texas Bankers Hall Of Fame Announces Honorees
Five individuals who have made significant contibutions to the banking industry will be honored on April 23 during the Texas Bankers Hall of Fame gala. They include: Charles T. "Chuck" Doyle, F. Scott Dueser, Robert E. Marling Jr., the late LeRoy Stein, and John W. Wright. The Texas Bankers Hall of Fame was established by the Smith-Hutson Endowed Chair of Banking at SHSU to recognize outstanding bankers who have served their industry, community and state. Details.
Faculty, Staff Show Financial Support For SHSU
Sam Houston State University faculty and staff contributed more than $234,000 during the active phase of the SHSU Faculty/Staff Annual Fund Campaign this academic year. Results of the campaign were announced at a recognition luncheon held March 5 in the Peabody Library, during which volunteers were applauded for their efforts. Details.
Leadercast 2015 To Highlight 'Brave Ones'
Sam Houston State University will host the 2015 Leadercast "The Brave Ones" on Friday (May 8), filled with such speakers who have demonstrated bravery as Malala Yousafzai, Peyton Manning and Rudy Giuliani. Early bird registration ends March 31. Details.
Oliver Goes Three For Three With Publications
Willard M. Oliver, professor of criminal justice at Sam Houston State University, recently published his third co-authored/co-edit book in the past three months. The publications include a book on federal law enforcement agencies, an encyclopedia of drugs in American society and a volume on homeland security. Details.
This page maintained by SHSU's Communications Office
Associate Director: Julia May
Manager: Jennifer Gauntt
Writer: Tammy Parrett
Located in the 115 Administration Building
Telephone: 936.294.1836; Fax: 936.294.1834
Please send comments, corrections, news tips to Today@Sam.edu.