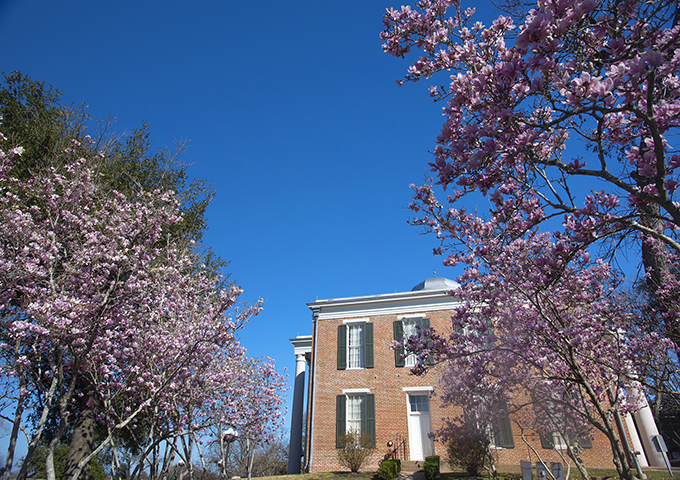 Although spring is officially more than a month away, these Japanese tulip trees near Austin Hall are in full bloom. The warmer temperatures this week have been welcomed by those who made the trek across campus each day to go to class. — Photo by Brian Blalock.
Share |
For Week Of Feb. 14
Events To Celebrate Gen. Sam Houston
The Walker County Historical Commission, the Sam Houston Memorial Museum and the Sam Houston Statue and Visitors Center will once again celebrate the university's namesake with the 35th Annual Texas Independence Day and Gen. Sam Houston's Birthday commemoration on March 2. Details.
Week To Help Students Navigate Common Financial Hurdles

To prevent students from making poor financial decisions that have the potential to haunt them for years to come, the Student Money Management Center will steer students through some common financial hurdles with their eighth annual Financial Literacy Week Feb. 22-25 in the Lowman Student Center Theater. Details.
CJ Doctoral Students Earn NIJ Fellowships
Amy Sorensen, Rachel Houston and Jessica Winborn received full scholarships, stipends and travel expenses—up to $50,000 annually—to develop new techniques to preserve DNA in tissues and speed up the identification process, for DNA-based identification of marijuana, and for designer drug identification in crime labs. Details.
Pianist Earns Top Honors At Concerto Competition
Pianist and graduate student Eduard Gavril earned first prize at the Sam Houston State University School of Music's annual Concerto Competition Jan. 13. Eduard, originally from Romania, is currently studying collaborative piano under associate professor Ilonka Rus-Edery. Details.
Events To Continue 'Enrique's Journey' In Spring
The Sam Houston State University Common Reader Program will initiate for the first time a second series of programming and contests to continue the discussion about the Honduran boy who quests to find his mother after she immigrated to the United States 11 years before. Activities include three presentations on topics related to the book's themes, as well as essay and art contests—which award scholarships—and a daily social media contest. Details.
Vaughn Named Fellow For Prestigious CJ Group
Michael S. Vaughn, professor of criminal justice and criminology, recently was named a fellow by the Academy of Criminal Justice Sciences, a prestigious honor bestowed upon only three other faculty members in the Sam Houston State University College of Criminal Justice over the 35-year history of the award. Details.
Study To Develop New Forensic Methods For DNA Cases

With the National Institute of Justice funding, Sheree Hughes-Stamm, SHSU assistant professor of forensic science, and Bruce Budowle, of the Institute of Applied Genetics at the University of North Texas Health Science Center, will investigate the best methods for extracting DNA from decomposed remains for next-generation DNA sequencing. Details.
Professor, Alumnus Named To CHSS Wall Of Honor
The Sam Houston State University College of Humanities and Social Sciences will recognize two individuals whose service and accomplishments are exemplars for the college during the 2016 Wall of Honor ceremony on Feb. 19. Details.
Prison Visitation, Recidivism Study Earns Funding
A study funded by the National Science Foundation will explore whether prison visitation can help reduce recidivism rates and if there are gender, racial, and ethnic differences in these patterns. Details.
Student Projects Sought For Research Symposium
Undergraduate students from all disciplines are invited to submit their research, scholarship and creative project ideas for the Ninth Annual Undergraduate Research Symposium. The registration deadline for abstracts is March 15. Details.
Pilates Class To Bring Community, Students Together
"Pilates for Everyone" is part of SHSU's Academic Community Engagement program and will be led by junior musical theatre major Jonathan Robinson and senior dance major Sara Aguirre-Valdez. The classes will meet every Tuesday through March 1 in the Huntsville Public Library Community Room, from 5:45-6:45 p.m. Classes are free and open to the public. Details.
Grant Provides Funding For Support Program
Students who find themselves struggling with maintaining sobriety while in college will soon have a new outlet through which to seek support, thanks to a $5,000 grant recently awarded to Sam Houston State University's counseling services. Details.
COBA Profs Earn 'Distinguished' Title
Professors in the Sam Houston State University College of Business Administration James Bexley and Balasundram Maniam have been recognized for their scholarship and service to SHSU with the title of "Distinguished Professor." Details.
This page maintained by SHSU's Communications Office
Associate Director: Julia May
Manager: Jennifer Gauntt
Writer: Tammy Parrett
Located in the 115 Administration Building
Telephone: 936.294.1836; Fax: 936.294.1834
Please send comments, corrections, news tips to Today@Sam.edu.