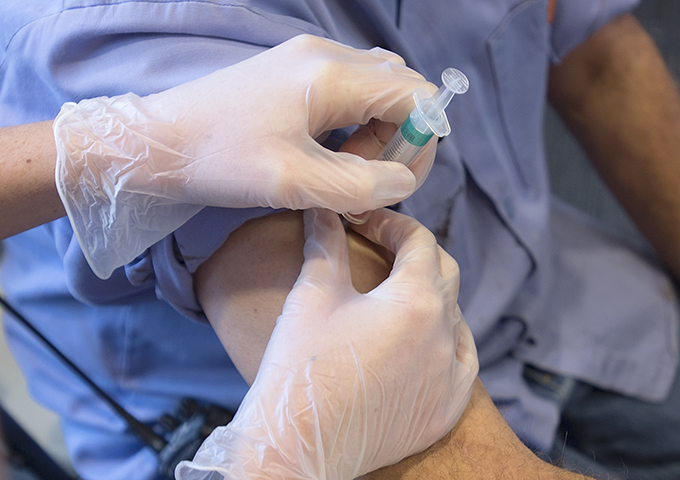 Sam Houston State University faculty and staff are getting their "shot" at the flu vaccine this week, offered by the Student Health Center. Nurses will be available from 9 a.m. to 4 p.m. on Tuesday and Wednesday in the Gaertner Performing Arts Center Lobby to vaccinate employees. Shots will also be administered at the SHSU—The Woodlands Center campus next week. — Photo by Brian Blalock
For Week Of Oct. 12

MFA Series To Take Flight During 'Orbit' Reading
Margaret Lazarus Dean will visit Sam Houston State University on Oct. 19 as part of the MFA Program in Creative Writing, Editing, and Publishing's on-going reading series. She will meet with students at 4 p.m. in Evans Building Room 212 to discuss the craft of writing, followed by a public reading from her work at 6 p.m. in Austin Hall. Details.
Evening To Raise Funds For Grad Students
Sam Houston State University's College of Education will bring together a group of renowned experts from the field of education to speak with guests in a conversational setting during the first "An Evening With Education" on Nov. 19. Details.
Homecoming Game Times Changed
The Homecoming football game on Oct. 24, featuring the Bearkats hosting Nicholls State, has been rescheduled for a 6 p.m. kickoff and will be shown on the Fox College Sports Central Television Network. The Bearkat volleyball game against Northwestern State has been moved up to 1 p.m. A revised schedule of Homecoming events will be available soon.

Student Uses Social Media In Effort To Meet Role Model

Jamey Portinga, Sam Houston State University sophomore criminal justice major and member of SHSU's FORWARD program, is a survivor of child sexual abuse. She entered foster care at the age of 15, and turned to Taylor Swift's music to help her through some of her toughest moments. With Swift's 1989 World Tour stopping in Arlington on Saturday (Oct. 17), Portinga is using the power of social media to share her story in hopes of meeting her role model. Details.
Center To Host Open House At Newest Location
After continuing to grow and expand its services over the years, the Psychological Services Center at Sam Houston State University has moved to its third location since 1999. The center will host an open house on Oct. 16 at its new location at 1528 Ave. J, formerly the SHSU Student Health Center, to familiarize the community with its services. Details.
First Female Fighter Pilot To Fly By SHSU
Having flown missions worldwide as the first female F-14 Tomcat fighter pilot in the United States Navy, Carey Lohrenz is used to working in fast-moving, dynamic climates, where inconsistent execution can generate catastrophic results. She will discuss some of her experiences on Oct. 22, as the guest speaker for the Sam Houston State University President's Speaker Series. A book signing will follow in the GPAC Lobby. Details.
Presentation To Emphasize Importance Of Job Fitness
Lt. Greg Davis, the fitness wellness coordinator for the Texas Department of Public Safety, will discuss the importance of trooper fitness for on-the-job performance as part of a special program sponsored by the Sam Houston State University Department of Kinesiology and the College of Criminal Justice. The presentation, "Law Enforcement Fitness and Performance," will begin at 2 p.m. on Oct. 8 in the Criminal Justice Center's Kerper Courtroom. Details.
Week To Feature Techniques For Resolving Conflicts
Sam Houston State University's Student Legal and Mediation Services will equip students in "The Art of Conflict" by arming them through a series of presentations Oct. 12-15 with useful insights and tools to effectively resolve disputes. Details.
Houston News Anchor To 'Mingle' At SHSU
Ilona Carson, ABC 13 Houston Eyewitness News anchor, will visit with Sam Houston State University students on Wednesday (Oct. 14) during SHSU Priority One's "Mingling with the Media" event. Carson will offer career advice and tips, as well as answer questions and tell stories from the field, at noon in the Dan Rather Communications Building's Studio A, located on the first floor. Details.
Changing, But Keeping PACE
SHSU's Professional and Academic Center for Excellence is temporarily undergoing a change of leadership, but it won't be missing a beat in terms of the services it offers. Effective Sept. 1, Todd Primm is serving as interim director of the center, while Marsha Harman, who has served as the center's director since its creation, is taking time off. Details.
Homecoming To Celebrate Bearkat, Football History
SHSU's Homecoming festivities celebrate 100 seasons of football, as well as Bearkat history, with this year's #ThrowbackBearkat theme, Oct. 19-24. Details.
SHSU Reaches Historic Enrollment
Preliminary figures released by Sam Houston State University on Sept. 28 indicate that Fall 2015 enrollment passed the 20,000 mark for the first time in the school's 136-year history. The total preliminary enrollment for SHSU is 20,181, which is almost 3 percent more than last year's figure. Details.
AstroTurf Coming To Don Sanders Stadium

SHSU's Don Sanders Stadium is getting a facelift with the addition of an 183,040-square foot Astro Turf playing surface. The new field will allow outdoor practice time to take place in virtually any weather condition. Details.
Scholarship Established In Memory Of Slain Deputy
Student organizations within SHSU's College of Criminal Justice—with additional support from SHSU's Law Enforcement Management Institute of Texas and Correctional Management Institute of Texas—presented checks to the college on Sept. 14 for a scholarship that will help criminal justice majors at SHSU pursue careers in law enforcement. Details.

ELITE Program Recognized For Work With Latino Students

Because of the strides SH ELITE has made in helping male Latino students overcome the odds, the program was recently recognized in Excelencia in Education's 2015 edition of "What Works for Latino Student Success in Higher Education," America's largest inventory of proven practices for accelerating degree completion among Latinos. SHSU was selected as one of 20 finalists for the designation from among 265 programs from 30 states, Puerto Rico, and the District of Columbia. Details.
Health Center To Provide Free Flu Shots
This year's series of free flu vaccinations will be offered on Oct. 13-14 for faculty and staff on the main campus and Oct. 21-22 for employees and students at SHSU's The Woodlands Center campus. Details.
SHSU To Close University Park Campus
SHSU will be closing its University Park campus in northwest Houston in January 2016, consolidating all community-based operations at SHSU-The Woodlands Center. The university is working with students affected by the centralization to develop personalized academic plans. Details.
Director Named Financial Counselor Of The Year
Patsy Collins will be honored in November atthe AFCPE Symposium in Jacksonville, Florida, where whe will team up with Paul Goebel, senior director of the SMMC at the University of North Texas, to make a presentation on fraud, entitled "Bridging Research and Practice: Financial Fraud – Shattering the Illusion of Invulnerability." Details.
SHSU, UNIBE To Join For Health Sciences Conference

SHSU's College of Health Sciences is teaming up with Universidad de Iberoamérica for the inaugural International Health Sciences Conference in Costa Rica on Sept. 22-23. Along with faculty, three graduate and 18 undergraduate SHSU students will attend the conference, some of whom have participated in research during their coursework at SHSU and will be presenting their findings. Michael Lacourse is dean of the college. Details.
Six Recognized For Distinguished Accomplishments, Service

Four SHSU alumni who have made names for themselves in business, the NFL and politics, and two alumni whose service to their alma mater and their communities is distinguished in itself, will be recognized during this year's homecoming festivities with the SHSU Distinguished Alumni and SHSU Service Awards. Details.
This page maintained by SHSU's Communications Office
Associate Director: Julia May
Manager: Jennifer Gauntt
Writer: Tammy Parrett
Located in the 115 Administration Building
Telephone: 936.294.1836; Fax: 936.294.1834
Please send comments, corrections, news tips to Today@Sam.edu.