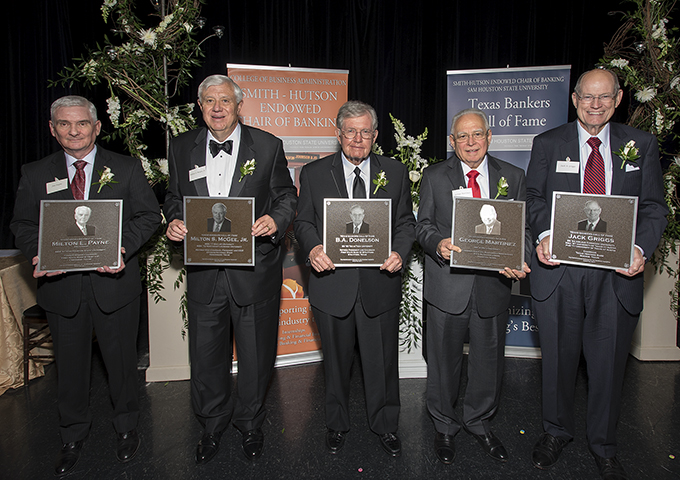 Five new members were inducted into the Texas Bankers Hall of Fame during a ceremony Thursday night in the Lowman Student Center Ballroom. They are (from left): Jim Payne, accepting on behalf of the late Milton L. Payne, of Carthage; Milton S. McGee Jr., of Henderson; B.A. Donelson, of Amarillo; George Martinez, of Houston; and Jack A. Griggs, of Abilene. This brings to 22 the total number of inductees into the Texas Bankers Hall of Fame since it was established in 2013. -- Photo by Brian Blalock
Share |
For Week Of April 30



Spring Commencement Speakers Announced
SHSU Distinguished Alumnus Tolbert Chisum, H-E-B's Scott McClellan and The Leadership Initiative's Frederick McClure will address more than 2,400 students during the five Spring Commencement ceremonies taking place over three days May 11-13. Details.
Students To Showcase Films At Animation Festival
Students in the Sam Houston State University computer animation program will screen their completed student projects at the 2017 Animation Festival on Thursday, May 4. Details.
COBA Receives WRDS-SSRN Innovation Award
SHSU's College of Business Administration has been selected as the winner of the first WRDS-SSRN Innovation Award, honoring emerging business schools. COBA Dean Mitchell Muehsam accepted the award on behalf of the college during a dinner event on Sunday, hosted by WRDS, S&P Global Market Intelligence and CRSP. Details.
Money Management Hosts Financial Literacy Month
The Student Money Management Center at Sam Houston State University is hosting a large number of events in the month of April in partnership with the City of Huntsville for Financial Literacy Month, to increase familiarity with financial wellness for the SHSU and surrounding community. Details.
Sproat Named Museum Group President
Mike Sproat, curator of collections at the Sam Houston Memorial Museum, was recently named president of the Texas Association of Museums. An active member, Sproat has served on the communications and membership committees and as chair of the programs committee. Details.
Alum Returns To Direct "Hairspray"
SHSU musical theatre alumnus and Broadway choreographer Greg Graham has spent the spring semester with students who will be performing in the hit musical "Hairspray," on April 26-29 in the Erica Starr Theatre. Tickets can be purchased online through the University Theatre Center Box Office. Details.
Film Festival To Highlight Mass Comm Talent
Sam Houston State University Mass Communication students will have the opportunity to showcase their original cinematic works at the 2017 Sam Houston Film Festival with the potential to win a $500 cash prize for best overall film. In addition to the top accolade, awards will be given for cinematography, editing and performance. Details.



This page maintained by SHSU's Communications Office
Associate Director: Julia May
Manager: Jennifer Gauntt
Writer: Lane Fortenberry
Located in the 115 Administration Building
Telephone: 936.294.1836; Fax: 936.294.1834
Please send comments, corrections, news tips to Today@Sam.edu.