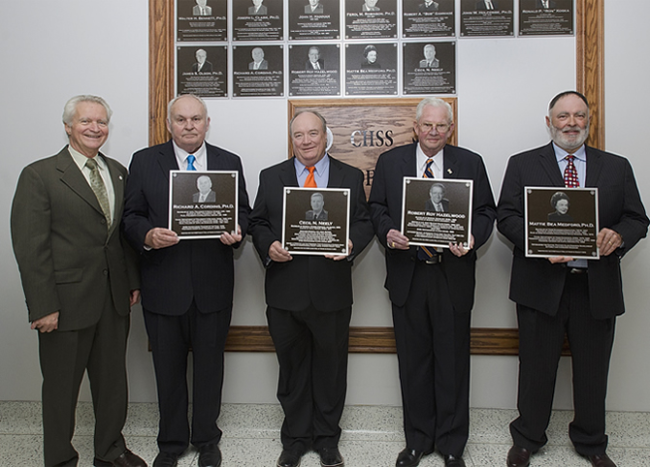 John de Castro with the 2013 CHSS Wall of Honor Recipients: Richard Cording, Alan Tinsley for Cecil Neely, John McManners for Roy Hazelwood, and Rick Medford for Mattie B. Medford - Photo by Brian Blalock
For more information on this year's Wall of Honor recipients along with past recipients, please go to the CHSS Wall of Honor website at http://www.shsu.edu/academics/humanities-and-social-sciences/honor/.
Call for Nominations for Wall of Honor:
Distinguished Alumni and Faculty Members

Deadline for Nominations is Thursday, May 15, 2014
Online Nomination: click here CHSS Wall of Honor website.
---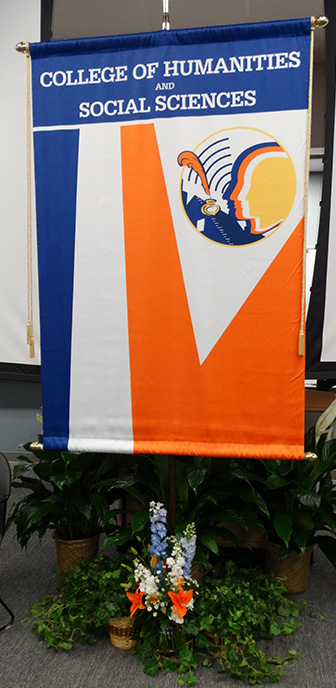 Undergraduate Convocation | Graduate Convocation
The College of Humanities and Social Sciences Convocation is an opportunity for the College to recognize the achievements of our outstanding graduating students. The Spring 2013 Convocation was, as usual, focused on our wonderful students and their accomplishments here at Sam.
One of the very special aspects of this institution is its students who are rarely typical, traditional college students. They are a special breed. Thirty five percent are the first in their families to ever attain a college degree, 29% are minority group members, they range in age from 20 to 64 and many are non-traditional students. Many have overcome tremendous obstacles in their journey to graduation. The awards given at the Convocation simply marked the successful culmination of that lengthy journey.
None of these graduates achieved success by themself. In order to accomplish their goal, each required the support, encouragement, and help of a large array of family, friends, teachers, supporters and yes even administrators. The CHSS Spring Convocation was also a time to recognize and appreciate all of these caring individuals who were crucial to the success of the graduate.
All of the faculty, staff, and administrators of the College of Humanities and Social Sciences congratulate the students on their outstanding achievements and thank them for affording us the opportunity to have them as our students. They make us all proud.
John M. de Castro, Dean
College of Humanities and Social Sciences
---
As a student in the College of Humanities & Social Sciences, you'll gain an education from a college that is ranked fifth nationally, based on faculty scholarly productivity and doctoral programs, by the Academic Analytics Company.
You'll be part of Sam Houston State University's newest college (created in 2004) in the newest (opened in March 2009)—and largest—academic building on campus, the $30 million College of Humanities & Social Sciences building. This beautiful building was created with students like you in mind. Features include:
24-hour computer labs with an abundance of computers and televisions
"Smart" classrooms with state-of-the-art technology—geared toward enhancing the teaching and learning experience
150,000 square feet of classroom space, student services areas and faculty and administrative offices—so you have easy access to faculty and administrators
The 10,000-square-foot, national award-winning Student Advising and Mentoring (SAM) Center
Professional and Academic Center for Excellence (PACE), created to ensure your faculty are exceptional teachers
The College has eight departments: