Join Now Benefits Travel SHSU Ring Event RSVP
---
UPCOMING EVENTS
---
REGIONAL FOOTBALL WATCH PARTIES SCHEDULED
Sam Houston State University will open the 2014 college football season with a nationally-televised game on ESPN! It will be the ONLY college football game broadcasting that Saturday. Plan to attend an SHSU vs. Eastern Washington Watch Party near you! Saturday!
August 23rd
Party Begins: 2:00 PM
Kickoff at: 2:30 PM
Click here to locate a Watch Party in your area!
---
ALUMNI TRAVEL PROGRAM

---
As the official travel program of the SHSU Alumni Association, the Traveling Bearkats provides SHSU Alumni and their friends and families the security of traveling in a group and the camaraderie of fellow alumni who have a desire to see the world.
We have two trips planned, the annual New York Alumni & Friends Trip in December 2014 and the Shades of Ireland Trip in 2015.
See details below.
SPEND THE CHRISTMAS SEASON IN NEW YORK
NEW YORK ALUMNI & FRIENDS TRIP
Travel Dates: December 15 - 18, 2014
Annual Alumni & Friends Dinner
Tuesday, December 16, 2014
The University Club of New York
Travel package includes:
Round-trip air on United Airlines from Houston Interconteniental to LaGuardia, NY
3-nights lodging at The Sheraton Times Square (811 7th Ave at 52nd)
Dinner at The University Club of New York
Ground Transportation to and from LaGuardia Airport in New York
Welcome reception for travel party on evening of arrival
Cost for one traveler: $1,517.00
Cost for two travelers: $2,014.00
For more information please contact the Office of Alumni Relations directly at (936) 294-1841.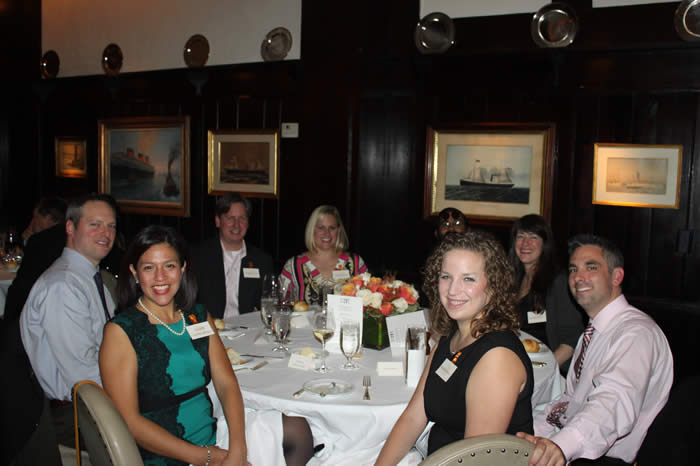 Alumni enjoy dinner at the '21' Club during the 2013 Alumni Dinner.
---
Join us in 2015 for our Shades of Ireland Trip!
SHADES OF IRELAND
April 26 - May 5, 2015
For more information and details:
http://www.collettevacations.com/link/601466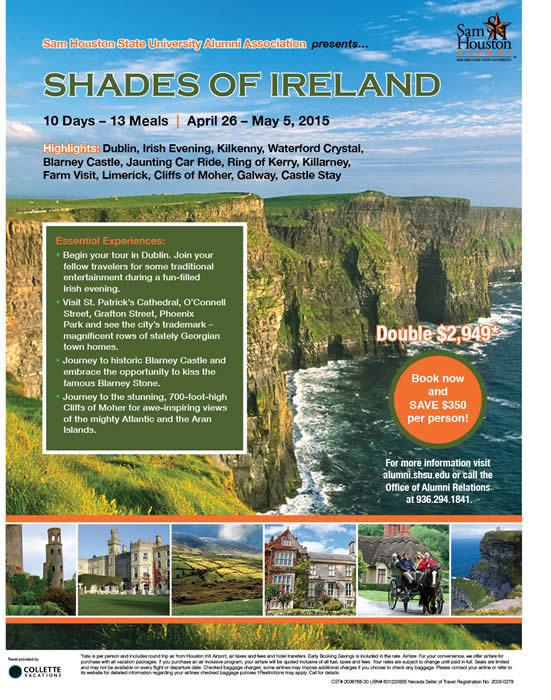 ---
Congratulations to the 2013 Tuition Drawing winner Laurie Grawl.
---
ATTENTION LIFE MEMBERS:
2014/15 Campus parking tags are now available.
To obtain your tag, please send an email to dgilbert@shsu.edu with the following information:
Name, Life member ID#, mailing address, make, model and License tag #
---
---
Life Endowed Members

D. Sam Bain '56

Charles W. Jones, III '81

Becky Spelce '93

* Janelle A. Paris '46

Justin Burnett '02

Ronald P. Koska '61

Dan I. Rather '53

James D. Carey '61

Kyle Lehne '94

Martee Rush '05

Terry M. Carlton '60

Susan S. Lenamon '73

Don A. Sanders '58

Bobby L. Davis '69

Dianne MacKenzie '60

Reuben C. Tamez '90, '94

Bonnie Thorne '60

Carol Hail Weller '69

Tommy Metcalf '71

Robert D. Young Jr. '13
Joint Life Endowed Members
William "Bill" '88 & Kerri D. Byler
Walter '79 and Jan Fitzgerald
James F. '65 & Nancy Gaertner
Russell D. '72 and Glenda J. '73, '77 Gordy
John M. '75 and * Nancy '79 Hoyt
R. Dean '67 and Betty A. '67 Lewis
Randy '74 and Patricia '74 Pollard
John R. '59 & Judith A. Ragsdale
Dan E. '65, '67 & Marian M. Spence
* Deceased