Events
Alan Tinsley will share his thoughts and experiences during 9:30 a.m. and 2:30 p.m. commencement ceremonies on Aug. 2.




Through the Blue Star Program, active duty military personnel and their families can visit museums across the U.S.




Avid photographers can get exposure for their work and compete for prizes through the annual amateur photography contest.



Welcome, Freshmen!

Get information about New Student Orientation, for students entering SHSU in the fall, through the link above.

Summer Commencement

On Aug. 2, at 9:30 a.m. and at 2:30 p.m. in the Bernard G. Johnson Coliseum.

Summer II Dates

The last class day is July 30, with finals exams on July 31. Residence halls close at 6 p.m. on Aug. 1.
See Calendar >>
Spotlight
SHSU English students find a source of personal enrichment in their coursework. They develop verbal, analytic, and cultural skills that are readily adaptable to a variety of careers. The department offers a Bachelor of Arts degree in English (with and without a teaching certification), and minors in English, creative writing, technical and professional writing, and a minor in English with a standard secondary certification. Students in the Master of Arts program can qualify for a number of graduate assistantships. The department's 27 faculty members represent a wide range of disciplinary foci, teaching courses in British, American, world, and multicultural literature; creative writing; rhetoric and composition; technical and professional writing; and linguistics.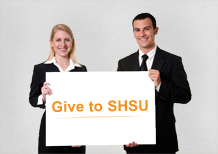 SHSU Main Campus
1806 Avenue J
Huntsville, TX 77340
(936) 294-1111
(866) BEARKAT
The Woodlands Center
3380 College Park Drive
The Woodlands, TX 77384
(936) 202-5000
University Park
20515 SH 249
Houston, TX 77070
(281) 290-2900