Events
Abbey Zink has been appointed the dean of SHSU's College of Humanities and Social Sciences, effective June 1.




College of Criminal Justice ambassadors represent the college at various events and mentor new and prospective students.




SHSU has fewer than 35 tickets remaining for this year's Leadercast 2014, scheduled for May 9.



Dance Spectrum Concert

"RADIATE" will be presented at 8 p.m. April 24-26, with a 2 p.m. Saturday matinee.

Skip Hollandsworth Discussion

The Texas Monthly executive editor will be interviewed by Peter Roussel on April 25, at 1 p.m. in Dan Rather Building Studio A.

Bearkat Baseball

Series vs. Southeastern Louisiana, on April 25, at 6:30 p.m.; on April 26, at 4 p.m.; and on April 27, at 1 p.m. at Don Sanders Stadium.
See Calendar >>
Spotlight
The W.A.S.H. program is a unique opportunity for SHSU art students to participate in an experimental studio environment and explore contemporary issues surrounding the visual arts. The only program of its kind in Texas, W.A.S.H. allows students examine various aspects of art in both theory and practice through a two-part curriculum that includes studio and lecture components. The program is designed to be a thorough introduction to both art and the visual arts and also maintains its own facility, the W.A.S.H. house. Through their participation, students attain a sense of camaraderie and establish bonds that will follow them throughout their academic careers.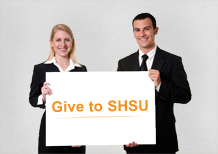 SHSU Main Campus
1806 Avenue J
Huntsville, TX 77340
(936) 294-1111
(866) BEARKAT
The Woodlands Center
3380 College Park Drive
The Woodlands, TX 77384
(936) 202-5000
University Park
20515 SH 249
Houston, TX 77070
(281) 290-2900