Events
The bipartisan task force will address the burden of federal regulations and reporting requirements.




Student artists graduating on Dec. 13 will present one last exhibit at SHSU on Dec. 9-14.




SHSU's clinical psychology doctoral program has been recognized among training programs in the U.S. in a recently published study.



Spotlight
The SHSU Department of Foreign Languages offers a broad and coherent undergraduate liberal arts approach to American Sign Language, Arabic, Chinese, French, German, Japanese and Spanish languages, arts and cultures, which prepares students for careers that will serve the human community and meet the global challenges which face our society.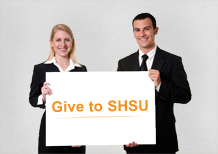 SHSU Main Campus
1806 Avenue J
Huntsville, TX 77340
(936) 294-1111
The Woodlands Center
3380 College Park Drive
The Woodlands, TX 77384
(936) 202-5000
University Park
20515 SH 249
Houston, TX 77070
(281) 290-2900