Events
Discussion leaders for this year's Honors College fundraiser will include Dave Elmendorf, Neal McCoy, Ernie Manouse and Mike Capps.




Applications are due March 21 for the Texas Rural Internship Program.




The National Institute of Justice has funded Matt Nobles for his continued research on stalking offenses.



Spotlight
One of only four in the country, the STAFS Facility is a remote site that serves as a state-of-the-art research and training location. STAFS researchers focus on the application of forensic sciences to the human body and the vast amount of evidence that can be gleaned from the careful recognition, collection, and preservation of that evidence. It is recognized by the Anatomical Board of Texas as a willed-body donor facility and accepts human body donations for the purposes of scientific research.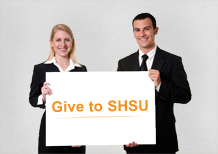 SHSU Main Campus
1806 Avenue J
Huntsville, TX 77340
(936) 294-1111
(866) BEARKAT
The Woodlands Center
3380 College Park Drive
The Woodlands, TX 77384
(936) 202-5000
University Park
20515 SH 249
Houston, TX 77070
(281) 290-2900