Events
The deadline to register for this year's spirit-filled Bearkat Family Weekend is Aug. 25.




Andy Noble and Dionne Sparkman Noble "journey into deep space" for their Houston premier, Aug. 29-30 and Sept. 4-6.




Alan Tinsley will share his thoughts and experiences during 9:30 a.m. and 2:30 p.m. commencement ceremonies on Aug. 2.



Welcome, Freshmen!

Get information about New Student Orientation, for students entering SHSU in the fall, through the link above.

Summer Commencement

On Aug. 2, at 9:30 a.m. and at 2:30 p.m. in the Bernard G. Johnson Coliseum.

Summer II Dates

The last class day is July 30, with finals exams on July 31. Residence halls close at 6 p.m. on Aug. 1.
See Calendar >>
Spotlight
The College of Criminal Justice ranks among the top programs in the U.S. with one of the nation's largest and most recognized faculty. Undergraduates can complete a Bachelor of Arts or Science degree in criminal justice or a Bachelor of Arts degree in victim studies. The college offers four master's degrees-a Master of Arts in criminal justice and criminology and Master of Science degrees in forensic sciences, security studies, and criminal justice leadership and management-as well as one of the first criminal justice doctoral programs in the U.S. In addition, online courses are offered for both the master's and bachelor's degree to accommodate various lifestyles and goals.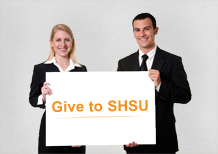 SHSU Main Campus
1806 Avenue J
Huntsville, TX 77340
(936) 294-1111
(866) BEARKAT
The Woodlands Center
3380 College Park Drive
The Woodlands, TX 77384
(936) 202-5000
University Park
20515 SH 249
Houston, TX 77070
(281) 290-2900