Events
Ryan Randa surveyed 3,500 students to discover that cyberbullying is a significant factor for fear of victimization at school.




Families have until Aug. 25 to sign up for this year's spirit-filled Bearkat Family Weekend.




Student Activities will give students 24 opportunities in a single "week" to get a complete college experience.



Bearkat Soccer

Season home opener vs. Louisiana-Lafayette, on Aug. 22 at 6:30 p.m. at the Pritchett Field Complex.

Fall Semester Dates

Residence halls open on Aug. 23 for fall occupancy, and classes begin Aug. 27.

Media Madness

Explore the various campus media on Aug. 26, at 2 p.m. in Dan Rather Building Room 125.
See Calendar >>
Spotlight
Part of the Office of International Programs, the English Language Institute helps students from around the world achieve their academic and professional objectives. In understanding the variety of English learning goals students have, the ELI provides an effective learning program where international students can improve their English communication skills in a friendly and supportive atmosphere.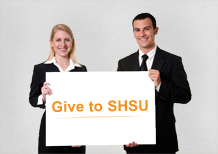 SHSU Main Campus
1806 Avenue J
Huntsville, TX 77340
(936) 294-1111
(866) BEARKAT
The Woodlands Center
3380 College Park Drive
The Woodlands, TX 77384
(936) 202-5000
University Park
20515 SH 249
Houston, TX 77070
(281) 290-2900