Campus Notice
Possible Case of Viral Meningitis At SHSU
Sam Houston State University has just learned of a possible case of viral meningitis. The student with the illness lives off campus and is being treated.
Viral meningitis is generally less severe than bacterial meningitis and resolves without specific treatment, according to the Centers for Disease Control and Prevention.
Please refer to the CDC for additional information about the illness, including signs and symptoms. Should you suspect you are experiencing viral meningitis symptoms, please report to your nearest Emergency Room.
Events
The Bearkat Battalion shared the lessons they're learning with the women's basketball team through a series of activities Sept. 20.




Josu De Solaun, a new professor in SHSU's School of Music, took first prize in the Bucharest, Romania, Enescu Competition.




"Ready Player One" fan fiction, poetry, freshman essay, research, and art contest submissions are due Oct. 20 through Nov. 4.



Dances@8

A student-choreographed fundraising concert, on Thursday and Friday, at 8 p.m. in the GPAC Dance Theater.

E.O. Wiley Lecture

Featuring biologist John Wingfield, on Thursday, at 7 p.m. in the Smith-Hutson Building's Mafrige Auditorium.

Eclipse Viewing "Party"

On Thursday, at 5 p.m. atop the SHSU parking garage.
See Calendar >>
Spotlight
Dedicated to the life and times of Gen. Sam Houston, the museum hosts educational programs, demonstrations, tours and exhibitions throughout the year. The 18-acre site serves as the location of historical buildings and structures, artifacts, material culture objects, books, manuscripts, and archives. The museum has two major emphases: Sam and Margaret Houston, members of the Houston family and descendants; and the history, culture, and development of Texas and the Southwest, especially the period 1832-1865.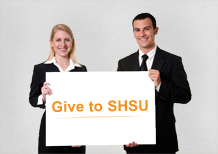 SHSU Main Campus
1806 Avenue J
Huntsville, TX 77340
(936) 294-1111
(866) BEARKAT
The Woodlands Center
3380 College Park Drive
The Woodlands, TX 77384
(936) 202-5000
University Park
20515 SH 249
Houston, TX 77070
(281) 290-2900