Welcome to the SHSU History Department
With 25 full-time faculty members, 140 graduate students, and approximately 3,500 undergraduates in our courses every semester, we are proud to report that History is one of the strongest departments at Sam Houston State University. Offering the B.A. and M.A. degrees, the department is committed to teaching excellence, curriculum innovation, and faculty research. Since 2005, faculty members have published more than 20 books, as well as dozens of articles and book reviews in professional journals.
---
News: Second Study Abroad Course in Mexico - Summer 2017


---
News: Brian Jordan - Finalist for the 2016 Pulitzer Prize in History
The History Department is pleased to announce that Assistant Professor Brian Jordan was named a finalist for this year's Pulitzer Prize in History. His book -- Marching Home: Union Veterans and Their Unending Civil War -- explores the mental and physical infirmities that beset Civil War veterans.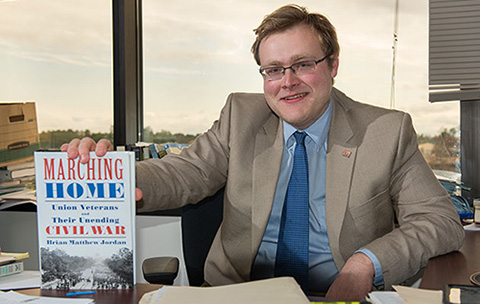 Read more about Dr. Jordan's work here. You may also listen to an interview with Dr. Jordan on the History Department's podcast, Living History.


---

In Memoriam: Terry Bilhartz
The department is sad to report the recent death of our friend, former chairman, and great colleague, Terry Bilhartz. Terry was an outstanding historian and caring mentor who helped shape the history department at SHSU during 35 years of tireless service. Read more.
In Memoriam: Tracy Steele
The Department has lost another long-time faculty member in Professor Tracy L. Steele, who died in February. Professor Steele was an expert in modern Chinese history, indeed one of the first Westerners who trained and conducted research in China on this topic. Professor Steele brought the modern study of Chinese history to Sam, an effort that will repay itself many times over in the 21st century.
---