March 6, 2014
A Promising Natural Resource for SHSU: The Center for Biological Field Studies
Sam Houston State University's Center for Biological Field Studies (CBFS) is now poised to make use of the old hatchery acreage for a wide variety of biological research studies, experiments, and observations.
March 25, 2013
Dr. Chris Randle, associate professor of biology in the Department of Biological Sciences, who has worked on a tropical lineage of plant parasites for about 16 years, made a field trip to the Democratic Republic of the Congo (DRC) in mid-November 2012 which was part of a larger study to sample genes from tropical parasitic plants. He and his collaborator, Jeffery Morawetz from Rancho Santa Ana Botanic Garden in Claremont, California, obtained funding from the National Science Foundation to collect plants from Mexico, Kenya, Brazil, China, and Madagascar, and to obtain morphological, anatomical, host preference, and DNA sequence data from these plants in order to test their hypotheses of evolution. Funding for the team's additional excursion to the DRC came from the National Geographic Foundation.
---
March 1, 2011
Friends and colleagues of one of the world's top cellular biologists found a good way to honor him – they created a scholarship to help future students explore the world of science at Sam Houston State University, as he himself did, and perhaps set them on progressive careers in science similar to his.
The honoree is William R. Brinkley, who now serves as dean of the Graduate School of Biomedical Sciences at Baylor College of Medicine as well as a distinguished professor of molecular and cellular biology and co-director of the W. M. Keck Center for Computational Biology.
Brinkley earned his bachelor's and master's degrees in biology from Sam Houston State University.
Brinkley "is probably one of the most well-known graduates of Sam Houston State in the world of cellular biology," according to Todd Primm, chair of SHSU's biological sciences department.
"Bill is very proud to be an alumnus of SHSU," Primm said.
"He received his start in science here. He started college not intending to be a scientist. He discovered science as a profession here at Sam. We are proud to have such an internationally recognized and respected teacher and researcher as a Sam grad."
Brinkley went on to earn his doctorate in biology at Iowa State University and then do post-doctoral work at the National Institutes of Health and teaching and research at The University of Texas M. D. Anderson Cancer Center.
In 1972, he accepted a position as professor and director of cell biology in the department of human biological chemistry at the University of Texas Medical Branch at Galveston.
Four years later, Brinkley joined the Baylor College of Medicine as director of cell structure and function in the department of cell biology and in 1985 became chair of the department of cell biology and director of the Gregory Fleming James Cystic Fibrosis Center at the University of Alabama at Birmingham. He returned to Baylor College of Medicine in his present position in 1991.
The Dr. William R. Brinkley Scholarship fund was initiated by a personal gift from SHSU biology professor James DeShaw and subsequently increased by additional gifts from friends and colleagues.
Sam Houston State University
William R. Brinkley
Baylor College of Medicine
National Institutes of Health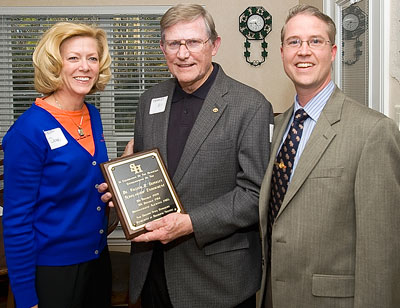 William Brinkley (center), with University President Dana Gibson and biological sciences department chair Todd Primm.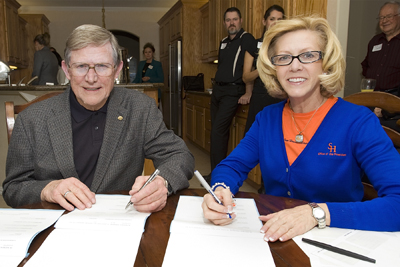 William Brinkley and University President Dana Gibson signing the scholarship endowment agreement.
Newsletters by year
2003 - pdf
2004 - pdf
2005 - pdf | word
2006 - pdf | word
2007 - pdf | word
2008 - pdf | word