Program Creates 'Elite' Results
July 30, 2015
SHSU Media Contact: Tammy Parrett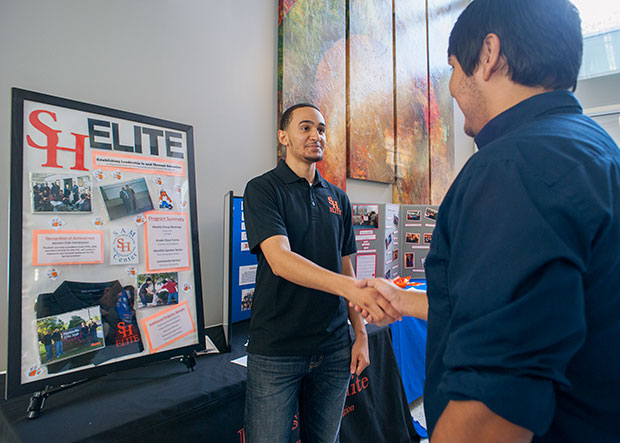 SH ELITE member Brian Minaya recruits participants for its next cohort in the fall semester. Because of its success in only five years, the program was recently recognized with a Models of Excellence Award from University Business magazine. —Photos by Brian Blalock
When Braulio Garza III, who was raised by a single mother, came to college, he was surprised to find that who he was or where he came from no longer had to define him. Growing up in a small town, he had never allowed himself to "dream big" because it seemed that the odds were stacked against him.
"No one really ever had that talk with me before, to encourage me to do more," said Garza, a sophomore pre-law major and ELITE program alumnus. "Finding the right people to tell us that just because you come from a certain background in life doesn't mean you're not capable of being successful has been very enlightening."
Sam Houston State University's Establishing Leadership In and Through Education program has worked to increase the post-secondary success of minority male students.
With graduation rates for African-American and Hispanic students substantially lower than those of white students, the SH ELITE program was launched as an effort to close the gap and begin engaging minority students as soon as they begin their undergraduate careers.
SH Elite Students vs. Minority Male, First-Time Freshman Population

Elite Students
Regular Population
One-year retention rates
86%
75%
Four-year graduation rates
40%
15%
GPA
2.98
2.34

Six-Year National Public University Graduation Rates - Digest of Education Statistics

African-American students
35.2%
Hispanic students
47.7%
According to a study by the Greater Texas Foundation, 59.4 percent of white students in America sought college degrees in 2011, compared to 40.5 percent of African American and 46.8 percent of Hispanic students.
The ELITE program was launched in 2010 with 30 student participants. In the fall of 2012, enrollment was up to 66 students, and in 2014, more than 100 students participated in the program.
Miguel Arellano Arriaga, ELITE program coordinator, hopes that students will see the success and growth of the program in recent years and understand how this program will benefit them and their individual needs. He plans on recruiting more than 120 students to participate in the program in 2015.
The success and retention rates of the ELITE program have earned it a Models of Excellence Award from University Business magazine.
Sponsored by Highter One, a leading provider of financial services and data analytics to more than 1,900 college and university campuses across the U.S., the Models of Excellence program recognizes innovative, effective and inter-departmental initiatives that promote different aspects of student success including adjustment to college life, financial independence and responsibility, mentoring and peer counseling, and career preparation and guidance.
The ELITE program has a special place in Arellano Arriaga's heart. He graduated in 2014 as an alumnus of the program and quickly accepted a position as its coordinator.
"It definitely was eye-opening," he said in University Business magazine online, which announces the award. "They talk to you about college in high school and they tell you a little about what it's going to be about, but you really don't know until you get here.
"This program opened my eyes to how to deal with the independence you gain here," he continued. "I learned how to find that support, how to prioritize and manage my time. I learned all of the essentials you need for a successful first year and your entire college career."
Approximately 47 percent of ELITE students at SHSU are African American and 43 percent are Latino.ELITE has higher one-year retention rates than the entire minority male, first-time freshman population, with 86 percent of ELITE students returning for a second year, compared to 75% of minority male first-time freshman students.
"Some students are ill prepared for college due to socio-economics," said former ELITE program director Bernice Strauss, who helped create the program at SHSU. "They haven't gone to the best high schools in the best neighborhoods, or their parents did not go to college, so they don't have the background, or a role model, or an understanding of the skills required to be successful in higher education."
In recent years, the ELITE program has shown the numerous ways that participants benefit from the program.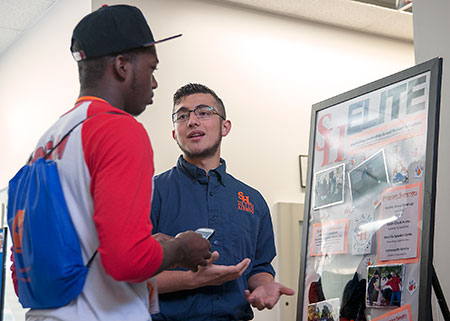 SH ELITE works to increase the post-secondary success of minority male students, who are statistically less likely to succeed in college, through academic and social programming that keeps the young men involved during their freshman year.
The program is open to all incoming first-time African-American and Hispanic male freshmen; however, members are encouraged to continue their involvement with the program on a volunteer basis through the remainder of their college careers. Participants meet weekly in small groups of about 12 to 15 students, run by peer mentors, and cover topics such as study skills, resource management and networking.
ELITE students are required to sit in during SHSU's monthly "Grassroots" speaker series, which promotes the career accomplishments and academic achievements of minorities. "Grassroots" was established in 2003 and brings in community and state leaders to speak about their leadership experiences, their paths to success and challenges that they've faced along the way.
"The students always ask for more special events," Arellano Arriaga told UBM. "They want to know the other students in the program. Their need for that community and support is something we strive to succeed."
"Whatever you major in, they (ELITE/Grassroots) can find someone to talk to you about being what you want to be and where you want to go in life," said Cody West, a 21-year-old criminal justice major and program alumnus.
Slightly more than 30 percent of ELITE students are criminal justice majors, but the program itself has a wide range of SHSU representation on its advisory board, including psychology, history, general business, and mass communication.
West was particularly impressed with a speech by Houston Police Department Lt. Troy Finner.
"He grew up in the 'hood, went to SHSU and graduated at the top of his class," West said.
Academics are a critical part of the program, and freshman ELITE students are required to provide "grade-check" forms twice per semester to enhance accountability and ensure academic success.
At SHSU that's already happening, in part because of the ELITE program. So far, African American males have fared better than the national average with an average graduation rates of 48 percent and Hispanic males have fared slightly better with a graduation rate of 49 percent.
ELITE is funded by various departments on campus, including Academic Affairs, the Student Advising and Mentoring Center, Student Activities and Aramark, according to Arellano Arriaga.
- END -
This page maintained by SHSU's Communications Office:
Associate Director, Communications: Emily Binetti
Telephone: 936.294.1836; Fax: 936.294.1834
Communications Manager: Wes Hamilton
Telephone: 936.294.1837; FAX: 936.294.1834
Communications Writer: Hannah Haney
Telephone: 936.294.2638; FAX: 936.294.1834
Thomason Building: Suite 102
Please send comments, corrections, news tips to Today@Sam.edu
---